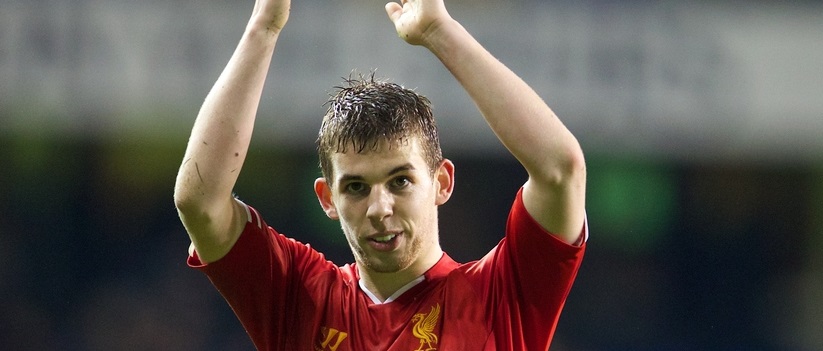 The full-back of Liverpool – Jon Flanagan – is rumoured to be preparing to get back to full training over the week to come. Such a step would put an end to the year and a half he spent sidelined due to suffering a severe injury.
Flanagan was sidelined after he got fluid on his left knee. He underwent a surgery in September 2014, which was followed by another cartilage repairment surgery in April 2015.
Flanagan was looking forward to return to training with Liverpool and Brendan Rogers' plans last spring after he managed to recover from the knee surgery. Unfortunately, further setbacks on the road to recovery forced him to undergo another surgery in order to repair cartilage in the joint. These health problems got him out of the field for a period of 18 months.
According to a record, the defender, who is 22 years old, is to join the first-team squad at Melwood on Tuesday. The team of Liverpool is currently preparing for its fixture against Watford as part of their Premier League matches.
Liverpool have been experiencing a hard time considering the fact that several of their best players have been facing injuries. The return of Jon Flanagan is to provide head coach Jurgen Klopp with reinforcement. Over his first week in charge of the club in October 2015, Klopp lost Joe Gomez who suffered a knee injury while on duty with the England's Under-21 team.
The setbacks experienced by Liverpool became the reason why the club's new head coach Jurgen Klopp has been speculated to be looking for new additions to the team. Several transfers have been rumoured to be expected over the winter window in January, but Klopp denied them by saying that the team was not lacking quality.
Flanagan signed a new one-year contract with Liverpool in May this year. His last appearance with the club's outfit was on the final day of the 2013/2014 season. This was the time when the Reds got beaten to the league title by the team of Manchester City, in spite of the fact that they managed to win over Newcastle United with the result of 2-1.
Then, the 22-year-old defender demonstrated excellent form and great action skills, which became the reason why he got called up against Ecuador before he got appointed as a substitute for the team of head coach Roy Hodgson for its World Cup finals in Brazil.
(Visited 59 times, 1 visits today)