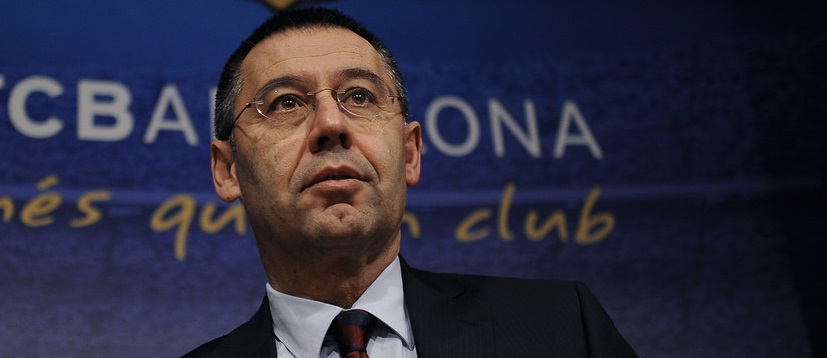 The president of Barcelona Josep Maria Bartomeu has insisted that the financial state of the club is good enough in order to turn down some English clubs' interest towards its star trio Lionel Messi, Luis Suarez and Neymar.
In an interview for reputable media, Bartomeu confirmed that Barcelona do not intend to sell any of the three forwards no matter how big an eventual offer may be. It is true that the financial state of the club could represent a challenge, but still, it could not lead to one of Barcelona's stars exit of the club.
The president of the club admitted that the Spanish grand is struggling to keep its best players provided the economic power of the Premier League teams that have already proven their interest towards Messi, Neymar and Suarez. Bartomeu shared that the Premier League is a true rival to La Liga No.1 team. He explained that the true rival of Barcelona is not a specific club, but the strength of the entire Premier League.
Bartomeu managed to win the presidential elections in the summer. He also shared his hopes to make the Spanish grand the first club that is to bring revenues of €1 billion over the period of his six-year tenure.
Revenue of €608 million was announced by the team for 2014/2015, but Bartomeu explained that the club's financial state has significantly improved recently. The president shared his ambitions of posting €1 billion in revenues and added: "There are no other clubs in the world, whether in football or in other sports, that think ahead more than one or two seasons, but here at Barca we do."
As a matter of fact, the financial setbacks of Barcelona have been long-term ones. It was the predecessor of president Bartomeu – Sandro Rosell – who has revealed his frustration with two of the largest Premier League clubs eyeing the youngsters of his side's academy. Arsenal and Manchester United have been long rumoured to be focused on recruiting players from Barca in their ranks.
Barcelona suffered another great financial difficulty at the time when it did it best in order to increase revenue, but last week the European Union court ruled that the club will not be permitted to register the outline their badge as a trademark.
Apart from the relatively difficult financial situation of the team, president Bartomeu insisted that the Spanish grand will make sure that it has the resources necessary to turn down Premier League for some of its major players. Barcelona has been rumoured to be considering an eventual sale of some of the players in their star trio consistent of Messi, Neymar and Suarez.
(Visited 105 times, 1 visits today)