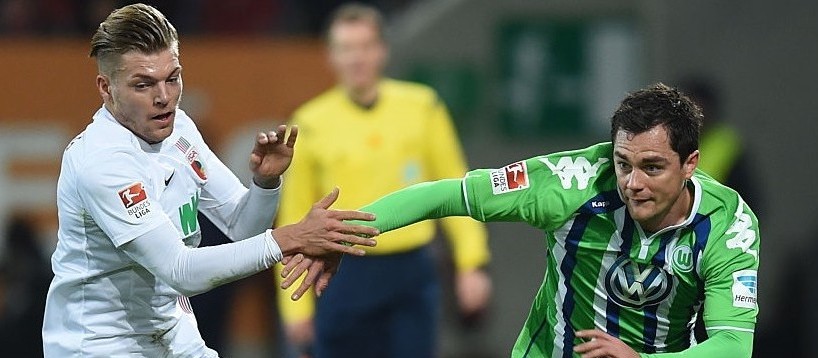 FC Augsburg managed to leave the relegation zone by moving up the Bundesliga table after slowing its opponent VfL Wolfsburg in a goalless draw at Augsburg Arena on Sunday.
There was a 15-point gap between the opponents in the Sunday's match, but none of the sides was able to find a winning goal, even considering the fact that Wolfsburg ended the game with a man down after the team's defender Dante got a red card.
The truth is that VfL Wolfsburg, which currently occupies the third place in the national Bundesliga table, demonstrated extreme deterioration when it comes to their form. Last week the team edged closer to the last 16 in the Champions League, and it would be nice of them of they could have ended with a point. Unfortunately for them, Augsburg did not make them easy. On the contrary, they were considered as the indisputable leaders in the match, making it difficult for spectators to work out which side was climbing up the Bundesliga table and which was positioned at the ranking's bottom.
It was exactly the team of Ausburg that entered the clash with a total of two wins in the Champions League over the season, and Wolfsburg who was pushing for a place in the League, but the hosts came up looking more confident on Sunday.
Ausburg made their best in order to take advantage of the fact that VfL Wolfsburg were tired from their trip to Moscow last week. The hosts appeared to be more concentrated on the game and came closer to scoring at Diego Benaglio's gate, with their captain Paul Verhaegh going as close as 10 yards from the opponent's gate over the first half of the game.
It was in the second half when Wolfsburg re-emerged looking refreshed and more confident, but Augsburg had more possession time. The hosts had another chance of scoring, with the 21-year-old Dominik Kohr heading wide from a good position, but unfortunately missed the chance.
Another moment in the match that deserves to be paid attention to, was the red card shown to Wolfsburg's 32-year-old defender Dante in the 85th, due to which the visitors ended the game with 10 men only.
Still, regardless of the visitors' poor performance at the pitch, both sides had chances of scoring a goal throughout the 90 minutes. However, poor finishing and good goalkeeping at both sides of the pitch resulted in the goalless draw, leaving the visitors ultimately disappointed with the final result.
(Visited 72 times, 1 visits today)