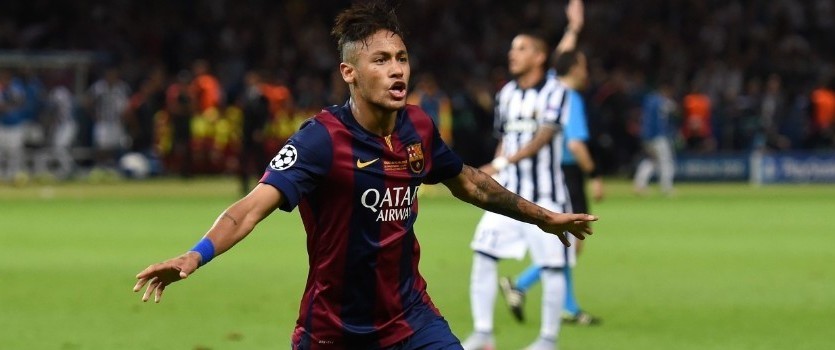 The forward of FC Barcelona Neymar is considered to have all the chances to become the world's best football player, after taking over the title from Lionel Messi. According to midfielder of Chelsea Cesc Fabregas, Neymar will find it difficult to match Messi's regular level of accomplishments over such a lengthy period of time, but still, his chances are not bad at all. He is expected to be granted with the 2015 award for the firth time at a special ceremony that is to take place in January 2016.
When asked by reporters if Neymar had any chances of reaching Messi's level, Fabregas said: "That will be very difficult, we are talking about Messi who already at 21 years old had won the Ballon d'Or." He also explained that the level the Argentinian has been demonstrating for the last decade cannot be compared with any player ever.
The 28-year-old Messi was granted the first Ballon d'Or trophy in his career in 2009. The Argentinian has also become the top scorer not only in Barcelona history, but also in La Liga so far. In addition, he was of great help for the Spanish team that managed to win the unbelievable four Champions Leagues and also lifted the La Liga's trophy seven times. Messi has also been named in the FIFPro World XI for seven consecutive years since 2007.
On the other hand, Neymar who is currently 23 years old, has been performing extremely well over the last few months. Barcelona No.11 has been demonstrating an outstanding form, particularly at the time when Messi was absent due to a recent injury. This is exactly why the forward is expected to be named for winning the Ballon d'Or trophy for the first time in his life after the three names are announced on November 30th.
The names of the three finalists for the Ballon d'Or are expected to be officially released by FIFA on Monday. The choice of the best football player in the world will be announced on January 11th, 2016. It is true that Lionel Messi and Christiano Ronaldo have proved themselves as the two best players in the world up to date, but Neymar seems to have all the chances to eclipse them both.
The winners over the last 20 years were some of the greatest names in the football world. Currently, some of the most possible choices for the title apart from Neymar are Luis Suarez from Barcelona, Robert Lewandowski from Bayern Munich and Zlatan Ibrahimovic from Paris Saint-Germain.
(Visited 188 times, 1 visits today)