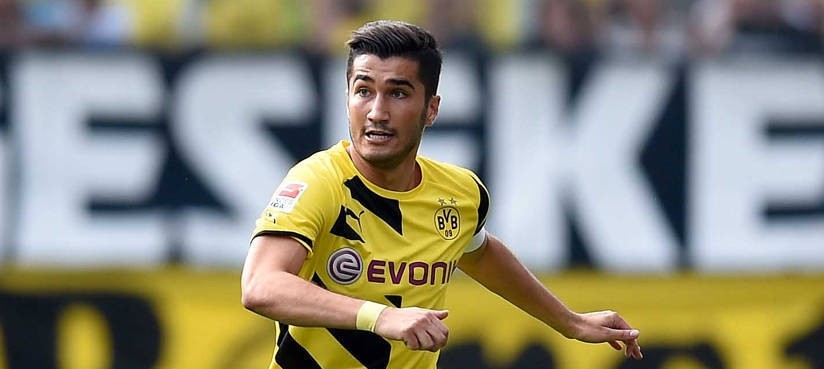 The 27-year-old Nuri Sahin has given Borussia Dortmund a boost by returning to full training after spending almost nine months out of the football pitch.
Sahin, who is also part of the Turkish national football team, started trainings on the field with his team-mates on Monday. This was the first time he sets foot in the training field since February 2015, when the midfielder picked up an adductor trauma. The last appearance for of Sahin before the injury was the 3-0 Revierderby win of Borussia Dortmund over Schalke 04 at the end of February this year.
In a post on Instagram, Sahin himself shared he was delighted with getting back in action for the first time after the lengthy break. He attached a picture to express his joy and wrote: "Finally. How much I've missed this feeling… the smile on my face says it all."
The midfielder's return us is expected to be beneficial both to the German team, which currently occupies the second rank in the Bundesliga, and to Sahin, who is believed to increase his workload over the four weeks yet to come until the winter break. According to some experts, the team that is chasing the first place in its national championship, will hope to welcome the midfielder back to games after the Winterpause.
Due to the injury he suffered from, the player underwent an operation over the summer of 2015, which increased speculations about his return in the German team. The truth, however, is that Sahin's absence was not so catastrophic for the Bundesliga No.2, especially considering the fact that the midfielder has only appeared seven times in the outfit of Borussia Dortmund since his permanent return in 2014.
Still, Borussia Dortmund's head coach Thomas Tuchel will be glad to welcome Sahin back, as well as some other players such as Ilkay Gundogan and Julian Weigl in order to boost the strength of the team.
Tuchel's Borussia Dortmund will have to travel to Borussia-Park for its first game after the winter break, in order to meet toe-to-toe with Andre Schulbert's Borussia Mönchengladbach. The latter has been having a real upturn after Schubert took the reins of the team in the place of his predecessor Lucien Favre.
It is exactly the first game after the Winterpause in which fans of Sahin are hoping to see his long-awaited return in the ranks of the Bundesliga's No.2.
(Visited 141 times, 1 visits today)