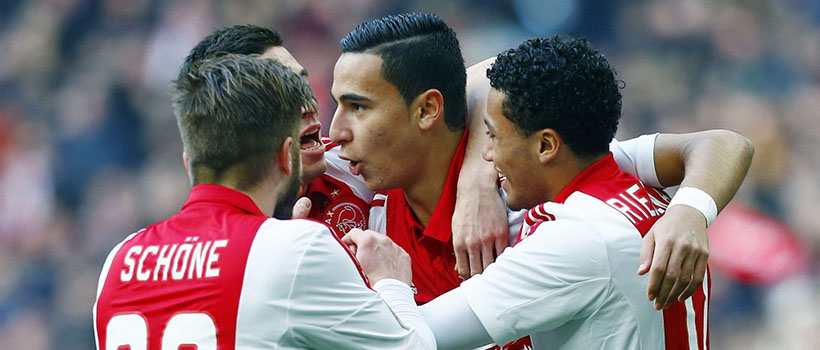 It became clear that Anwar El Ghazi has managed to attract the interest of major European football clubs including Manchester United and Barcelona.
Louis van Gaal, the manager of Manchester United, is among those willing to attract the Ajax youngster with the aim of adding "quality from a wide position to his attack".
According to people with knowledge on the matter, El Ghazi is definitely among the top targets of Man United. The latest reports state that the football club is to launch a bid during the next transfer window.
However, Manchester United should approach an eventual deal with some caution due to the fact that Memphis Depay has been struggling to replicate its form since the Premier League switch.
Barcelona also expressed interest in launching a bid for the Dutch winger. Those who have watched the qualifying matches for EURO 2016 know that El Ghazi was in an excellent form and his performance was truly impressive. However, his efforts were insufficient for qualifying for the tournament.
According to Dutch media, Barcelona considers the opportunity to launch a bid during the next winter transfer window. In point of fact, the Dutchman scored the first Champions League goal in his career away to Barcelona.
Anwar El Ghazi was born on May 3rd, 1995. He is currently playing for Ajax and the national football team of the Netherlands as a winger.
He has come a long way to become a successful footballer, though. His career started in 2012 when he made his debut on the professional football terrain in a friendly match between the Netherlands U-18 and Austria U-18.
The attacker joined Ajax in 2014 and had 10 appearances during this season and scored eight goals for the Dutch club. He has dual citizenship, which allows him to play for the Netherlands and Morocco at senior level.
El Ghazi was hesitating as to whether he should represent Morocco or the Netherlands and Christiano Ronaldo, the Real Madrid star, helped him make the right decision. He advised El Ghazi to play for the Netherlands due to the higher chances of playing at international tournaments.
Apparently, this was the better choice as, despite his early age, he was called up for two qualifying games for UEFA Euro 2016 that took place last month. As mentioned above, the Netherlands failed to qualify for EURO 2016.
(Visited 108 times, 1 visits today)