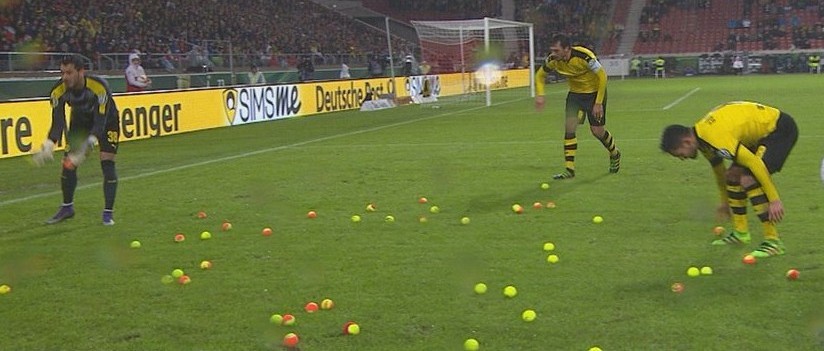 The supporters of Borussia Dortmund protested against increased ticket prices by throwing tennis balls on the pitch over the German grand's 3-1 victory against VfB Stuttgart in the quarter-final of the DFB-Pokal competition on Tuesday night.
A large number of the travelling fans of the club stayed away from the stands over the first 20 minutes of the game due to the too high ticket prices of €70 set by the hosts of VfB Stuttgart. The ticket prices have been described as "abnormal" by Kein Zwanni movement, whose members insist on getting affordable prices for football matches' tickets.
The protest was organised by the Kein Zwanni fan movement, which was formed in Germany in 2010 in order to protest against the too high ticket prices for Bundesliga matches. Despite the fact that Borussia Dortmund's supporters were the first to initiate the movement, Kein Zwanni was backed by various other clubs in the top German football clubs over the last few years.
As part of the game's boycott, some Borussia Dortmund fans threw tennis balls at the pitch. These actions forced the referee to suspend the match temporarily, and the players joined in removing the balls from the ground.
Still, in spite of the incident, the head coach of Borussia Dortmund Thomas Tuchel praised his players for their great performance. He said that provided the circumstances, the club managed to pull out a fantastic game. The manager criticised on the pitch condition, but shared that his men gave the best of them, so the game was intense as initially expected.
The three goals for his side came from Marco Reus, Pierre-emerick Aubameyang and midfielder Henrikh Mkhitaryan. In addition, Tuchel explained that Borussia Dortmund dominated on the pitch over the first half of the match and the players had managed to prevent early counter-attacks.
According to the club's manager, his men's performance was a little more open over the second half of the match, which allowed them to score three of four chances. Tuchel shared that the third goal could have come earlier, but the unsatisfactory condition of the pitch made things harder for his men.
This is not the first time when the German grand's fans protest against increased ticket prices. In September 2015, they boycotted the club's match against Hoffenheim, who set the prices for the game at €55. Such protests spread on a global scale, too. This week, Liverpool supporters walked out of the team's Premier League match in the second half of the game in response to increased ticket prices as well.
(Visited 54 times, 1 visits today)