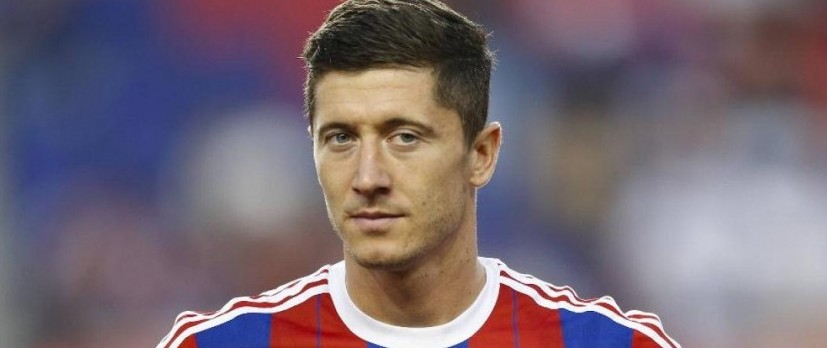 The forward of current Bundesliga No.1 team Robert Lewandowski has revealed that he was "really pleased" with the fact he ended fourth in the competition for the Ballon d'Or award. Earlier this month he shared that was not feeling "passionate" about winning the award.
The 27-year-old striker demonstrated fantastic form and excellent performances over the entire 2015. He managed to net 38 goals in a total of 50 appearances for the German grand and another 10 in 7 performances when playing on international service for Poland, helping his country qualify for Euro 2016.
Despite his amazing presence on the field throughout 2015, Bayern Munich's Lewandowski was not one of the three major competitors for the Ballon d'Or award, which was finally won by Lionel Messy for the record fifth time. However, in an interview for a reputable sports media, the striker has revealed that he was really pleased with occupying the fourth place. According to him, the fact that he was placed right after the three-man short-list is a great recognition for both his work in the Bundesliga No.1 club and the Poland national football team.
In addition, Lewandowski recalled his five-goal haul against Wolfsburg, which brought him four Guiness certificates, saying that the quintuple has undoubtedly been his biggest accomplishment so far. The amazing achievement of the Polish came in Bayern Munich's game against Wolfsburg in September 2015, when he managed to net five goals in a period of nine minutes.
Still, Lewandowski confessed that future is before him and he is totally convinced that he could do even better in order to improve his jaw-dropping result.
Last Sunday, the striker said in an interview for a reputable media in France that he was glad to have been part of the most-praised football players of the year, who have been considered most worthy of winning the Ballon d'Or. Still, he made a confession that winning the award is not one of his most important priorities and he is not so passionate about it.
On the other hand, there have been some speculations that the Bayern Munich's striker could turn out to be frigthened by the eventual arrival of the Napoli forward Gonzalo Higuain at the Bundesliga team. Earlier in January, the Chief Executive Officer of the German club Karl-Heinz Rummenigge revealed that his side has been considering Higuain as a new addition they would like to sign. Lewandowski, however, said he was not afraid of the competition.
The player shared that he was not aware of the club's plans when it comes to signing Higuain, but said he would not have a problem with another striker entering the club.
(Visited 171 times, 1 visits today)