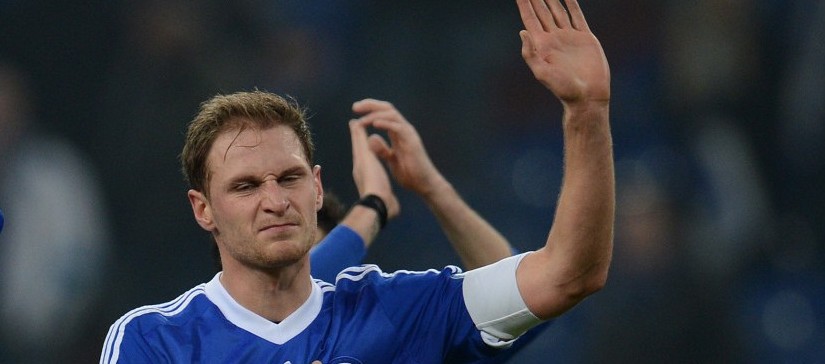 FC Schalke 04 have confirmed that their captain Benedikt Howedes is to probably spend another three-month spell on the sidelines due to an injury. The 27-year-old defender has been suffering a muscle injury adopted over his side's winter training camp in Florida, which he was expected to return from in late February.
However, the centre-back suffered another injury on his right thigh over Schalke's 2-0 victory over Fort Lauderdale Strikers last week. He was sent back home, but unfortunately for the club's captain, further examinations found out that Howedes' tendon has also been damaged.
The sporting director of the Bundesliga club Horst Heldt has announced that as a result of the injury, the German No.6 team will be forced to play without their captain for a period of about three months. The confirmation of Howedes' injury and three-month absence was made after Schalke's 1-0 friendly defeat by Arminia Bielefeld.
The news was also confirmed by Schalke 04's manager Andre Breitenreiter, who said in a statement published on the club's official website that the captain's injury turned out to be pretty unfortunate for the entire squad, because he is considered one of the team's key players. Breitenreiter said that the fact that his side would be forced to do without Howedes is quite bad and the loss would not be easily compensated.
This is not the first time Howedes gets hurt over the current campaign. He has already missed parts of the season's first part due to a couple of injuries. He took part in only eight games for his side since the season's beginning.
Still, regardless of Schalke's captain health problems, Howedes has been recently rumoured he might leave the Bundesliga team in order to join the ranks of another club. His name has been primarily linked with an eventual move to the team of Arsenal.
According to media reports, defender Mathieu Debuchy would exit the Premier League team over the January transfer window. This is exactly what caused various speculations about the future plans of manager Arsene Wenger. He could either make it with the rest of the players available, or buy a replacement of Debuchy instead. And this is exactly where Benedikt Howedes comes to the stage, rumoured as a possible replacement of Debuchy.
In spite of the fact that Schalke's captain plays primarily as a central defender, he has proven his qualities as a great full-back, too. This is why he could provide cover for Arsenal's Hector Bellerin and turn out as a great addition of the Premier League team. Up to date, Howedes himself remains silent about his future plans in case that Arsenal make an attempt to buy him in the near future.
(Visited 144 times, 1 visits today)