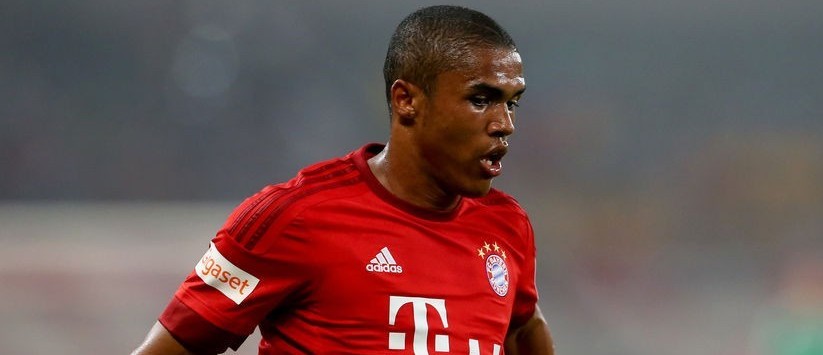 Bayern Munich's Douglas Costa, who plays as both a midfielder and a forward, has shared his opinion on Pep Guardiola calling him a "genius", but denied the rumours he intends to leave the German club along with the manager at the end of the current campaign.
The fact that Guardiola is to part ways with the current Bundesliga No.1 team has been already confirmed by both the club and the now-manager himself. Pep Guardiola has decided not to extend his contract after its expiration date and is to be replaced by Carlo Ancelotti.
The 25-year-old player moved from Shakhtar Donetsk to Bayern Munich in the summer of 2015 and has enjoyed a successful performance so far at the German team that up to date occupies the first position in the national Bundesliga table. In addition, he has even been named the best outfield player in the Bundesliga after a special poll took place at the beginning of the week.
In December 2015, the player revealed that he preferred the Bayern Munich club over Premier League's Chelsea due to the fact that he wanted to play under Pep Guardiola's lead. He once again confirmed that on Wednesday in an interview for a reputable sports media. Costa also shared that the first six months spent under manager Guardiola had been truly outstanding and expressed his belief that the next six ones would also be amazing.
The player explained that he had managed to learn a lot from the current Bayern Munch's head coach. He also called Guardiola "a genius" and praised his qualities, saying the manager had revealed a whole bunch of new options to him, which he had never even knew existed before moving to Bayern Munich.
The 25-year-old Costa confessed he feels great "in the centre of the pitch" and said he managed to improve his play a lot since joining the Bundesliga grand in the summer. He also shared that he dreams of becoming "one of the three best players in the world" while playing at Bayern Munich.
Costa, who is also part of the Brazil national football team, has scored two goals since the beginning of the season and has also managed to record a total of 12 assists – a result unbeaten by any other player in the league so far this season.
After praising Guardiola in December 2015, the player has been rumoured to be considering a leave along with the manager, who has revealed that he had no intentions of prolonging his stay at the Bundesliga current No.1 team after his contract expires at the end of the season. However, Costa denied such plans, saying he does not consider leaving the German team after spending only a year there.
(Visited 138 times, 1 visits today)