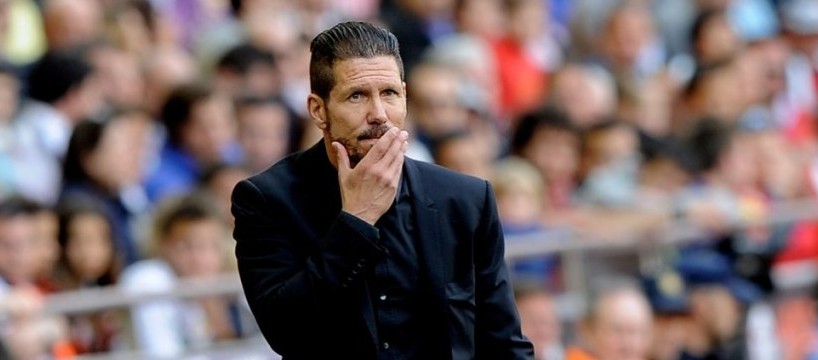 The head coach of Atletico Madrid – Diego Simeone – shared that he feels worried neither for his club, not for their prospects for the rest of the 2015/2016 season. The team had its chance of temporarily topping La Liga's table, but unfortunately for them, did not succeeded in doing so.
Atletico Madrid needed one point only to head the ranking, but remains as a runner-up in the competition. The club needed only a point in order to head the ranking, but it allowed Charles to net literally in the last minutes of their match against Malaga after Gabi Fernandez had been sent off.
The loss put an end to La Liga's No.2 team successful run of nine straight victories. This was the first defeat of Atletico Madrid since September 2015. A draw would have helped the club climb on top of the table, surpassing Barcelona at least for the time of the 10-day winter break.
Manager Simeone explained that the loss did not worry him at all and it was obviously Malaga who dominated over the match on Sunday, winning well after playing "an intense match." He also added that his side would not look for excuses, probably alluding for the rumours he would try to blame Gabi Fernandez' dismissal early in the second half of the game due to two yellow cards for the match's final result.
The defensive midfielder picked up two yellow cards within only several minutes shortly after the second half's start. Even regardless the dismissal of Gabi Fernandez, it was Malaga who dominated the chances over the first half of the game. No goals, however, were provided by either side, with them both trying to push the competitor.
The bad outing of the match deprived Atletico Madrid of the chance to replace Barcelona as league leaders. The excellent action of the Brazilian striker Charles robbed the current No.2 team of the opportunity to even end the game with a goalless draw after him scoring the only goal in the match in the 86th minute.
As already mentioned, Atletico Madrid currently occupies the 2nd position in La Liga table. A total of ten days part the club from its next game against Rayo Vallecano that is to take place on December 30th. The team of Rayo suffered a frustrating and embarrassing 10-2 defeat on Sunday after facing Real Madrid. They currently occupy the 18th position in La Liga.
(Visited 311 times, 1 visits today)