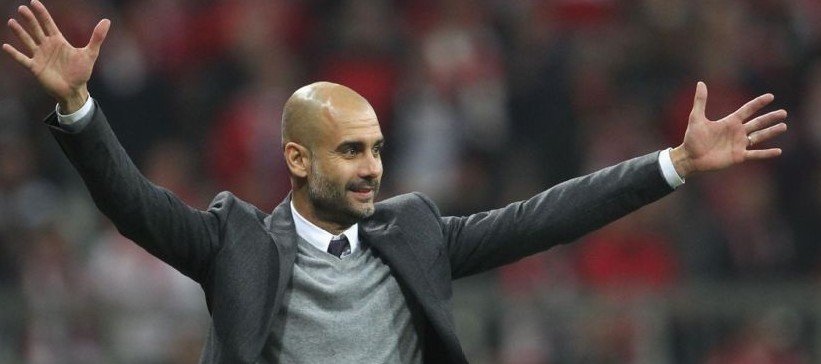 Pep Guardiola has decided to part ways with Bayern Munich when his contract expires at the end of the season. The German club has confirmed the news and has also revealed that Carlo Ancelotti is to be appointed as Guardiola's successor.
The future of the Bundesliga No.1 team's now-coach has been long speculated for some time now since his three-year contract is to expire in the summer of 2016. Guardiola himself promised that he intends to make his professional plans clear this week, and the Chief Executive Officer of the club – Karl-Heinz Rummenigge – revealed that the final discussion on the head coach's future in the team was to be discussed after Bayern's game against Hannover 96 on Saturday.
Guardiola has been linked with several Premier League teams, including Manchester United, Chelsea, Arsenal and Manchester City. He has been celebrated as one of the most productive and successful Bayern Munich's coaches of all times.
The former head coach of the club – Ottmar Hitzfeld – called the 44-year-old Spanish "pioneer" and "revolutionist", since Guardiola has been praised for creating new style of play for Bayern after deciding to bet on a three-centre-back defence.
Apart from the news of his choice to leave Bayern Munich after his contract expires in the summer of 2016, Guardiola's future is yet unknown. His plans are expected to be revealed, but as already mentioned, he has been persistently associated with several clubs from the Premier League.
Four are the major clubs of the Premier League Guardiola has been linked to – Chelsea, Manchester United, Manchester City and Arsenal. Chelsea, however, dismissed Mourinho last week and appointed Guus Hiddink as his successor. The manager of Manchester United Louis van Gaal has been also put under a lot of pressure due to the club's poor performance over the season, while Manuel Pellegrini is also expected to leave Manchester City next summer.
On the other hand, Ancelotti who has been given the sack by Real Madrid in May 2015, has been on a break until signing with the German grand. The Chief Executive Officer of Bayern shared that another very successful coach is coming to the club and the entire staff "are looking forward to working together."
Ancelotti is the only manager who has ever won three Champions League trophies – twice with AC Milan and once with Real Madrid. He is to take over the responsibilities as Bayern Munich's head coach since July 1st, 2016 for a period of three years.
Ancelotti himself shared he was "very honoured" that he is to manage the German club from the next season. According to Bayern CEO Rummenigge, he is a great choice for the Bundesliga grand thanks to the fact he has excellent qualities of a "balanced expert" who stands out with favouring "a multifaceted style of play".
Bayern Munich ex manager Hitzfeld commented on Ancelotti, saying that it is a great thing he "doesn't stick to his system", because is able to adjust to the opponents' style of play.
(Visited 111 times, 1 visits today)