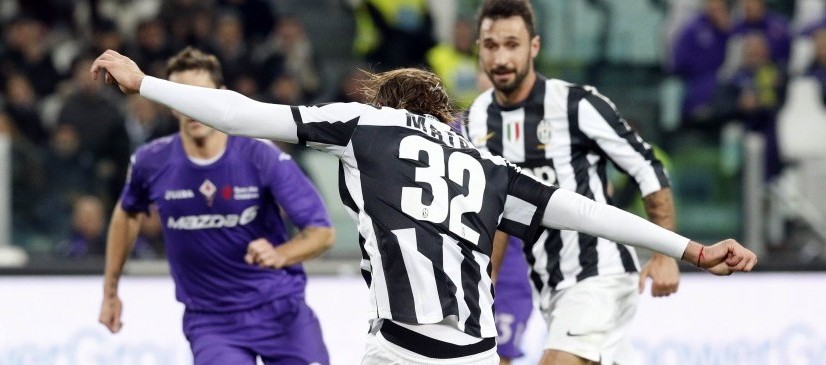 Juventus demonstrated an experienced and pretty stable performance over their 3-1 win over Fiorentina. The victory is not only the sixth straight one for the club, but also puts it on the fourth place of Italian Serie A table.
Regardless of the fact that Fiorentina had dominated when it comes to possession time, it did not manage to provide enough goals, which offered Juventus the chance to prove themselves as solid in defence. The latter also showed an improving offence strategy, which made both experts and fans hardly believe that the team was occupying the 12th place in the national championship less than a couple of months ago.
The truth is that Juventus have demonstrated great improvement over the last several weeks. Not only great form and technical skills were shown, but also high spirits and enthusiasm that helped the Bianconery fight for every ball. The team surprisingly came out with fast and direct runs and undying desire to win, which took its players only several minutes to come back to their senses after conceding a penalty in the second minute of the match.
The three goals for Juventus' side were scored by Juan Cuadrado, Mario Mandzukic and Paulo Dybala. They literally turned the game around after Fiorentina's Josip Ilicic opened the score after a penalty.
The great performance of the club now makes Juventus head coach Massimiliano Allegri believe that the team is back in the race for the Serie A title. Still, he admitted that the team of Inter Milan is expected to be a hard opponent to beat in the competition.
Allegri shared his hope that his side is to become even more focused on finishing in the top three of the table, saying in an interview: "We're getting towards a point total that will allow us to finish first, second or third." He explained that Juventus are back on track, but still, the team of Inter Milan that currently occupies the first position in Serie A table "very strong." Manager Allegri also said that it will take many efforts in order for Juventus to catch up on them.
The team has been having some problems lately, but now it seems that the players have been re-motivated to play well once again. Still, Massimiliano Allegri confessed that the whole team would have to work hard and "keep improving" in order to maintain their current position and even find their place among the top three in the competition.
He emphasized on the fact that the great team spirit is pretty important for overall performance on the field, apart from the stable physical condition. Allegri also expects his side to be bolstered by the fact that several players are expected to recover from injury.
(Visited 82 times, 1 visits today)