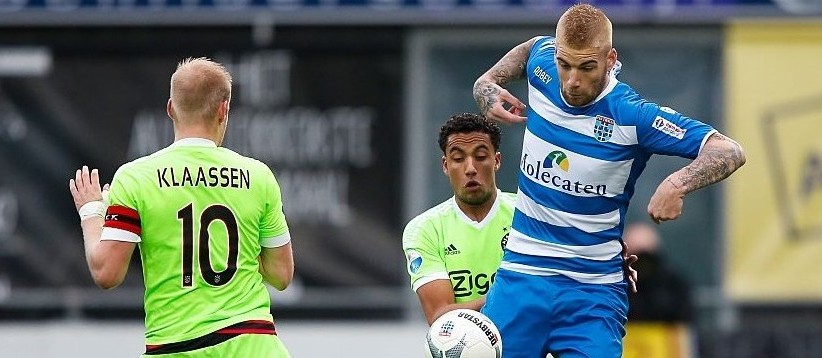 AFC Ajax is currently ranked first at the national Eredivisie after registering an eleventh win in a total of fourteen games in their domestic league this season. The team managed to seal a 2-0 victory against PEC Zwolle and extended their gap at the top of the league on Sunday.
The two goals for Ajax were scored in each half by Amin Younes and Thulani Serero, respectively.
Ajax protected its three-point lead at the top of the Dutch league thanks the PEC Zwolle's goalkeeper Kevin Begois who eventually slipped and allowed Amin Younes to find the net before the half-time break. The leaders in Eredivisie added a second goal in the second half, too, due to excellent play of the substitute Thulani Serero.
PEC Zwolle have turned out to be a pretty tough opponent to Ajax recently, especially considered that they managed to beat the leaders in the table in the 2014 Dutch Cup final. Still, Ajax proved themselves as the better team up to date, reaching a comfortable win over the ex European Champions in their Sunday match.
Although AFC Ajax demonstrated dominance over the first half of the game and had plenty of possession, they are considered to have wasted a number of major chances for scoring a goal. The team's wingers Viktor Fischer and Amin Younes were not accurate enough and did not manage to find the opponent's net. Zwolle proved themselves as tough rivals, especially considering the fact that it took a mistake of their goalkeeper in order to Younes to score for Ajax in the 37th minute.
In the second half, however, Zwolle came back into the match. They created several chances, but unfortunately for them, they did not managed to score a goal, while substitute Thulani Serero cemented Ajax's victory by scoring another goal for the team in the 86th minute. The goal was assisted by Lasse Schone, who demonstrated excellent game and resourcefulness.
Up to date, Ajax maintain the lead in the Dutch Eredivisie. The team has gathered a total of 35 points out of 14 matches.
This put it 3 points clear ahead of the second one in the table – the team of Feyenoord, who had beaten the 12th in the Eredivisie – S.B.V. Excelsior – the day before. The top three in the domestic championship of the Netherlands were completed by PSV Eindhoven who cemented their position after coming victorious of the game against AZ Alkmaar that ended 3-0.
(Visited 144 times, 1 visits today)