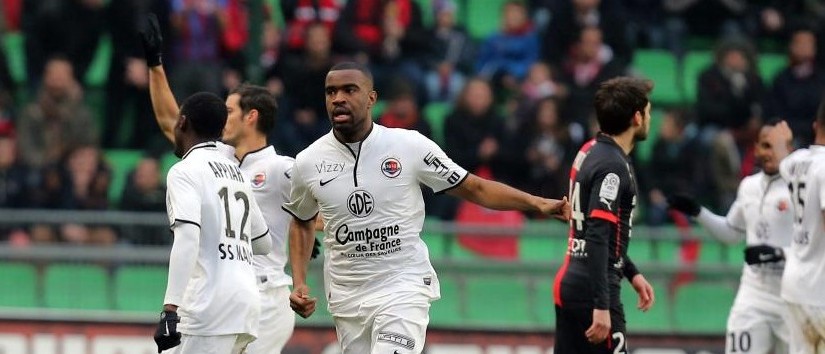 Guingamp was sent into the last 16 of the Coupe de la Ligue after Sloan Privat managed to strike a goal in Gazélec Ajaccio's gate in the 103rd minute. This was the only goal over the match at the Stade Ange Casanova, but it turned out to be just enough for the team of Guingamp to beat their competitor, who waved goodbye to their chances to proceed further in the Championship.
It was the team of Gazélec Ajaccio that entered the clash with a great confidence in its success, considering the fact that it had managed to win its four previous matches, each of which was within Ligue 1. The team's head coach Thierry Laurey also seemed certain in the favourable outcome for Gazélec Ajaccio's in the match, which was previously rescheduled.
The former clash between the two teams took place on October 28th 2015, but it was eventually cancelled because of unfavourable weather conditions with the scores at 2-2.
Now, the visitors from Guingamp showed absolutely no intention of giving in, and Yannis Salibur proved he was in great form after he managed to come extremely close to the competitor's door. The team made a 100% record against the hosts of Gazélec Ajaccio, taking into account two wins and one draw from their previous three matches. The attacking midfielder Nicolas Benezet was the next to test the defence of Guingamp's competitors.
However, it seems that head coach Thierry Laurey encouraged his team at the half-time interval, because the team of Gazélec Ajaccio was spurred back into action. Unfortunately, Kévin Mayi did not manage to score a goal in Guingamp's gate. He actually came close to making the result 1-0, but was not accurate enough to test the skills of the Bretons' goalkeeper Jonas Lössl.
It was exactly the team of Guingamp that had plenty of possession over the second half-time, but still did not manage to score a goal. After Mana Dembélé's goal for Guingamp was ruled out for offside, the outcome was inevitably to be decided into extra-time.
Both team's players were pressed by tension and fatigue, when Sloan Privat finally managed to strike a goal into the back of the net at the first half of extra time. His goal was the one that turned out to be decisive and sent Guingamp through to the next round of the French Coupe de la Ligue.
(Visited 131 times, 1 visits today)