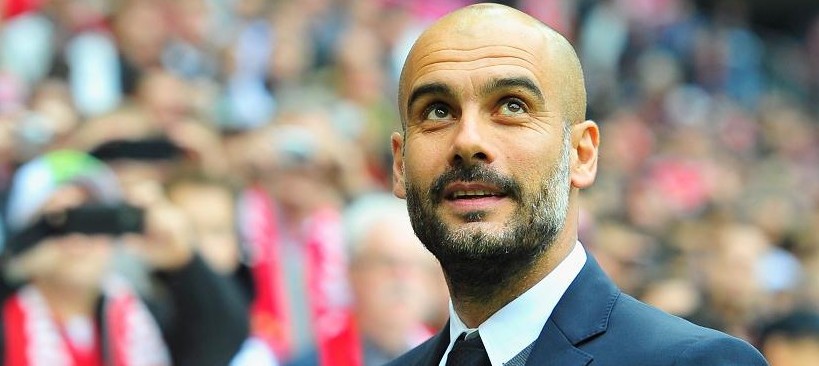 The current head coach of Bayern Munich – Pep Guardiola – would probably disappoint the clubs of Chelsea and Manchester City, which have reportedly been hoping for signing with him.
Guardiola took the reins of the Bundesliga's No.1 club in 2013 and since then has been working with the club in what was considered as a pretty successful collaboration. However, the 44-year-old Spanish has been somehow hesitant when it comes to bounding his future even with the first-class clubs of the German Bundesliga.
There have been some speculations in the global sports media that Pep Guardiola, who was manager of Barcelona in the period from July 1st 2008 to June 30th 2012, could replace Jose Mourinho in case that the latter is fired by Chelsea. Manchester City has also been rumoured to be eyeing the Spanish, who managed to lead Bayern Munich to the league and cup double over his first season in charge of the club.
In addition, the future of Manchester City's manager Manuel Pellegrini is currently considered far from certain, which is exactly why the club was monitoring Guardiola's progress.
On the other hand, Bayern Munich are aimed at keeping their top position on the Bundesliga table, not to mention the fact that the team is wants to get another Champions League Cup.
There have been some recent reports that had suggested there has already been made a contract offer for Guardiola. Now it became clear that the head coach would probably sign a new deal with the Bundesliga's No.1. The contract is estimated to £17-million on a yearly basis, which would make the Spanish one of the highest-paid head coaches in football.
According to some media, the new deal would be 2-year contract extension that would expire in 2017. It is expected for the contract to be signed before Christmas.
Some specialists say that such a deal would be a strange decision of Bayern Munchen's provided the fact that Brendan Rodgers is available, but on the other hand, considering the great success of the German team, Guardiola is a logical choice for the club. In addition, a probable extension of the contract between the Bundeliga's No.1 team and its current manager, could pave the latter's way to succeed Louis van Gaal at Manchester United, regardless that the plans of the Spanish are still unknown.
According to some sources, Guardiola himself has shown interest in managing a Premier League club, but there is no information about an eventual contract with such a team up to date.
(Visited 119 times, 1 visits today)