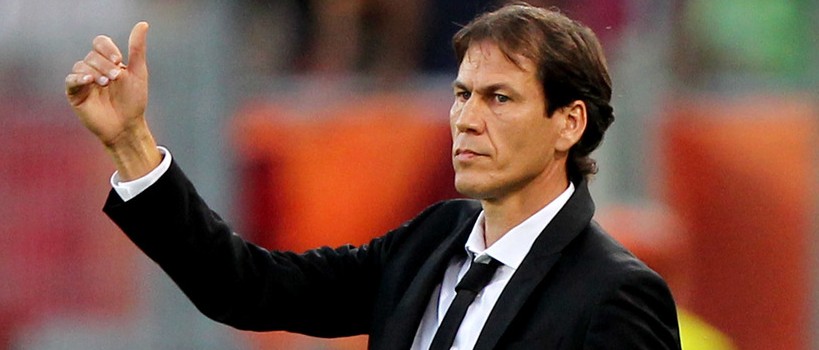 Roma's coach, Rudi García, was angered by the outcome of the Saturday's game between the two Serie A teams. The match was played at the Stadio Renato Dall'Ara and ended in a 2-2 draw. Roma's defence was not up to par again, as Mattia Destro, Bologna's striker scored an unexpected goal from the penalty spot, which ultimately led to the draw.
The weather conditions proved to be a mean feat for both teams. The game took place amid a torrential rain, which caused the entire field to become sodden and muddy, thus further complicating matters for the players. Referee Gianluca Rocchi, had to check the pitch before the kick-off, to see if it was playable. It was decided not to postpone the match, regardless of the poor conditions.
However, the game was lacking in organisation, as the ball repeatedly halted in puddles. As Roma players predominantly rely on direct dribbling and passing, the condition the pitch was in, definitely worked against them. To add to this injury, Bologna's keeper, Antonio Mirante, was only given a yellow card, instead of being suspended for handling the ball outside the box.
Despite the game ending in a draw, Roma demonstrated some character, as they appeared on the field without their captain Daniele de Rossi and attackers Mohamed Salah and Gervinho. Currently, the Giallorossi come second in the Serie A and are tied with rivals Fiorentina with 27 points.
The Giallorossi's coach, García, was so frustrated by the draw, he was close to refusing to comment on the game, altogether. He went as far as to say, the game should not have taken place at all. García then commented it resembled "water polo with feet", rather than a football match.
García was let down by the fact the game was not postponed by referee Rocchi. In his own opinion, the match should have been suspended, when the result was 2-1 to Roma. The coach commented the only positive was that Roma's players did not sustain any injuries in the course of the game. La Marseillaise, France's national anthem being played prior to the game's start, was but a small consolation for the French coach.
Overall, García described the entire match as a "lottery". "It was a parody of football", the angered coach commented. In his opinion referee Rocchi should not have gone ahead with the game.
It seems fans were the only ones who enjoyed the match, despite the terrible weather conditions. However, security measures were tightened, as over 650 stewards were present during the game. Police officers with sniffer dogs walked around the stands and a bomb disposal auto was parked in near proximity. When asked, whether they were concerned about their safety, fans of both teams answered fear was not going to prevent them from enjoying the game.
(Visited 118 times, 1 visits today)