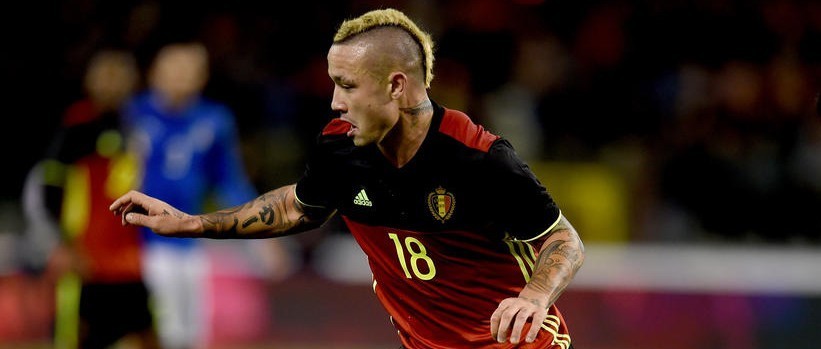 Roma's midfielder, Radja Nainggolan, was almost arrested, after guests in an Antwerp hotel suspected him to be a terrorist. After the football player checked in the hotel, some guests were alarmed and were quick to signal the local police authorities.
The accident took place yesterday evening and can be easily explained with the current situation in Europe, after the Paris terror attacks last Friday. The attacks took the lives of 129 people, hundreds were heavily wounded. During the France versus Germany game at Paris' Stade de France, terrorists attempted to detonate bombs at the stadium, where hundreds of people had gathered to watch the friendly. Thankfully, one of the bombers was recognised as looking suspicious, and was not allowed in. The bombs were detonated outside the stadium. Nevertheless, the explosions were loud enough to be heard on the live telecast.
It makes sense European countries' citizens are being extra vigilant at the moment. But Nainggolan is a Belgian citizen himself. His father is an Indonesian, while his late mother was a Belgian of Flemish ethnicity. The midfielder was even born in the port city, Antwerp. The 27-years old also plays for Belgium's national team.
The hotel guests' suspicion was probably aroused, when they noticed the football player had a number of tattoos on his body and was wearing a hat. Him sporting an eccentric blond Mohawk, did not help, either. They called the police and signalled there was a man, staying at the hotel, who was "acting suspicious". The guests obviously failed to recognise the Roma and Belgium midfielder altogether.
Nainggolan checked in the Radisson Blu Astrid hotel, after the game between Spain and Belgium was postponed due to security reasons. This past Monday, the threat level in the country was understandably raised to level three. The match was supposed to take place at the King Baudouin Stadium, located in Brussels, the country's capital. Once the game was called off, the player travelled to the Antwerp hotel, where he checked in for a quick rest.
Nainggolan was relaxing at the hotel with members of his family, when police officers arrived to arrest him. Thankfully, the officers recognised the football player, as soon as they saw him. The police then went on to appease the guests, who had raised the alarm, and quickly put all suspicions to rest.
The midfielder, himself, took the "accident" rather lightly and was bemused by the whole situation. He rose to the occasion and even agreed to pose with the on-duty officers for a photo.
(Visited 190 times, 1 visits today)