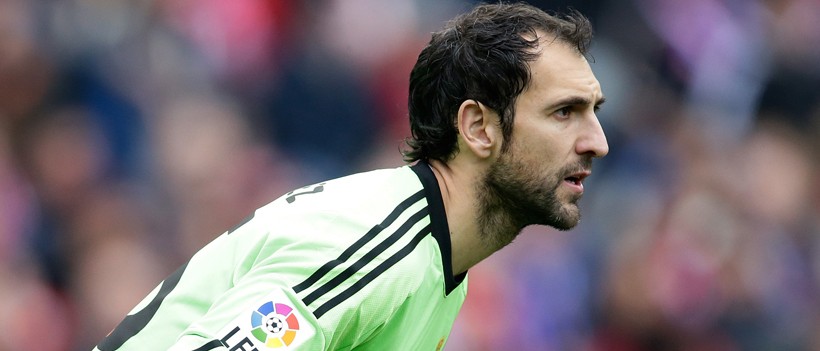 Rossoneri's goalkeeper, Diego Lopez, denied rumours of a Premier League move. The Spanish football player was transferred from Real Madrid last year.
Lopez' situation at the club is rather uncertain at this point. Nevertheless, a representative of his released statements, saying Lopez would be more than content to retain his position as the Rossoneri's goalkeeper. Things have not been great for the keeper, ever since he sustained a serious injury to his left knee. The 34-year old player's struggle with patellar tendonitis has not yet come to an end. His injury has been treated with physiotherapy, but to no avail – Lopez is not yet ready to return on the field.
The shot stopper intended to continue with his training and participation in games, while recovering. However, Milan's medical team advised him to stay off the field, until he has fully recovered. They all agreed, following a specific plan and sufficient amount of rest will speed up the Spanish player's recovery.
This season Lopez has appeared alongside the Rossoneri as their starting-lineup keeper a total of eight times. The last time the keeper appeared on the field, was at the end of October. It was at this point, that Milan's coach, Sinisa Mihajlovic, decided to drop him, choosing 16-year old, Antonio Donnarumma, as his replacement. This is what brought about Lopez' uncertain situation at the Italian club.
Donnarumma played as Lopez' substitute at Milan's last four Serie A games and has made quite the impression. The Rossoneri managed to collect a total of 10 points out of 12, which aided their recovery from the bad season's start, they've experienced.
Adriano Galliani, the team's president, shared both he and Lopez' colleagues have faith in him. He then, added that, while the goalkeeper's disappointment is justified to a great extent, he nevertheless has to respect the decisions of his coach, Mihajlovic.
Lopez' situation caused many rumours of his possible transfer to another team. In the past few weeks, his name has been frequently linked with a Premier League move. However, his representative, Manuel Garcia Quilon, dismisses all rumours, and claims Lopez is primarily focused on retaining the form he was in, prior to his injury. According to Quilon, the keeper cannot wait for the start of the next season.
Furthermore, Quilon insists Lopez works for his recovery to return to Milan and no one else. He then adds, some improvement is already at hand. When asked about the possibility of Lopez' leaving at the beginning of next year, Quilon commented "I know nothing about that."
(Visited 112 times, 1 visits today)