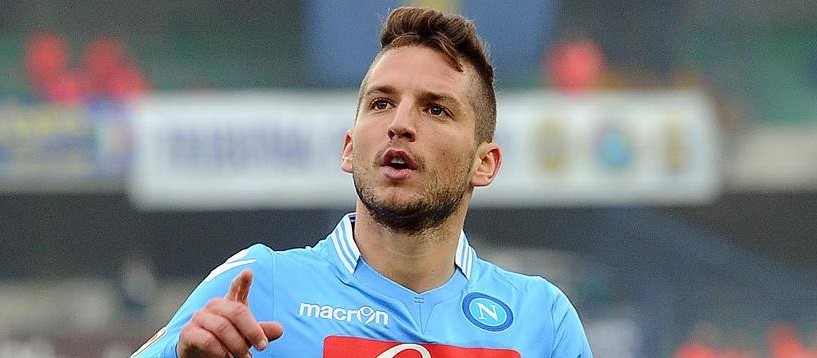 Napoli's sporting director, Cristiano Giuntoli, disclosed the club's intentions to start negotiations for the Belgian player's contract renewal. In the summer of 2013, the winger was transferred from the Dutch team PVS Eindhoven, after he was selected by Napoli's coach, Rafael Benitez.
Mertens scored his first goal for the team in October, the same year, thus assisting the Italians in their 2 to 1 win against rivals Fiorentina. The Belgian also secured Napoli's win against the Gigliati in the 2014 Coppa Italia's finals.
This term Mertens has netted a total of four goals for the Italian team. It's not surprising the Italians are more than willing to start negotiations for retaining the winger in their team. What's more, the Belgian himself, appears to be quite comfortable with the Italians and wishes to remain with the team, as Giuntoli shared in an interview with Radio Crc.
The sporting director revealed he is more than confident the negotiations will prove to be fruitful. Despite the fact no formal agreement has been reached yet, Giuntoli believes there will be no troubles in this respect. He stated there will no need for new meetings, as both the Belgian winger and the Italian football club are willing to close the deal.
Giuntoli is determined to retain the 28-year old Belgian. To achieve this, Napoli is currently working on providing the best possible conditions for the player, by improving his contract and offering him a better deal.
Mertens has reportedly been targeted by a number of major league clubs, which further calls for the Italians to improve the terms of his contract. There were rumours, the winger was to be transferred to Napoli's rival team, Inter Milan, in January, next year. Mertens toyed with the idea of a transfer to the Premier League. This summer, rumours spread out he was considering the option to move to Liverpool.
When asked by Het Laatste Nieuws about his possible transfer to the Reds, Mertens responded, playing for the Premier League would definitely be a great challenge for him. According to some reports, the winger has been reached by yet another Premier League club, namely Southampton.
However, Mertens welcomes the idea of remaining the Italian club's winger. "There's a willingness on our part to keep him, and also on his part to stay", Giuntoli shared in his interview with Radio Crc. Mertens' contract expires in 2018 and according to the sporting director, the Italians are doing their best to prevent rival clubs from reaching the player. Giuntoli is firmly set on extending Mertens' contract by offering him a pay rise.
(Visited 101 times, 1 visits today)