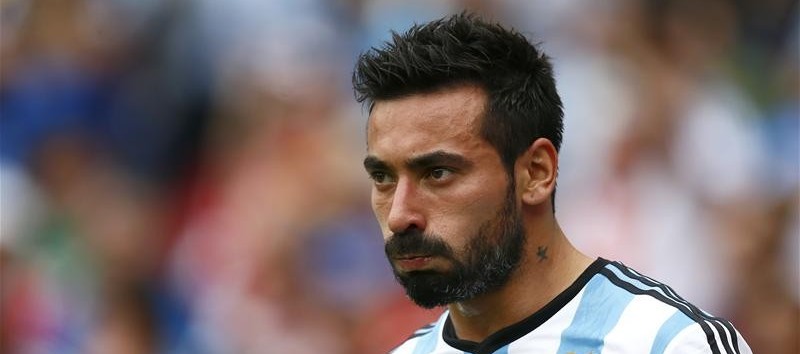 It seems that the name of Paris Saint-Germain forward Ezequiel Lavezzi is currently heard with increasing volume around Barcelona. According to speculations, Lavezzi has become a paramount priority of Robert Fernandez, who is the technical secretary of Barca up to date. Fernandez is focused on making the forward line of the Spanish team stronger and is determined to do that over the winter transfer window.
The contract between Lavezzi and Paris Saint-Germain expires in June 2016. The Argentinian is said to be considering to leave the French grand, which currently occupies the first place in the country's Ligue 1.
Barcelona is obviously looking forward to entering the transfer market in January 2016 when its transfer ban is to be lifted, while Lavezzi, who turned 30 in May, is reported to be seeking to leave the French team. The winger himself said in October that this would probably be his last year at Paris Saint-Germain, but he is "relaxed" and wants to "finish in the best way possible".
The Spanish club is rumoured to be preparing a €5-million deal to buy the winger and make him part of the squad. In addition, a prominent agent revealed that it is simply a matter of time before another great player – Paul Pogba – joins the ranks of Barca.
The proposed negotiations with the Argentinian are said to be pending an approval from the head coach of Barcelona – Luis Enrique, who is still considering different options for the most appropriate forward.
Lavezzi joined Paris Saint-Germain from Napoli, after a €30-million contract in 2012. He is currently in his fourth and final of the contract and has been reported to have shown interest in a two year, €5-million transfer.
The Argentinian has been facing some difficulties over the season, since he has fallen down the pecking order at Paris Saint-Germain after Angel Di Maria arrived at the club. However, this could turn out to be the perfect timing for Lavezzi, because Barcelona's manager Luis Enrique is trying to strengthen his squad, especially considering the fact he was forced to deal with injuries to some of his top players, including Lionel Messi, Ivan Rakitic and Rafinha.
Lavezzi is expected to become available for new transfers after entering the final year of his contract with the French Ligue 1 No. 1. At this point, the chances of him extending his stay with Paris Saint-Germain look pretty small. This would be great for the technical secretary of Barcelona Robert Fernandez, who believes that the player fits the profile needed – a forward with good technical skills, capable of playing on the wing.
(Visited 225 times, 1 visits today)