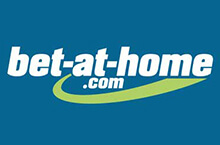 €20 Sign Up Bonus
Go to Bet-at-home and
Register an Account
Read the T&C and
Claim Your Welcome Bonus
Start Betting and
Fulfill the Wagering Requirements
Up to €20 in Sign Up Bonus for new customers at Bet-at-home. Min deposit €10. Time limits and T&Cs apply. 18+.
Bet-at-home is one of the leading online bookmakers in Europe. It was established in 2006 and originated in Austria. Punters can enjoy a great variety of sports such as football, tennis, ice-hockey, handball, volleyball, basketball, baseball, motorsports, boxing, golf and many others. Another good thing about the website is that it offers an entire section dedicated to greyhounds racing. Along with the wide selection of sports you can pick from, you can follow and bet on every domestic and international sports event. Punters are given the opportunity to place different types of bets, which will add more excitement to their betting experience. Plus, the earliest and most professional odds are on offer.
It is important to mention that the website is very clean and you can easily see every option you may need. Moreover, there is an interface with more than twenty languages, which is rather convenient. The helpful Customer Support team will be at your service 24/7. If you have any questions, do not hesitate to reach the team via email.
The online bookmaker is licensed and regulated by the Malta Gaming Authority (MGA), which is one of the most respected and recognised license providers. This is a guarantee that you will enjoy an absolutely safe and secure betting experience at Bet-at-home.
Sportsbook
If you are a sports fan and you love betting, Bet-at-home is definitely the perfect place to wager. The online bookmaker offers you a great range of popular sports. At the same time, it gives you the opportunity to place bets on less popular sports, too. You can follow all international and domestic sports events and place many different types of bets on them. You are offered the option to place In-Play bets, which means that you can bet while the game is in progress. Not to mention, the earliest and most competitive odds on the Internet are at your disposal to further increase your chances of winning. And last, but not least, the online bookmakers' website works seamlessly and you will have zero problems.
Bet-at-home is the right place for football fans, because it covers every single domestic and international championship such as the Champions League, Europa League, World Cup, leagues from Italy, Germany, France, Spain, the list goes on and on. To make wagering even more thrilling, you are able to choose from a great number of bet types and take advantage of the best odds. It is guaranteed that you will gain extraordinary experience when placing bets on football events.
Another popular sport you can place bets on is tennis. The sport is very exciting and competitive. It is a pleasure to watch it, while at the same time, betting on events from the ATP, WTA, ITF Men and Women and the Hopman Cup is beyond exciting. It goes without saying that you can benefit from the professional statistics and place different types of bets.
Bet-at-home should be the first stop for basketball fans. Those, who love placing bets on basketball events can do so at the website. The online bookmaker covers matches from the USA, Germany, France, Greece, Italy, Russia, Sweden and many more domestic leagues. International events are on offer, as well. Place your bet at Bet-at-home, because it is the best online destination for basketball betting.
Ice-hockey has become more popular and is a favourite sport outside the USA and Canada as well. Bet-at-home offers you to place bets on the NHL, AHL, the World Champion, World Cup of Hockey, OHL, Eliteserien, SHL, Allettan Sodra but the list does not stop here. There are many more ice-hockey markets at the website. You can take advantage of the earliest odds and place better bets.
Racebook
Bet-at-home is one of the most preferred destinations when we talk about races. The online bookmaker offers motorsports, including biking, rally, Formula 1, Nascar, and cycling. The best part is that it has a separate section for greyhounds racing. You can place bets on both domestic and international events. Name a racing event and the website covers it. Bet-at-home cannot be compared to any other betting operator, because it simply provides you with a unique experience. Once you enter the magical world of race betting, you will notice the difference and the website will become your favourite. You can take advantage of the early and competitive odds, which will help you place better bets.
Punters who love high speeds and dangerous routes will definitely enjoy the motorsports on offer at Bet-at-home. There are so many people, who follow the races and place bets on them. F1 is one of your options. It is a premier single auto racing with the fastest cars in the world. NASCAR is among the most professional stock-car races, which sanctions more than 1,500 races at over 100 tracks in 39 US states and in Canada, too.
Another racing event that you can enjoy is the World Rally Championship. It is very popular around the world and definitely offers a lot of exhilaration and dynamics with its fast cars and different and dangerous routes. Bike fans can place bets on MotoGP Overall Winner, which is the highest level of motorcycle road racing. Of course, you can go for different bet types and take advantage of the earliest odds in order to place better bets and gain decent profits.
Cycling is another sport that you can place bets on. It is very popular and attracts only the most dedicated fans and punters. You have the opportunity to bet on your favourite rider on the Tour de France and hope that he/she will be the fastest. The best odds and different bet types are on offer, too.
Bet-at-home offers a separate section for greyhounds racing. You can enjoy unlimited number of races and gain extraordinary betting experience at the website. Plus, placing bets will be even more fun since you can choose from different types of bets and take advantage of the best odds.
Mobile Betting
With the advent of technology and the Internet more people prefer to place bets from the comfort of their homes. But what happens, when you are on the go? Bet-at-home has a solution and it is called mobile betting. You can simply use your mobile device to wager, which gives you the opportunity to follow your favourites and place bets, regardless of where you are. If you are in the bar or at the bus, for example, your phone is always in your pocket.
The mobile version is compatible with every smartphone or tablet. As long as you have an Internet connection you can place bets. All you have to do is to enter the website www.bet-at-home.com/mobile/ in your mobile device's browser and basically, that's that. If you have an account, you can log in, but if you are new to the website, you can easily and quickly create one. The interface of the mobile version is very clean and simple, so you will see any option you may need.
The mobile version offers the same number of sports and events as the desktop version. In a few words, everything offered at the website is available on your smartphone or tablet, as well.
Using the mobile version of the website gives you great chances to gain profits, it offers excellent customer service and unique entertainment, regardless of your location. You will see for yourselves.
Bonuses and Promotions
Every respected online bookmaker takes care of its customers and makes sure that everything is in order. As such, Bet-at-home wants to show you how much you are appreciated, therefore the bookie offers you generous bonuses and promotions.
Even from the start you will see the great opportunities. Every new punter is given an amazing Welcome Bonus. You will have a great start with the 50 EUR, that Bet-at-home gives you just like that. All you have to do is register as a new player, then select "Redeem Bonus" in the account management menu and enter the code FIRST. The online bookmaker will transfer to your account 50% of the deposit you have made of up to 50 EUR.
Promotions do not end up with the Welcome Bonus. You can enjoy even more bonuses like bet-at-home Winner of the Day, Loft, Schalke Bonus, Send me Sixty, Hertha BSC Bonus, Bet-Cup and Betmastercup. The online bookmaker's generosity is unlimited and the best part is that you can only benefit from it.
Making money deposits acquires you to choose a payment method. The online bookmaker offers the most convenient, reliable and completely safe options for depositing. You can use Skrill, SOFORT Banking, Visa or MasterCard and Diners Club. Some of these methods can be used when you wish to withdraw your winnings.
To sum up, you will gain a unique sports betting experience at Bet-at-home. The online bookmaker offers a full coverage of any sports event you may like, different betting types and the best and earliest odds. Plus, you can benefit from the generous promotions and bonuses. Placing bets and making deposits and withdrawals are both absolutely safe, so the only thing you need to worry about is whether your bet will win or lose.
(Visited 578 times, 1 visits today)