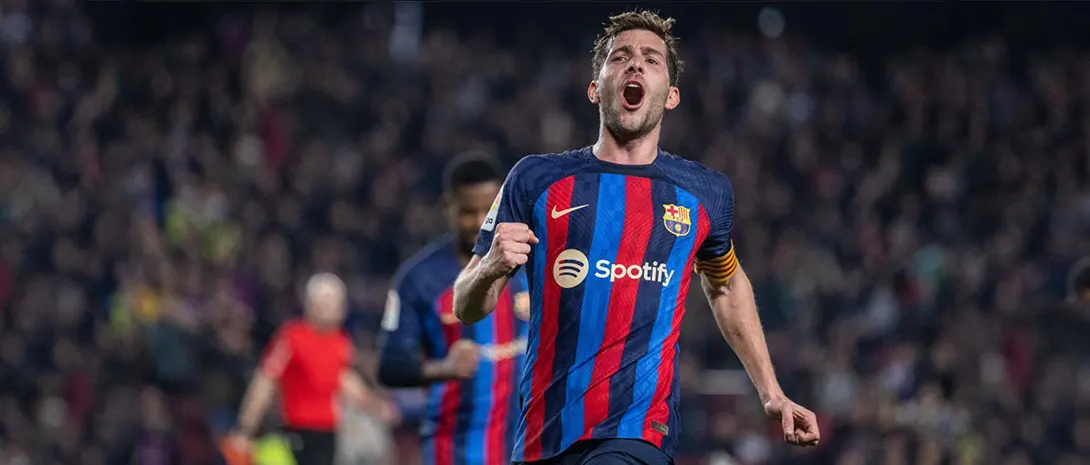 Key Takeaways:
Sergi Roberto, long-serving FC Barcelona player, agrees to part ways at season's end.
Despite a significant history and recent captaincy, Roberto found limited playing time this season.
A myriad of talent in the squad and Xavi's tactical choices potentially influence the decision.
Roberto eyes one last title before exiting, reminiscing a prosperous era with the club.
Sergi Roberto: An Epoch of Dedication Comes to a Close
In a poignant turn of events, FC Barcelona captain, Sergi Roberto, has reportedly agreed to conclude his storied career with the club at the end of this season, according to SPORT. From his early days joining from Nastic Tarragona at the tender age of 14, to donning the captain's armband, Roberto's journey has been intimately intertwined with the highs and lows of the Catalans.
🚨 Sergi Roberto is assuming that this is his last season at Barcelona, who are not looking to renew the captain at this point. @gbsans pic.twitter.com/D2y9C9Q1i8

— barcacentre (@barcacentre) October 13, 2023
A Captaincy Amidst Changing Dynamics
Following Sergio Busquets' departure, the captain's armband found a new home on Roberto's arm, an honor bestowed upon him due to his status as the longest-serving member of the squad. His leadership, however, emerged during a transitional phase for the club under Xavi Hernandez, marked by a discernible shift in squad dynamics and on-field strategies.
Although Roberto showcased moments of brilliance, such as a pivotal goal that secured a draw against Granada, his playtime has been noticeably sparse. Roberto has tallied a mere 224 minutes in six La Liga matches this season. The helm of on-field leadership, it seems, has subtly shifted towards goalkeeper Marc-Andre ter Stegen, who has been a consistent figure on the pitch.
The Influx of Talent and Tactical Preferences
Strategic preferences by coach Xavi have veered towards utilizing Manchester City loanee, Joan Cancelo, in the right-back position, wherein Roberto has often been deployed. Furthermore, a stacked midfield, boasting names like Frenkie de Jong, Pedri, Gavi, and Ilkay Gundogan, has made the competition for a spot in the starting XI fiercely contested, rendering the 31-year-old's presence less frequent.
IT'S DONE: João Cancelo to Barcelona! 🇵🇹✅

He was the top choice of Joan Laporta, Mateu Alemany and Xavi.

Arrives on loan + optional purchase.

He will be available against Osasuna.

It will be official, this week 🔥 pic.twitter.com/gclR1DVDJi

— Ronit (@FCBRonit) August 23, 2023
Embracing New Beginnings while Honouring the Past
With echoes of the exits of fellow club legends Gerard Pique and Busquets, Roberto's departure signifies the end of an era, yet, similarly, a respectful nod to the past glories and triumphs. His dream to hoist one last title as a Barca player, and notably as its captain, is a narrative romantically entwined with the club's rich history.
Despite the realities of modern football and tactical exigencies, Xavi and the club's management recognize and venerate Roberto's contributions and steadfast loyalty over the years. His impending exit is understood and accepted with mutual respect among all parties, acknowledging that his remaining months with the club are a tribute to a "loyal servant" whose name will be etched in the annals of FC Barcelona's history.
🚨🚨🌕| CONFIRMED. Everything indicates that Sergi Roberto wil leave FC Barcelona next summer. @tjuanmarti pic.twitter.com/zwtQdFGutX

— Managing Barça (@ManagingBarca) October 13, 2023
Regardless of the destination that awaits – be it elsewhere in Spain or a venture to the MLS – Roberto's legacy, encapsulated by at least eight La Liga crowns and two Champions League titles, will perennially resonate in the hallowed halls of Camp Nou.
Let's savor these final moments with Sergi Roberto, appreciating his unwavering commitment over the years, and join in celebrating a true servant of FC Barcelona as we gently step into a new chapter.
(Visited 29 times, 1 visits today)