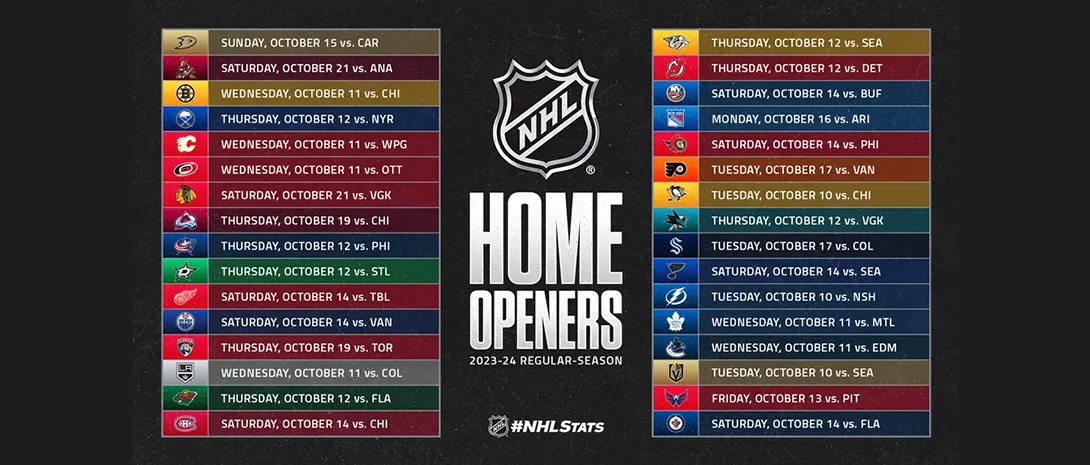 Key Takeaways:
Emerging Rivalries: The New Jersey Devils and New York Rangers light up the Battle of the Hudson.
Record Chase: Alex Ovechkin edges closer to Wayne Gretzky's goal record.
Impactful Transfers: Erik Karlsson's entry to the Pittsburgh Penguins.
Dynamic Duos: The effectiveness of Connor McDavid and Leon Draisaitl for the Edmonton Oilers.
Strategic Movements: Toronto Maple Leafs' managerial shifts.
New Faces: Connor Bedard's impact on the Chicago Blackhawks' strategy.
Team Dynamics: The Colorado Avalanche's capability to sustain momentum.
Eastern Conference Dynamics: Potential shifts in the balance of power.
Kane's Comeback: Patrick Kane's anticipated return to the ice.
Rivalry Rekindled: Devils and Rangers Spotlight
Attention hockey enthusiasts: The season is kicking off with a striking narrative, bringing the riveting Battle of the Hudson into the spotlight. The New Jersey Devils, returning off a stellar season and empowered by Jack Hughes, are pitted against their storied rivals, the New York Rangers. Can the Rangers, amidst a strategic rebuilding phase, steer their talented roster and new head coach Peter Laviolette to match the Devils' momentum? The unfolding of this rivalry holds promise for intense, edge-of-the-seat encounters.
Devils forward Jesper Bratt has started the preseason strong with nine points in four games.

Learn how he's taken a step this year on Devils Now presented by @RWJBarnabas. pic.twitter.com/VDFhNEKWDx

— New Jersey Devils (@NJDevils) October 5, 2023
Ovechkin's Pursuit of History
The sports world watches with bated breath as Alex Ovechkin tirelessly inches towards Wayne Gretzky's astounding record of 894 goals. Entering his 19th NHL season with 822 goals, and notably scoring 42 last season, Ovechkin continues to defy the aging curve. The anticipation of every goal, every game, renders the Washington Capitals' matches a spectacle not to be missed.
The Penguins' Hopeful Tale with Karlsson
The arrival of Erik Karlsson, the reigning Norris Trophy winner, to the Pittsburgh Penguins is more than a mere transfer; it's a tale of hope and pursuit of glory. Will Karlsson, alongside Sidney Crosby, Evgeni Malkin, and Kris Letang, propel the team to transcend last season's near-miss of the playoffs and clinch another Stanley Cup?
The Oilers' Dynamic and Expectations
Can the Edmonton Oilers capitalize on the consistent brilliance of Connor McDavid and Leon Draisaitl? The looming question is whether the Oilers can encapsulate their individual talents into a team framework robust enough to vie for the Stanley Cup, ensuring the potential of these star players isn't left unfulfilled.
🪨🏠

The #Oilers have signed forward Brady Stonehouse to a three-year entry-level contract.#LetsGoOilers pic.twitter.com/kkwT7nUpk9

— Edmonton Oilers (@EdmontonOilers) October 5, 2023
Strategic Shift: The Maple Leafs Embrace Grit
In an intriguing managerial move, the Toronto Maple Leafs, under new general manager Brad Treliving, have navigated towards "grit" and "toughness". Key signings like Tyler Bertuzzi, Ryan Reaves, and Max Domi hint at a nuanced strategy, though its efficacy, especially concerning their defense and goaltending, remains to be tested in the competitive bouts ahead.
Accelerated Rebuild: Blackhawks and Bedard
Connor Bedard's induction into the Chicago Blackhawks catalyzes an accelerated rebuild and a shift in strategy by GM Kyle Davidson. While his exceptional preseason performances and synergy with Corey Perry enthrall fans, it's the underlying shift towards a blend of patience and urgency in the team's rebuild strategy that will be crucial to watch.
Resilient Avalanche and MacKinnon's Fire
Even in the absence of captain Gabriel Landeskog, Nathan MacKinnon and the Colorado Avalanche signify resilience and potential for another deep run. The comprehensive skill spread across the team frames them as compelling contenders, but can they navigate the strengthened Western Conference to reclaim triumph?
Unveiling the Wild, Wild East
Emerging tales from the Eastern Conference, including the up-and-coming Detroit Red Wings, Ottawa Senators, and Buffalo Sabres, stitch a captivating narrative around potential playoff races and budding star players. How these teams balance youth, experience, and strategic play will sculpt their paths through a potentially transformative season.
Anticipating Patrick Kane's Ice Return
The awaited return of Patrick Kane, following hip surgery and amidst rumors of potential destinations, crafts an intriguing subplot to the season. Whether joining a hungry contender or aligning with his hometown Sabres, his return will undoubtedly cast ripples through the league's latter half.
Patrick Kane's back on the ice after undergoing surgery this off-season

Where will #88 be playing this season? 🤔

(via @CAAHockey) pic.twitter.com/CuF1xwO8dB

— B/R Open Ice (@BR_OpenIce) September 27, 2023
Stay tuned and buckle up as the 2023-24 NHL season promises a cascade of narratives, potential history-making moments, and a hearty dose of competitive spirit encapsulating the essence of hockey.
(Visited 11 times, 1 visits today)