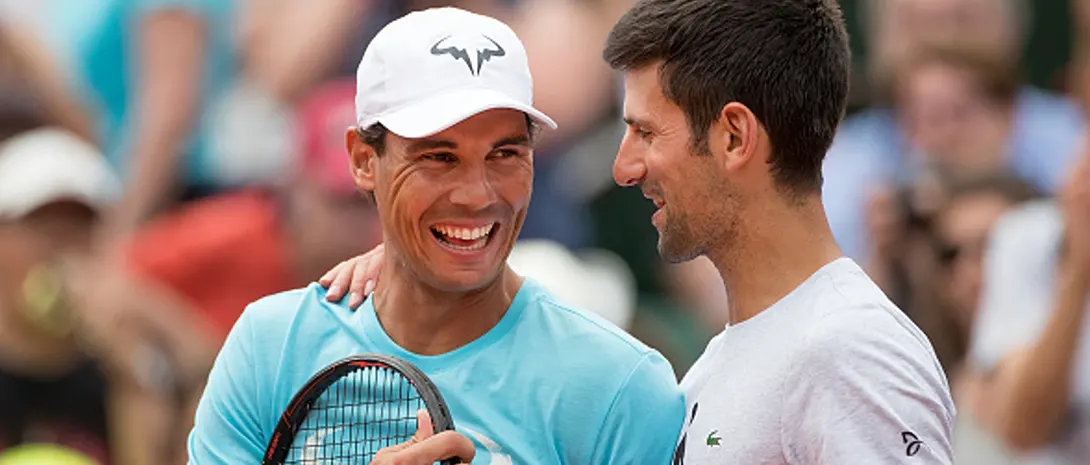 Key Takeaways:
Rafael Nadal acknowledges Novak Djokovic's superior tennis statistics.
Djokovic holds the record for the most Grand Slam titles with 24, while Nadal has 22, and Federer has 20.
Djokovic also boasts the record for the most weeks spent as world No. 1.
Nadal appreciates Djokovic's achievements and refuses to engage in a personal struggle for records.
Rafael Nadal's Acknowledgment of Djokovic's Tennis Prowess
Rafael Nadal has openly praised Novak Djokovic's outstanding achievements in tennis, acknowledging that, numbers-wise, Djokovic stands as the indisputable best in the sport's history. Nadal's gracious recognition comes in light of Djokovic's remarkable success in recent years.
Rafael Nadal on Djokovic US Open run

" I saw the draw no, it was like a draw of a player playing challengers. Congrats on his fourth US Open title but he did it at 36 and I did it at 32 no?. If I was healthy I would have gave him his 7th US Open runner up plate" pic.twitter.com/28DFoOC75L

— AR (@BuggyWhipFH) September 18, 2023
Djokovic's Impressive Grand Slam Record
Djokovic has secured four Grand Slam titles since Nadal's back-to-back wins at the Australian Open and French Open last year. Djokovic's victories at the 2022 Wimbledon, this year's Australian Open, French Open, and US Open have elevated him to an all-time high of 24 Grand Slam titles. In contrast, Nadal currently holds 22, and Roger Federer has 20.
Record Weeks as World No. 1
Additionally, Djokovic's dominance extends to his record-breaking tenure as the world No. 1 player. He now holds the record for the most weeks spent at the top spot in the rankings.
Perhaps this is Djokovic's most impressive record… more weeks as No. 1… all because of the points-earned defense scheme… that is, if you win a prize you have to defend those points for next year. If you don't win it next year… they subtract them… that's why it's… pic.twitter.com/Am03K1kjn8

— Miguel Gauna (@tumatey60) September 12, 2023
Nadal's Gracious Acknowledgment
In his gracious acknowledgment, Nadal emphasized that numbers and statistics speak for themselves. He does not harbor any illusions or ego-driven motives to downplay Djokovic's accomplishments. According to Nadal, the truth is undeniable – Djokovic's statistics are superior.
Subjectivity in Tennis
Nadal stressed that personal preferences, inspirations, and feelings towards different players are subjective aspects of the sport. He believes that in terms of titles, Djokovic holds the distinction of being the best in tennis history. Nadal also touched on the injuries he has faced throughout his career, suggesting that it's part of the sport's unpredictable nature. He congratulated Djokovic on his remarkable achievements, emphasizing that it doesn't cause him any frustration.
Nadal's Contentment with His Career
Nadal concluded by expressing his contentment with his own career and achievements, reaffirming that he won't engage in a personal struggle to become something he's not. He maintains his authentic appreciation for the sport and its history while acknowledging Djokovic's undeniable excellence.
(Visited 14 times, 1 visits today)