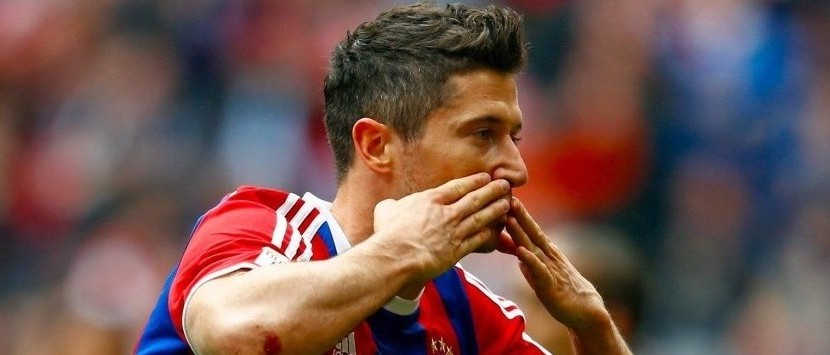 Robert Lewandowski has revealed that he is open to signing a new contract with the Bundesliga champions Bayern Munich. Still, he finally confessed that there has been interest from other European teams after being rumoured as a transfer target of Real Madrid and several other teams.
The 27-year-old striker joined Bayern Munich after a free transfer in 2014. He then signed a five-year contract with the Bundesliga No.1 team. Over the last several months, Lewandowski has been strongly linked with an eventual move to Real Madrid, Paris Saint-Germain or a number of Premier League clubs.
The player, who is also part of Poland national football team, has been entered in a total of 30 matches of Bayern Munich in all competitions over the current season. He has found the back of the net 31 times and has even been ranked fourth in the Ballon d'Or competition.
Lewandowski has revealed that there is a great possibility for him to prolong his stay at the Allianz Arena. However, he finally confessed that there has been certain interest from abroad and did not rule out the chance of leaving the Bundesliga club after the expiration date of his contract.
In fact, the striker confessed that he could very well imagine inking another deal with his current side. He described Bayern Munich as a superb team with a great cooperation between the players. He shared that he felt very well at the squad and it would be a wise decision to sign another deal with the German club that has a reputation of honouring qualitative performances at the field.
Lewandowski was not the only top-quality player of Bayern Munich who has been handed a new contract lately. In December 2015, Jerome Boateng, Xabi Alonso, Thomas Muller and Javi Martinez were offered contract extensions. Now, Lewandowski could turn into the highest-paid player in the Bundesliga history in case that he agrees to prolong his stay at the Allianz Arena.
The striker himself explained that he had noticed the way the club had prepared for the future, regarding the new deals of Muller and Boateng. He called the renewed contracts demonstrated the decisiveness of his side to make everything possible to keep their stars in the squad despite the great competition of the Premier League.
Lewandowski has been praised as one of the best strikers up to date. Juventus' Alvaro Morata has described the forward of Bayern Munich as the best attacking player in Europe. Lewandowski not only ranked fourth in the Ballon d'Or competition, but was also granted with the Polish Player of the Year award. In addition, he was previously awarded with four Guiness World Record Certificates after his five-goal haul in his side's match against Wolfsburg.
(Visited 221 times, 1 visits today)