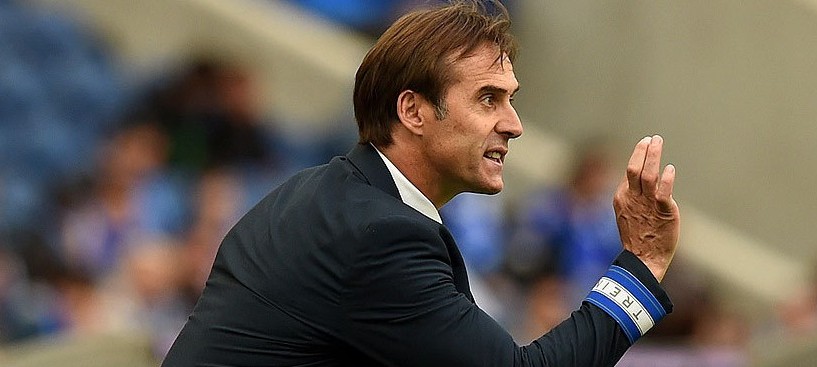 Primeira Liga runner-up Porto have given their head coach Julen Lopetegui the sack after the club has had a poor series of of results. The former boss of Valencia Nuno Espirito Santo has been reported as a potential successor of Lopetegui in several media reports. The Portuguese team has not won the Liga Sagres title since 2013 and there is currently a four-point gap between them and the current leader Sporting Lisbon.
Over his past as an active football player, Julen Lopetegui has been part of Real Madrid and Barcelona's ranks as a goalkeeper. After retiring, he has first managed the Spanish youth teams and then joined Porto in 2014. He has initially managed to impress with good work, since the Portuguese team ended up second after the team of Benfica. The excellent performance of the club also shocked Bundesliga leader Bayern Munich in the first leg of their Champions Lague quarter-final.
Unfortunately, the current campaign has not gone so well for Porto's manager. Up to date, Lopedegui's side occupy the second spot in the Primeira Liga table after a 2-0 defeat to Sporting Lisbon on January 2nd and a 1-1 draw with Rio Ave on January 6th. In addition, the club missed to qualify to the UCL knock-out rounds after they suffered a 2-0 defeat by Chelsea in their final group match.
The poor performances of the team lately have resulted in continuous media reports claiming that Porto's executive team was appointed Nuno Espirito Santo at the position of club's manager in November 2015. The news of Julen Lopetegui's dismissal was confirmed on Friday morning by the club that also shared in an official statement that its stalwart Rui Barros is to take the manager's job at an interim basis.
According to the team's statement, the board of the Portuguese team has made the decision to "change the technical team lead" by firing Julen Lopetegui. The club also revealed that the terms of contract's rescission are still being negotiated.
As already mentioned above, the name of Nuno Espirito Santo has been reported as the most possible replacement for Lopetegui. Of course, other names have been mentioned, too, including Andre Villas Boas – a former manager of Porto, Chelsea and Tottenham. Boas has revealed that he intends to leave his now-team Zenit Saint Petersburg at the end of the current campaign. Considering the fact that Jose Mourinho is also a free agent up to date since leaving Chelsea in December, he is also a possible option for replacement of Lopetegui at Porto.
(Visited 158 times, 1 visits today)