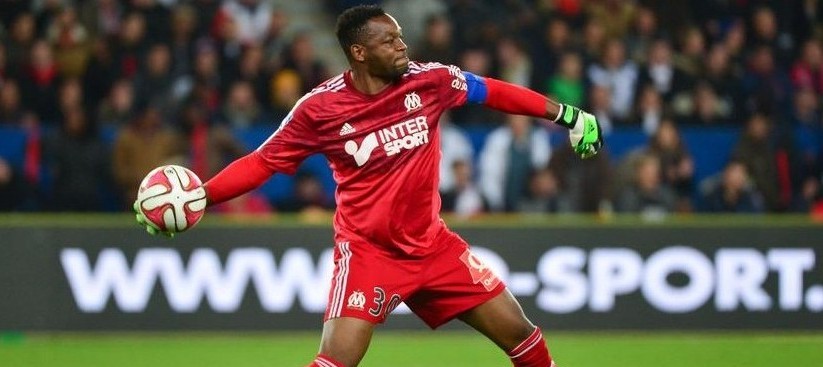 The midfielder of Marseille Abdelaziz Barrada has shared his hopes that the team's goalkeeper Steve Mandanda would prefer to stay at the club regardless of the fact the latter has been reported as an Aston Villa target. Mandanda was exactly the one who helped Marseille get to the last 32 of the Coupe de France competition.
The 30-year-old goalkeeper managed to keep his side's head above water over their game at Caen on Sunday. Mandanda was responsible for saving three of the hosts' four penalties after the match ended with a goalless draw following extra-time.
The goalkeeper, who is also part of the France national football team, has a contract with Marseille which is to expire over the summer. In December 2015, he refused to reveal if there is a possibility to move to Premier League's Aston Villa over the January transfer window. The player is not short of options in case he prefers to end his contract with Marseille, who became champions in Ligue 1 in 2010.
Apart from being wanted by Aston Villa, the goalkeeper has been reported as a potential transfer target of Liverpool regardless the club's head coach Jurgen Klopp has denied rumours for entering the market for a new goalkeeper. Mandanda has been said that is to become a replacement of Klopp's first-choice goalkeeper Simon Mignolet.
Mandanda has also been reported as a transfer target for the Turkish club Besiktas, but still, his team-mate Barrada expressed his hope of the goalkeeper staying at Marseille. The midfielder commented on the situation in an interview for a reputable French media and also shared that his side had been actually hoping to go to penalties since they were aware of the fact they had had a quality goalkeeper at their disposal.
Abdelaziz Barrada also expressed his gratitude to Mandanda for getting the team through to the next round of the competition and shared that the players were united and concentrated in order to give their best in the game. Still, they had fallen into a "tricky situation" and it was the goalkeeper who actually had got them out.
Barrada also added that the entire club is proud of the excellent performance of Mandanda, which is why he hoped for the goalkeeper to prolong his stay at the team at least until the end of the season. According to Barrada, it would be entirely up to Mandanda to make the decision, but he was someone who was good for the club.
(Visited 50 times, 1 visits today)