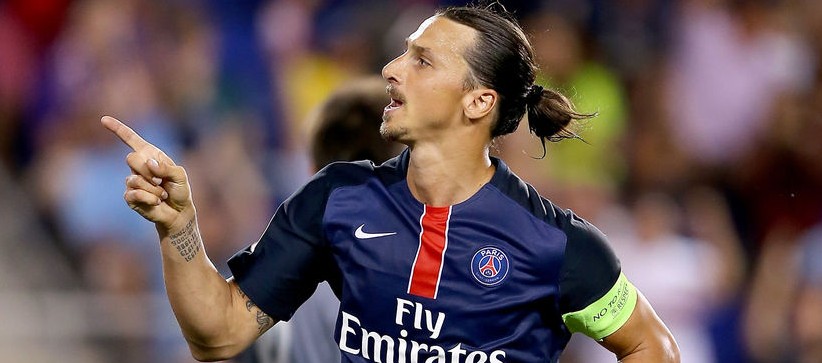 At a news conference, the head coach of Paris Saint-Germain Laurent Blanc revealed that he is unaware of Zoran Ibrahimovic's situation. The manager shared he has no idea if the legendary striker will decide to have his stay at the club extended, or not.
He also commented on the player's performance, saying he is still capable to dominate matches, which makes him important to the system and strategy of Paris Saint-Germain. Ibra's future in the French grand, however, is still unknown.
Laurent Blanc said that the question where a player would go after his contract expires is an important one, but even more important is what the player wants to do.
Head Coach Blanc shared that in his opinion, the question what the striker really wants do to with himself needs to be asked to Ibrahimovic himself. Blanc said: "We'll have to see if he wants to continue the adventure here in Paris – if the club is in a position to offer him an extension."
The contract of the 34-year-old Ibrahimovic is to expire at the end of the current season. His name has already been associated with speculations that the forward is looking for an exit opportunity from the Ligue No.1 team. He is constantly rumoured to have been offered a contract at several clubs in Europe and even in the United States.
Regardless of the large number of offers, Ibrahimovic, who is also part of the national football team of Sweden, has still not denied staying at Paris Saint-Germain. The president of the team – Nasser al-Khelaifi – revealed in November that the club would probably discuss the chance of offering the Swiss to extend his deal with them.
According to manager Blanc, however, "it's not the main talking point" because the team is still "in the middle of the league."
Ibrahimovic is one of the best strikers who have been ever part of Paris Saint-Germain. He has netted the ball 10 times in Ligue 1 matches over the season so far, helping the French No.1 team maintain their leadership on the championship's table, opening a 13-point leading gap before the team of Caen, which is second in the table.
The team has been keeping its victorious march through Ligue 1 having played 16 matches without defeat at the national championship since the beginning of the season. Still, Paris Saint-Germain were held back due to the goalless draw against Angers on Tuesday.
The French No.1 team is to face several tough fixtures on the line, starting with the match against Ligue 1 No.5 team Nice on Friday. Then, they have a game with the 4th-placed Lyon. The last Ligue 1 match of the team before the winter break is the one against Caen, which currently occupies the second place in the championship's table.
(Visited 202 times, 1 visits today)