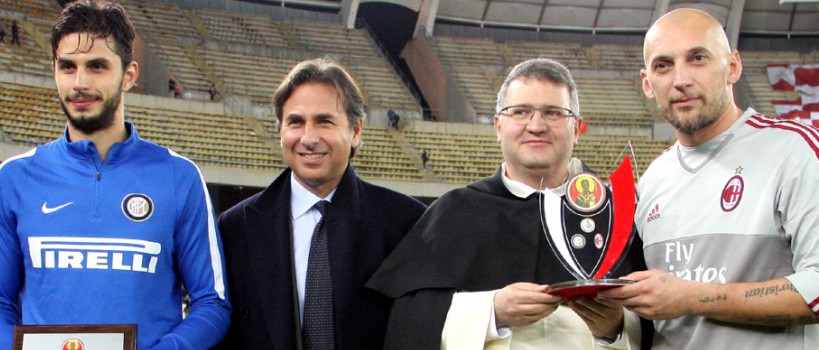 Milan lifted the first ever San Nicola trophy as they defeated their rivals Inter and Bari, yesterday evening. This is the first edition of the pre-league tournament. The games were hosted by the Italian club Bari and took place at the Stadio San Nicola. The round-robin tournament consisted of three mini matches, each one lasting for 45 minutes.
The opening match for the evening was between Bari and Milan. 15 minutes into the game, Bari's defender, Tonucci, tried to block a cross, aimed for Milan's midfielder, Nocerino, but his attempt failed, as he ended up scoring a goal into his own team's net. The hosts were defeated with 0 to 1 for Milan as Patrick Cutrone scored a goal for the Rossoneri.
The Serie B team then proceeded to play against Inter Milan and suffered a second defeat, after Inter's Guarin and Manaj bagged two goals.
Finally the two winning teams participated in the third friendly. Inter Milan's Gyamfi took his chances and made an attempt to score, but the rivals' defence was on point and prevented him from netting the goal. 15 minutes after the game's start, Nocerino passed the ball to his team mate Poli, who scored against the Rossoneri's city rivals. The match ended in a 0 to 1 win for AC Milan, who took the trophy home. Interestingly, the hosts failed to net even a single goal in both games they participated in.
Ghanaian midfielder Boateng was bent on making a good impression on his return to AC Milan. The player has been training with the Rossoneri for several months now and is expected to sign with the club for a permanent stay. The Ghana international is a former Milan forward and was invited to join the team against rivals Inter in the friendly tournament.
In a way, the 28-year old Ghanaian triumphed over Inter's young defender. Boateng remained on the pitch with Milan throughout the entire game against Inter. He attempted to net another goal but Internazionale's shot stopper Carrizo was quick to block the ball.
In comparison, Bright Gyamfi started the game with Inter but was replaced in the 40th minute. Nevertheless, in the previous friendly against Bari, Gyamfi remained on the field throughout the entire game and made an impression with his play.
After the tournament Milan plan to concentrate their efforts on the upcoming game against Sampdoria. This Saturday, the Rossoneri will play against Sampdoria at their home ground, the San Siro.
(Visited 99 times, 1 visits today)