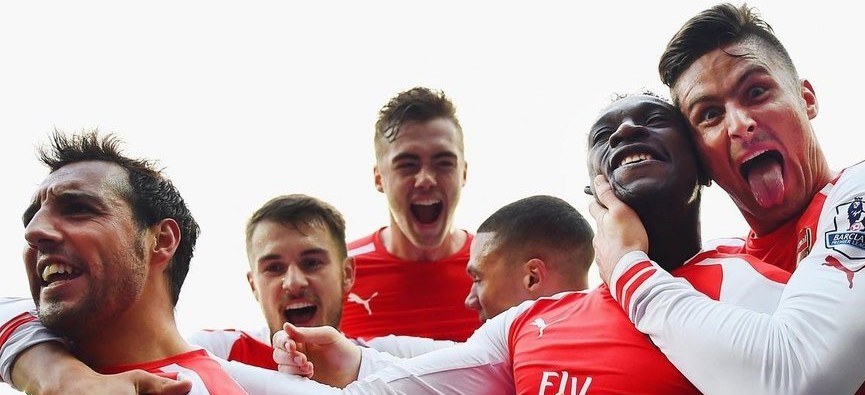 Arsenal played against Dinamo Zagreb on Tuesday at Emirates Stadium. Arsène Wenger's players needed a win in order to keep their chaces for a place among the last 16. The team achieved a 3-0 victory over Dinamo Zagreb.
Despite the pressure on the game, Arsenal had no problems with Dinamo. The team scored three goals, although Dinamo beat them with 2-1 earlier in Zagreb.
In the 29th minute Mesut Özil headed towards Dinamo's net and his team took the lead. Four minutes later Alexis Sánchez doubled the result. In the 69th minute Sánchez scored again. The Emirates Stadium was rolling.
Özil was criticized for moving from Real Madrid to Arsenal in September 2013. However, during this season he has been pulling all the strings in the club. The German has become the top goal-maker and set a record at the Premier League. He assisted in his 7th victory, when Giroud put the Gunners ahead on Saturday at West Bromwich Albion.
Özil has been the most influential footballer as the Gunners succeeded in keeping their Champions League campaign accurate. He displayed brilliantly measured passings and scored many points. Ozil is definitely a player of the highest class. He was involved in 11 goals in his nine appearances in all games.
Sánchez is a combination of talent and intensity. He is a world-class forward, who easily can set the tone for the game. Arsenal bought him from Barcelona after the 2014 World Cup. He proved himseld, not only with the two goals at the match yesterday, but with his determination and desire to win the ball back when his team was not in possession. Sánchez was involved in seven of nine goals this season.
Zagreb started well and had a plenty of possession, but Arsenal were the dominating team.
Dinamo Zagreb did not score in 9 matches and have won none of the last 12 of the campaign.
Arsène Wenger, Arsenal's manager, said that it had been a good night. He added that they had come up with a chance and they had it. He hopes that the team will perform well against Olympiacos.
The manager of Dinamo Zagreb Zoran Mamić commented that Arsenal had played better that the last time when the two teams had met in Zagreb. He said that Arsenal had a great chance of winning the game against Olympiacos.
(Visited 86 times, 1 visits today)