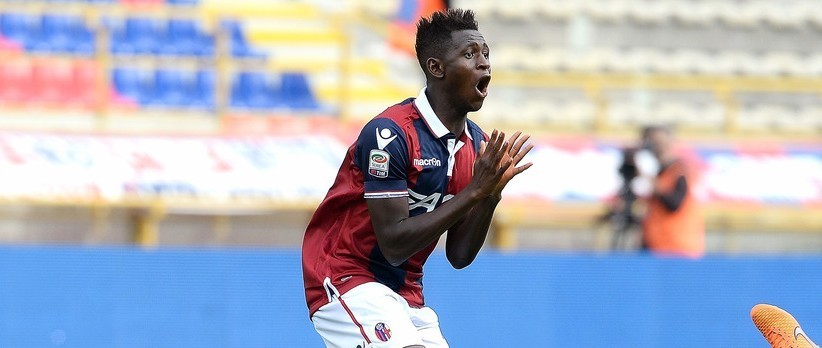 Bologna's midfielder, Amadou Diawara, is rumoured to be interested in a transfer to Chelsea. According to reports, several major league clubs are currently eyeing the teenage midfielder, who signed a deal with the Italian club, Bologna, in August, 2015. Diawara is considered to be one of the most promising Serie A players this season.
Former Bologna manager Delio Rossi and his successor Roberto Donadoni are very impressed by the Guinean player, and have praised his skills and potential on numerous occasions. This explains why the 18-year old player has been featured in all important Bologna games this season. Diawara originally played in Lega Pro, which is Italy's third Division. Since then, he has come a long way – ever since he was transferred to Bologna, the Guinean has appeared on the field as a starter a total of nine times.
Diawara's impressive performances at the field attracted the attention of several clubs. His name has been linked with other prominent teams – AC Milan and Juventus. The Rossoneri aim at signing a deal with Diawara, in an attempt to strengthen their midfield. The Rossoneri's Scudetto rivals, Juve, are also focused on the promising 18-year old. The two Serie A clubs are in serious competition with Chelsea. It is rumoured the latter are firmly determined to bring the Guinean midfielder to Stamford Bridge this January.
The Blues struggled with their start this season, and are probably looking for talented and promising players to improve the quality of their game. Chelsea's manager, José Mourinho, is serious about his plans to secure the Guinean player's transfer.
Another plausible reason for the move is the decline in form of the Blues' defensive midfielder, Serbian Nemanja Matić. Diawara's possible transfer from Bologna, may be interpreted as Chelsea's attempt to compensate for Matić's poor performance this season. Diawara's transfer possibly aims at providing competition for Matić, forcing him to step up his game.
Out of these three clubs, The Blues appear to be closest to actually signing Diawara. Reportedly, Bologna's midfielder himself, is hoping for a January move to Chelsea. According to some transfer experts, Diawara's agent, Robert Visan, will do everything possible to make the Chelsea transfer happen. Visan is said to be rather close to Pini Zahavi. The latter, on the other hand, has a close relationship with Roman Abramovich, Chelsea's owner.
The fact, Diawara himself, seems to be willing to move to England, is yet another thing that tips the scales in Chelsea's favour. 'I dream of playing in the Champions League', Diawara reportedly said. Experts argue Bologna will demand a minimum of £15 million for his transfer to Chelsea.
(Visited 93 times, 1 visits today)