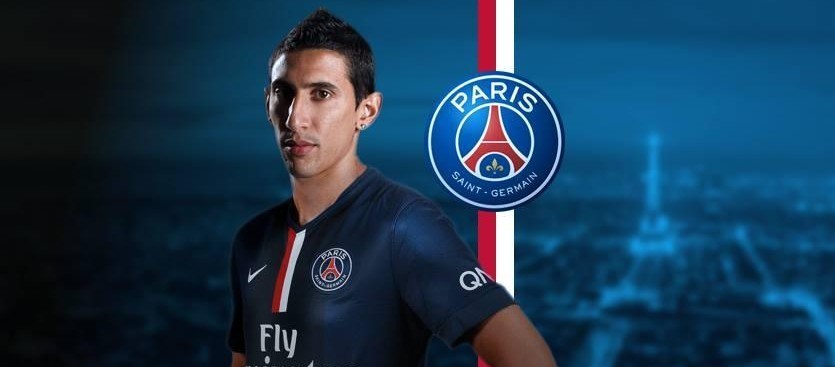 Angel Di Maria is considered to have managed to make a positive start in France after his £44.3-million transfer from Manchester United to Paris Saint-Germain in August 2015.
Di Maria, who is also part of the Argentina national team, had to postpone his début with the team until the fourth round of Ligue 1 fixtures due to a problem with a hamstring. Unfortunately, the latter prevented him from taking part in the pre-season trainings and preparatory matches, which of course, had a negative impact on his overall form.
As already mentioned above, the 27-year-old Di Maria started playing in the Paris Saint-Germain team over the Ligue 1 fixtures' fourth round and made a fantastic début at AS Monaco. After spending 66 minutes in place of Lucas Moura, the player, whose nickname is El Fideo, made excellent impression, provided Edinson Cavani with an extremely accurate cross, thanks to which Cavani scored.
Di Maria managed to once again prove his talent before the end of the unconditional 3-0 victory over Les Monegasques. The player, who can play as either a winger or attacking midfielder, took the ball into his own half before passing to his compatriot Ezequiel Lavezzi who scored a goal. This was a great start for Di Maria, who definitely managed to win many new fans at the very beginning of his collaboration with Paris Saint-Germain.
Now El Fideo proved his talent without any doubt and showed why the French team pursued him for such a long time and was ready to pay an enormous amount of money in order to finalize the transfer. Di Maria has scored a total of four goals and three assists over his nine appearances in Ligue 1. This makes five goals and four assists if his UEFA Champions League appearances are included, which is a truly fantastic result, especially considering the fact that the player faces many difficulties due to his injury. In addition, Paris Saint-Germain has already started to get some return on its massive investment in the Argentine footballer.
The Paris Saint-Germain No.11 kept his good start in life over his first experience of a match at the legendary Parc des Princes. He played the full 90 minutes and regardless of the fact he did not score a goal, he proved that the team stands better at the ground and is more dangerous with him in the starting eleven.
This success was once more repeated by Di Maria, who needed only several minutes in the Bordeaux game, which was the first match of the Champions League Group A, to make a clear statement to everyone who was not convinced in his qualities so far. He managed to score with an amazing goal and later triumphed after a total of 85 minutes of play.
Di Maria did not disappointed his fans at Stade de Reims in Ligue 1, too, no matter that he was only given a 25-minute rin-out in place of his fellow player El Pocho. He was part of the starting eleven for the visit of EA Guingamp, and scored a goal, not to mention the fantastic assist for Zlatan Ibrahimovic, thanks to which Paris Saint-Germain finished 3-0 over its opponent.
The remarkable start of Di Maria season continued over the next matches he took part in. After scoring some back-to-back goals and making wonderful assists against Nantes and Guingamp, it would be fair to say that the Argentinian was not given enough credit for his accomplishments. Still, he had been used for the full-time in both Argentina's 2018 FIFA World Cup qualifiers in October, but then he was rested because of the fatigue that was caused by the cruel combination of intensive trainings, intense matches and travels.
All of the incredible results reached by the Argentinian come to prove that Di Maria is undoubtedly one of the most promising players of Paris Saint-Germain, and remains among the team's best investments over the last few years.
(Visited 68 times, 1 visits today)