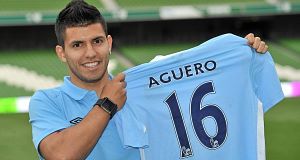 According to Barcelona's Javier Mascherano nobody compares to Lionel Messi. It's understandable why he thinks this, Messi is undoubtedly one of the best in the world – ever! but what if they were compared? Would little Leo beat Sergio Agüero hands down? The way Mascherano is talking… you'd think so!
Opta-powered fantasy football game Oulala took the opportunity and had a look at the two strikers ahead of Manchester City's first leg home clash against Barcelona in the Champions League on Tuesday night, via their Premier League and La Liga form this season.
With the Manchester City man notching up fewer appearances and minutes due to injuries, the comparison was made on a per 90 minutes basis.
Very few strikers get anywhere near Messi when it comes to goals, however Agüero's strike-rate is not far off at 1.04 goals per 90 minutes to Messi's 1.11.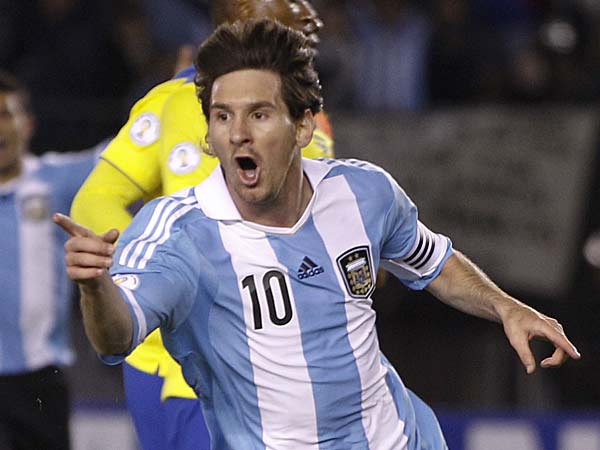 In fact, Agüero actually enjoys more shots per 90 minutes than his friend (5.5 to 4.85), although it is the Barcelona man that has the better shot accuracy with 62% to Agüero's 58%.
Creatively it is Messi that excels. With 2.64 chances created to Agüero's 1.28 and 0.55 assists per 90 minutes against 0.31 from Agüero.
The two final criteria looked at were pass completion and successful dribbles made. It is in-fact Agüero that comes out on top for both. With a pass completion of 85% against Messi's 82% and 56.7% of his attempted dribbles completed to Messi's 52.2%, it's clear that this match-up isn't as one sided as some may have first thought.
With Sergio Agüero claiming a very respectable 3 of the 7 main performance criteria over Lionel Messi and extremely close for strike-rate, is Mascherano massively underestimating his opponent? He's almost as good as Messi… be careful Javier!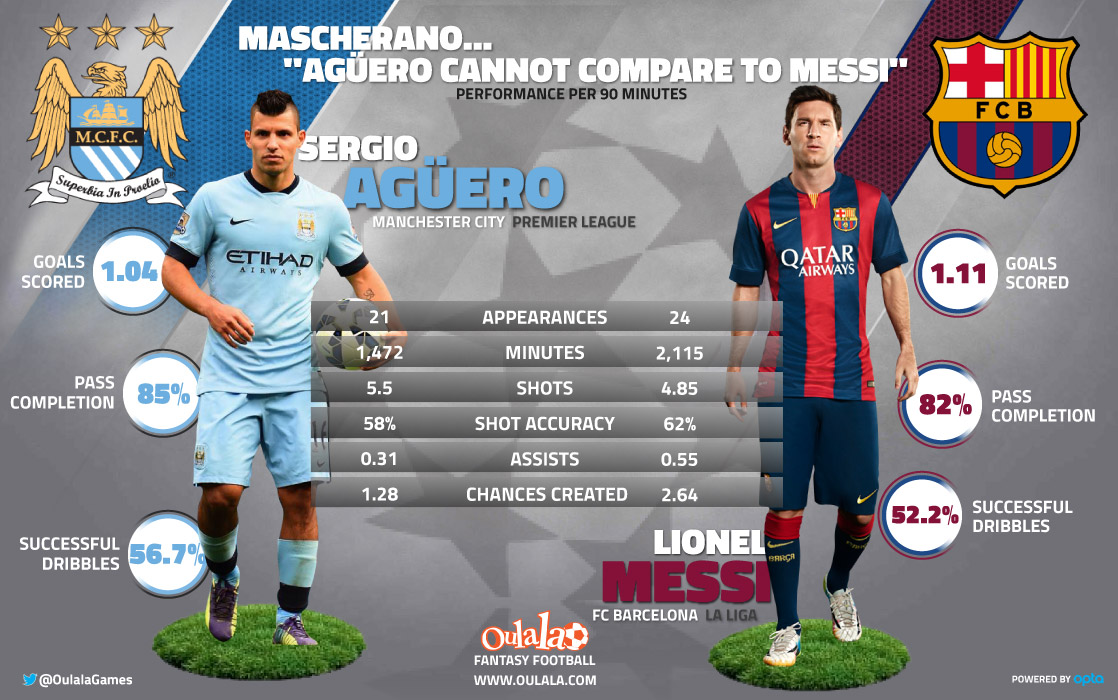 (Visited 177 times, 1 visits today)