Chelsea have been searching for a world class goalscorer over the past few seasons and finally lured one in the form of Diego Costa this summer.
The Spanish international has started the season in style scoring twice in the opening two premier league games.
However, just when the Blues supporters thought that their striker dilemma is over and they are going to sell Fernando Torres for good, Chelsea suffer a crucial injury set-back.
Diego Costa has injured his hamstring in training and might be out for over a month. In such a scenario, Chelsea are likely to keep Torres with not much time left in the window to sign any replacement as well.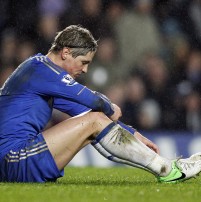 In the mentioned period, Costa is likely to miss the all important game vs Manchester City at the Etihad as well as the start of the Champions League and Mourinho cannot afford to pass all the burden to a certain veteran in Didier Drogba.
Jose Mourinho did claim a few days back that he wants Fernando Torres to stay but his stats suggest that he will not be able to replace someone like Diego Costa.
Fernando's confidence has hit a new low as he is now the third choice striker in the team and fans can expect Drogba to get the nod for start in the absence of Costa.
Torres warmed the bench in the opening PL game against Burnley and did not even make the squad last weekend against Leicester whereas 36 year old Drogba featured in both games for the Blues.
Follow Soccerisma on Twitter: Soccerisma
(Visited 34 times, 1 visits today)