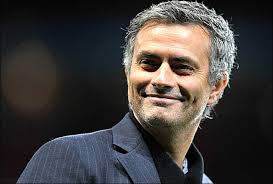 The English champions last season and perhaps the English shame this season as Manchester Untied are struggling to even finish in top 4.
Red Devils surely need a miracle to bounce back from recent disappointments and qualify for next year's Champions League.
However, Chelsea's boss Jose Mourinho believes that United can still achieve it, despite the fact that there are even Red Devils supporters who think other wise. Mou claimed:
"They can, (finish in top 4) it's not easy, they know that. They know that they are in the limit for the top four."

"And they also know that teams like us, Liverpool, Arsenal, are doing okay and it is not easy for them to close such a big gap, but it's possible."
Nevertheless, coming to the point, Man United have been horrific this season, a fact enjoyed by every other supporter except the Old Trafford faithful.
Mourinho is well aware of the fact that David Moyes is a mediocre manager, well atleast compared to the top managers, no one can deny that.
That is the main reason why other fans want him to stay at United so that the club does not progress. In the same way, Chelsea's boss wants the Man United manager to stay.
"I feel sorry for them, I never enjoy when somebody is having some problems like they have but United is United and David is experienced enough to cope with the situation and the future will be better for them."
Even though he did claim that the future will be better for them but Mourinho knows that Moyes cannot possibly a big threat as Fergie was and hence him staying will eventually be good for Chelsea.
Follow Soccerisma on Twitter: Soccerisma
(Visited 46 times, 1 visits today)