Arsenal should act swiftly as Man United look to challenge them to hire the services of one of Gunners main targets.
Since the transfer window has opened, the rumors are proving out to be more and more painful every passing day as Moyes does not sign anyone.
Manchester United are in a complete mess under the management of former Evertonian. The question remains, will he sign even one top class player this winter or will he fail again like summer.
According to Daily Star, David Moyes wants Atletico Madrid pair, Diego Costa and Koke at Manchester United.
Costa, who has a release clause of €38m is closely monitored by many top clubs and Arsenal are desperately in need of a striker.
As far as United are concerned, they do have more than a few decent options upfront, plus their best star Robin van Persie is looking to return sooner rather than later. In such a scenario, they really do not need to spend hefty sum to sign Costa.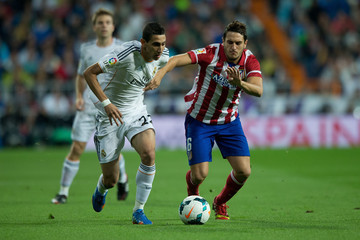 On the other hand United have been link with Koke for a long time and the €36m rated midfielder has been one of the brightest prospects in the continent.
Man United need Koke more than Costa as they have been really poor in the midfield department.
However, it is highly unlikely that Atletico will let their best players leave the club, that too in January when they are flying high in the league and the Champions League as well.
Luring even one of the mentioned starlets this winter will be a miracle by Moyes. Can that happen by any chance, we shall see.
Follow Soccerisma on Twitter: Soccerisma
(Visited 37 times, 1 visits today)