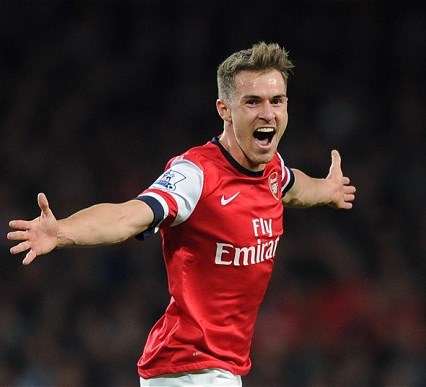 Despite all the blips, Arsenal are still on top of the premier league and with the current squad proving fruitful, they have best chance in years to end the trophy drought this season.
Although, Arsenal have lost their star winger Theo Walcott again because of injury but they have enough depth to cope without him.
Gunners fared well when he was out for seven league games.
Already with quality attacking midfielders at disposal, Arsene Wenger will be more delighted with the return of 20 year old Alex Oxlade Chamberlain.
Capable of playing in variety of attacking positions, the youngster can help Arsenal in the absence of Theo.
Gunners best player this season, Aaron Ramsey was glad on Alex's return and the Arsenal star turned to twitter to tweet his delight.
Ramsey tweeted.
"Been a long time without him but great to see Chambo back in training today with the team!"
Chamberlain was injured in the very first game of the season against Aston Villa where the Gunners lost 3-1 at the Emirates Stadium.
He may have returned to training but still needs more match fitness to return to premier league action.
Arsenal need Chamberlain at his best so that they do not miss Theo Walcott and youngster has all the talent for that matter.
Follow Soccerisma on Twitter: Soccerisma
(Visited 73 times, 1 visits today)