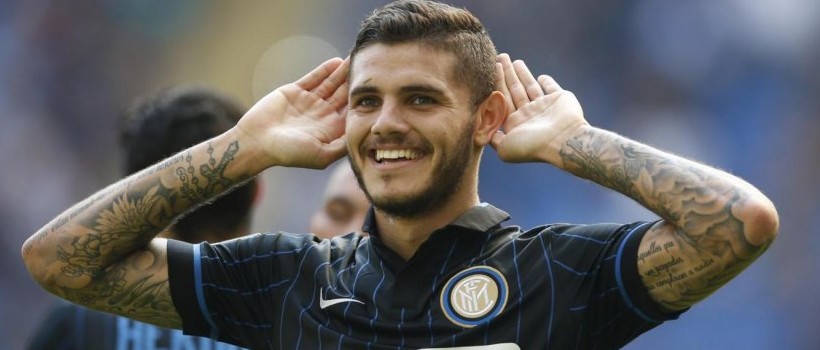 Inter Milan's striker, Mauro Icardi, is expected to stay with the Italian club. It was speculated sporting director, Piero Ausilio, was approached by representatives of Premier League club, Arsenal, to discuss Icardi's possible move in January's transfer window. According to reports, Arsenal had been eyeing the striker for quite some time and were firmly set to sign him.
Icardi signed with the Internazionale shortly before the 2013/2014 season's start. The Argentinian went on to become one of the team's most proficient players. Icardi has developed a good technique and is said to have an eye for goals. The fact, he has scored a total of 27 goals in all competitions in the previous campaign, serves as a sufficient prove. With such statistics, it makes sense Inter are determined to keep Icardi for themselves. At least at this point, that is.
This summer, there were reports Arsenal officials were set to recruit the player at all costs. It was speculated, the Gunners were prepared to part with £32million for Icardi's transfer.
The rumours resulted from the striker's underwhelming performance at the beginning of this year's campaign. This season, the Argentinian was appointed captain, but appeared to be struggling to live up to the higher expectations, his team and coach had set up for him. Icardi has scored four goals and has one assist this season, which by no means can be considered a failure. It seems the player, himself, had set the bar too high.
On the other hand, The Gunners have not been doing so great, either. Due to the recent spate of injuries on his team, manager Wenger reportedly has made yet another attempt to recruit Internazionale's striker. Even former Manchester player, Gary Neville, spoke in favour of Icardi's transfer to Arsenal. In Neville's opinion, the Argentinian could greatly benefit from the move, as his style of play does not suit the tactics, coach Mancini employs.
However, the chances of Inter parting with Icardi at this point, are equal to nil. Besides some reports indicate, the Gunners are much more likely to attempt to strengthen other areas of their current squad.
There were rumours, the Internazionale will not miss out on the opportunity to sell Icardi when the next transfer window opens. Nevertheless, such speculations will prove to be unsubstantiated, as Inter appear to be set on keeping their top goalscorer, Icardi, on their squad. It is highly unlikely for the Serie A club to part with such a talented player in January, when they're aiming to win the Scudetto champion title.
Indeed, Inter's chances of winning the title are substantial, as the team currently sits on top of the Serie A standings table with 30 points. As they are only two points ahead of rivals Napoli and Fiorentina, Inter might look to cement their chances of winning the Scudetto and will hardly transfer any of their key players at this moment.
Icardi is often referred to as one of the best strikers in European football. The Argentinian has been in the starting line a total of 82 times, scoring 40 goals. He is expected to remain with the Serie A team at least until this season ends, as his assistance in winning the Scudetto will be needed.
(Visited 145 times, 1 visits today)