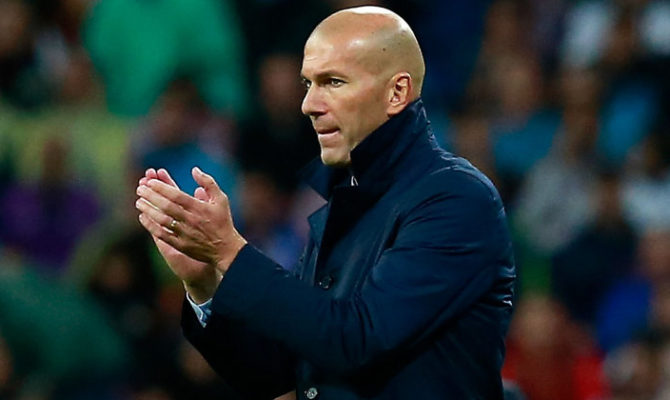 Former Real Madrid manager Zinedine Zidane has reportedly compiled a four-man transfer shortlist amid the recent speculation associating him with the Manchester United job.
The legendary Frenchman is presently on a sabbatical after spending two-and-a-half seasons with Los Blancos where he went on to win three Champions League titles and a La Liga crown.
Over the past few weeks, Jose Mourinho's future at Old Trafford has been called into question amid the club's average start to the season and The Mirror reports that Zidane is supposedly keeping an eye on the proceedings.
Zidane is understood to have a lasting desire to succeed Mourinho at the Theatre of Dreams and The Mirror reports that the three-time Champions League-winning manager has already drawn up a shortlist of targets.
In his wishlist, the Frenchman is said to have Real Madrid duo Toni Kroos and James Rodriguez – currently on loan with Bayern Munich whilst Rodriguez's clubmate Thiago Alcantara and Paris Saint-Germain's Edinson Cavani are also included.
Nonetheless, Zidane may have a tough time convincing the United hierarchy to spend hefty sums on the quartet, given the club have recently urged Mourinho to concentrate on developing talents from the youth system.
Since their time under Louis van Gaal, United have certainly opened their cheque books to compete with Europe's elite but of late, they seem to have taken a back step whereby the club are only seeking players, who could provide a re-sale value in the future.
Based on this, the likes of Cavani and Kroos, in particular, may not appeal the board in the forthcoming transfer windows, although nothing of this may happen, should Mourinho remain at the helm of things.
The Portuguese currently has the entire support from above despite the average beginning to the campaign and the coming months may decide whether he can preserve his position. United are presently 10th on the table after registering just six points from their opening four league games.
(Visited 807 times, 1 visits today)