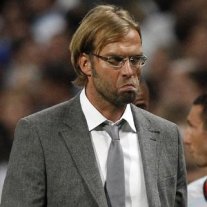 Liverpool suffered a shocking defeat at the hands of another relegation threatened team and now, even a top four finish looks highly unlikely.
The Anfield faithful must have thought that their team have returned to form after comfortably beating Tottenham Hotspur at home but it wasn't to be. The Reds continue to struggle against weaker sides and that has baffled the supporters.
The Mersyesiders were considered as strong contenders for the Premier League title in the first half of the campaign. However, since the turn of the year, Klopp's men have only managed to win one PL fixture.
Last night, Leicester were playing their first game after getting rid of Claudio Ranieri. With a care taker manager, the Foxes were able to absolutely rip Liverpool apart.
The Reds had enough time to prepare for the game and the German manager even took his team to Spain. Unfortunately, they just did not show up last night.
The fans are getting furious by the minute and a lot of them have turned against Jurgen Klopp. Here are a few reactions.
Liverpool were 10 points clear of Manchester United, Now they may as well forget about finishing in the top four

— Farjad (@Farjad07) February 28, 2017
@LFCMostar Four of Liverpool's five Premier League defeats this season have come against teams who started the day in the relegation zone

— Daniel Hughes (@Hughesdj1) February 27, 2017
@LFCMostar and they just had a 16 day break !! What excuse can he pull out the bag now !! Rodgers and sturridge r probably watching laughing

— Dowsey (@fbateallthepies) February 27, 2017
@LFC KLOPP OUT

— Ben (@CaIvinCIyne) February 27, 2017
@LFC This Liverpool team is hopeless! Losing in this way is shocking! After this spiritless sham performance, I'm burning my shirt tomorrow!

— M Harry (@MHarryYamson) February 28, 2017
@LFC bring back Rafa

— Tom (@TomLFCx) February 28, 2017
@LFCMostar Klopp not working for us. Moneyball owners & ?ball manager not paying off. ❤️ Klopp, but still miss Rafa who could sign a player.

— shoodybaw (@shoodybaw) February 27, 2017
(Visited 100 times, 1 visits today)