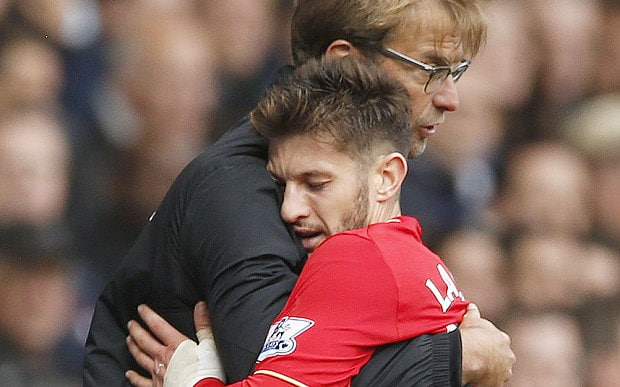 Liverpool finished 8th in the Premier League last season but they are absolutely flying high in the current campaign.
Under the management of German boss Jurgen Klopp, the Reds have turned into the best attacking side in the country.
Star players have stepped up big time for the Merseysiders this season and it will be fair to say that Lallana has been the most improved player.
The former Southampton star scored 4 goals and provided 6 assists in 30 league games last season. This season, he has already scored 7 goals and provided 7 assists in 18 PL fixtures.
Such brilliant form has attracted interest from top clubs and Tottenham want to sign him. However, Liverpool are looking to double Lallana's wages and hand him a new deal worth £120,000-a-week, £6.2million-a-year (Express).
The Reds need to reinforce their squad this month and must also hold onto their key players and Lallana is one of them.
Liverpool and Tottenham supporters had their say on twitter. A few reactions are provided below.
'Spurs to make bid for Lallana' Would love that but why would he move sideways… Plus can't see Liverpool letting him go anywhere

— Tom Evans (@Evans3655) January 8, 2017
Bullshit. We were offering Lallana a new deal anyway. As if a player would leave Liverpool for Spurs. Bullshit story. #LFC https://t.co/kG3lFg2E8i

— Neil Simpson (@Simpson2102) January 8, 2017
"Liverpool will offer Lallana a new deal to fend off interest from Spurs" HAHAHAHAHAHAH yeah we're fucking terrified

— P1SS FLAPS ♛ (@Itsbossthayeno) January 8, 2017
#Liverpool should raise #Lallanas contract because he might get lured away if #Klopp isn't carefulhttps://t.co/XbMjFGKkNQ

— Tiki (@Tikitheman) January 9, 2017
Don't see this move happening at all. no way. #THFC #COYS #LFC #YNWA #spurs #lilywhites #lallana #transfermarkethttps://t.co/D5ivPvm1ED

— Subhankar Mondal (@subhankarjourno) January 8, 2017
As if Lallana would leave for Spurs hahahaha fuck off https://t.co/7szhCFN2ZD

— Liverpool Polls (@LiverpoolPolls) January 8, 2017
@HotspurRelated doubt we would be in for him. 28 yr old who would break cap. Nonsense

— (((Allspurs))) (@all_spurs) January 8, 2017
@RickSpur Never gonna happen now, you'd have thought. Last summer, or even summer before, was the time to make a move – if any.

— Hotspur Related (@HotspurRelated) January 8, 2017
@DExpress_Sport like we would be worried about spurs.

— Warren Fowles (@redwozza) January 7, 2017
(Visited 54 times, 1 visits today)