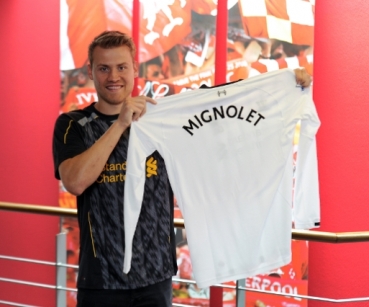 Liverpool's defense continue to leak goals on regular basis and the Reds conceded three against Arsenal last night.
The defenders find it difficult dealing with aerial balls and at the same time they have a goalie at the back who lacks confidence at the moment.
However, according to Football Insider, Liverpool have actually agreed a new deal with Simon Mignolet worth $26.9 million that will raise his salary by £20,000 and will expire in 2020.

The question however is that does it make any sense to give Mignolet a new deal with a decent raise?
It will be fair to say that the Belgian international was somewhat responsible for conceding the first two goals against the Gunners last night.
Due to his inconsistency and the poor form of Adam Bogdan, Klopp has re-called Danny Ward from his loan spell to help.
Taking positive points into consideration, Liverpool voted him as the player of the year last season and he also kept the highest number of PL clean sheets in 2015. In your opinion, do Liverpool need a new goalie or is Mignolet good enough?
(Visited 32 times, 1 visits today)