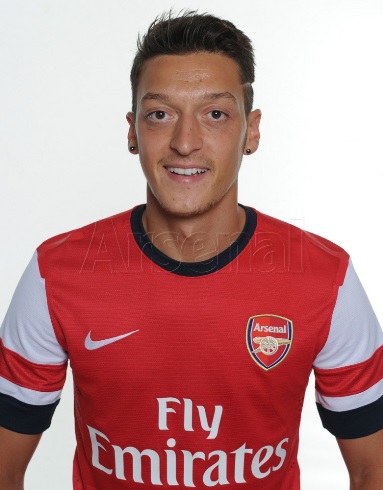 Over £100 million was spent by Manchester United and Arsenal on ex-Real Madrid teammates Ángel Di María and Mesut Özil and on Monday the two players faces each other for the first time this season in the FA Cup.
Özil was injured when United visited the Emirates in November, a game in which Di María set up Wayne Rooney's late winner in United's 2-1 away victory.
With the FA Cup as the only realistic chance of silverware for both sides this season United manager Louis van Gaal has described the quarter-final clash as being like a final with the winners possibly gaining from a positive psychological advantage in the continued battle for top four spots in the Premier League.
With the match having such importance to both sides, the focus will switch to two players. Ángel Di María broke the British transfer fee last summer when Manchester United paid Real Madrid £59.7m for his services and Arsenal shelled out a club record fee of £42.5m for Mesut Özil in 2013, also to Real Madrid, it is time both players showed their worth and stepped up for their clubs when they need their quality the most.
Opta-powered fantasy football game Oulala pitted the two against each other in an attempt to identify the player most likely to make the difference. Due to Özil's fewer appearances this season due to injury the comparison was made on a per 90 minute basis.

The creativity stats were evenly shared. Özil has completed more successful passes (51.7 to 34.8) and has made more key passes (2.33 to 2.26) per 90 minutes. The German has also enjoyed the better pass completion rate of 87% to Di Maria's 78%. The Argentine however pulls back with fractionally more chances created (2.75 to 2.74) and more assists (0.49 to 0.42).
When it comes to finishing it is the Arsenal player that excels with more goals (0.25 to 0.18) and a better shot accuracy (50% to 43%).
Özil has also bettered Di Maria for dribbles with 58.2% of his attempted take-ons successful to the Argentine's 41.7%. In spite of this, it is the United player that has provoked more fouls (1.22 to 1.08).
Manchester United manager Louis van Gaal has won silverware in his first season at every club he has managed, can Ángel Di María keep that trend alive or can Mesut Özil be the man to ruin that impressive feat?
Follow FFStrategist on Twitter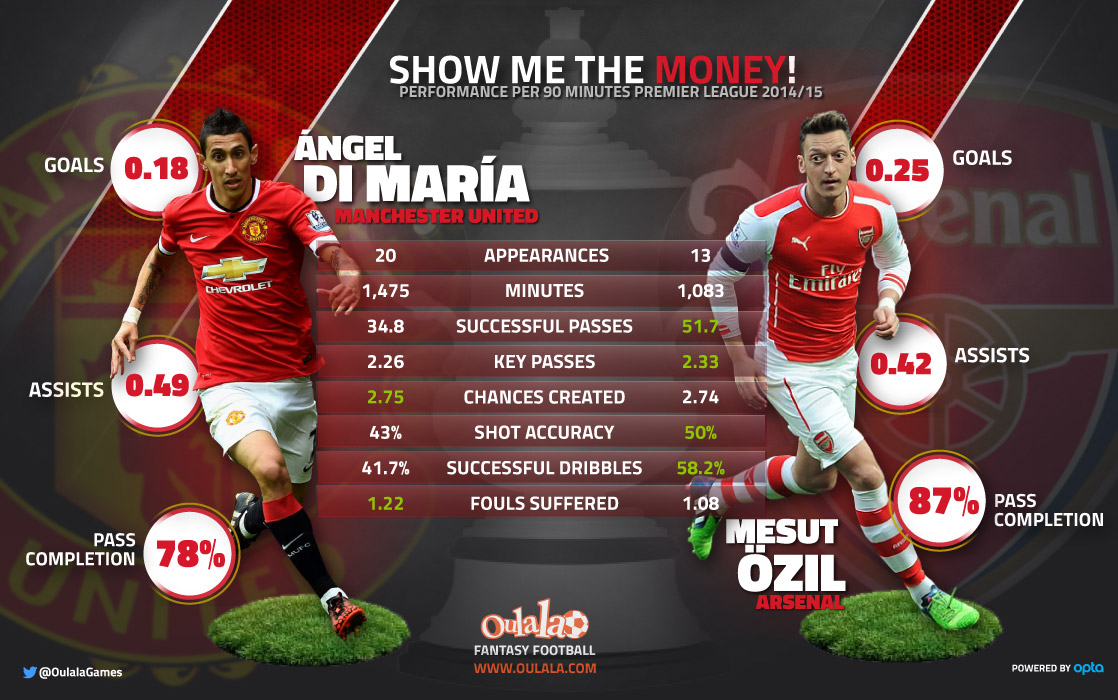 (Visited 94 times, 1 visits today)