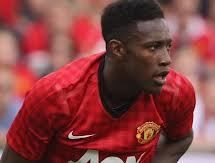 Manchester United did sign one of the best stars in business when it comes to scoring goals but they let one of their very own Danny Welbeck leave this summer.
Adding to that, they sold Welbeck to none other than one of their key rivals for the Champions League spot, Arsenal.
The potential and talent of the England international was always there, he only needed regular chances that too in his preferred position, something he never got at Old Trafford.
Yet, Man United boss gives useless reasons for selling him to Arsenal and claims that Welbeck was not at standard.
"Danny Welbeck had been here since he was nine, but after he came back from Sunderland, he does not have the record of Rooney or van Persie, and that is the standard."
Looking at last season's stats, Welbeck played in 25 league games and scored 9 goals but this does not tell the whole story. He only started 15 games and played 90 minutes in eight.
In terms of goals scored per 90 minutes, Welbeck was ranked fourth last season, only behind the likes of Aguero, Suarez and Sturridge.
As far as playing position is concerned, Welbeck only played 12 league games as the center forward, else found himself out wide. Played in 5 Champions League games out of 10 and not even once in his preferred position.
His case is similar to Daniel Sturridge who could not find regular and central role with Manchester City and Chelsea but once given the chance with Liverpool, he has been scoring for fun.
Van Gaal may soon find himself proven wrong if Arsenal play Welbeck as a striker. He still has to hit peak and United may rue the decision of selling him to Gunners.
Follow Soccerisma on Twitter: Soccerisma
(Visited 39 times, 1 visits today)