The XBet mobile application is a fully equipped gambling hub consisting of a decent online sportsbook accompanied by racebook and casino sections. This betting platform is from the family of the Curacao licensed Duranbah Limited N.V. company that also manages the MyBookie, Big Spin, and MYB gambling websites. When we first approached the in-browser sports betting app, we did not need much time to understand that the team behind XBet has done a pretty good job.

Those of you who decide to give XBet's mobile sportsbook a chance will enjoy comprehensive coverage of sports like basketball, baseball, and tennis as well as quite a few betting events in disciplines such as MMA, American football, soccer, ice hockey, etc. Supported payment methods are not innumerable, but still include both traditional
bank cards and cryptocurrencies
, which are increasingly used today, so no reasons to worry about your funds.
XBet Sportsbook App in Brief
Domain name
https://www.xbet.ag/
Operator
Duranbah Limited N.V.
Launch date
2014
Licensing authorities
The Government of Curacao
Native apps
No
Supported languages
English
Supported currencies
USD, BTC, BCH, LTC, XRP, ETH
Supported browsers
Google Chrome, Mozilla Firefox, Opera, Safari, Microsoft Edge, etc.
Number of sports
15
Other products
Racebook, Casino
Crypto-friendly
Yes
Punters Feedback and Experience with XBet Sportsbook App
Being on the online gambling scene for some years now (launched in 2014), XBet has been reviewed by plenty of experts who focus on important issues such as the reliability of the platform, its interface, and variety of betting markets and supported payment methods. However, we were unpleasantly surprised to find that there are scarcely any customer reviews around the web. Moreover, at the time of writing, the last review published on Trustpilot dates back 10 months ago, so the current average score of 3.7 out of 5 points cannot serve to draw a reliable conclusion.
It is for this reason that we approached the compilation of this article with caution and tried to look into every corner of the mobile sportsbook. You are invited to review the information we have collected and then consider whether the mobile application of the XBet sportsbook suits your betting style.
XBet Sportsbook Mobile Catalog
Just one look at the selection of sports available on the XBet website is enough to show that it was made with US sports bettors in mind. The access of punters from other parts of the world is not strictly limited, so fans of soccer, tennis, rugby, boxing or any other discipline can use their phones and place bets. On-the-go betting devotees have no reason to feel discriminated against since each of the sports categories is available through the mobile version of the platform.
XBet Sports Summary
Basketball
Spread, Moneyline, Total, Correct Score, Highest Winning Quarter, Winning Margin, Conference Winner, MVP
Baseball
Spread, Moneyline, Total, World Series Winner, MVP, Cy Young Award, Rookie of the Year
Ice Hockey
Spread, Moneyline, Total, Grand Salami, Puck Lines, Stanley Cup Winner
Golf
Spread, Moneyline, Total, Tournament Winner, 1st Round Leader, 1 Shot, 4 Shots or More, Play Off Yes/No
Tennis
Spread, Moneyline, Total, Handicaps, Correct Score, Player to Win a Set, Odd/Even Games, Tournament Winner
MMA
Moneyline, Total, Method of Victory, Win in Round 1, Draw, Fight Goes to Distance
Basketball
Not all online bookmakers put basketball first in their portfolio, but given that XBet is particularly focused on the US market, this is more than logical. And when we say the American market, this does not mean that punters can place their bets on matches from the NBA and WNBA only. The mobile sports betting app features domestic championships of around 20 different countries as well as multiple international basketball events. The good thing is that all these leagues are not only present on the platform, but also enjoy comprehensive bet type coverage. We randomly picked a match from Denmark Super League just to find there are 25 proposition bets in addition to the usual betting markets. Wagers can be placed on anything from who will win the match to whether the result in the third quarter will be odd or even.
Access to the mobile application's basketball category can be done in a couple of ways, each of which is easy and direct. First, you can press the round button located in the top right corner of your device's screen and it will open the full sports list. Second, as the NBA is undoubtedly the most sought-after basketball league to bet on, it heads the Featured (favorites) section which has its tabs on two different spots on the website's front page.
NBA
WNBA
ABA League
Euroleague
BBL
Serie A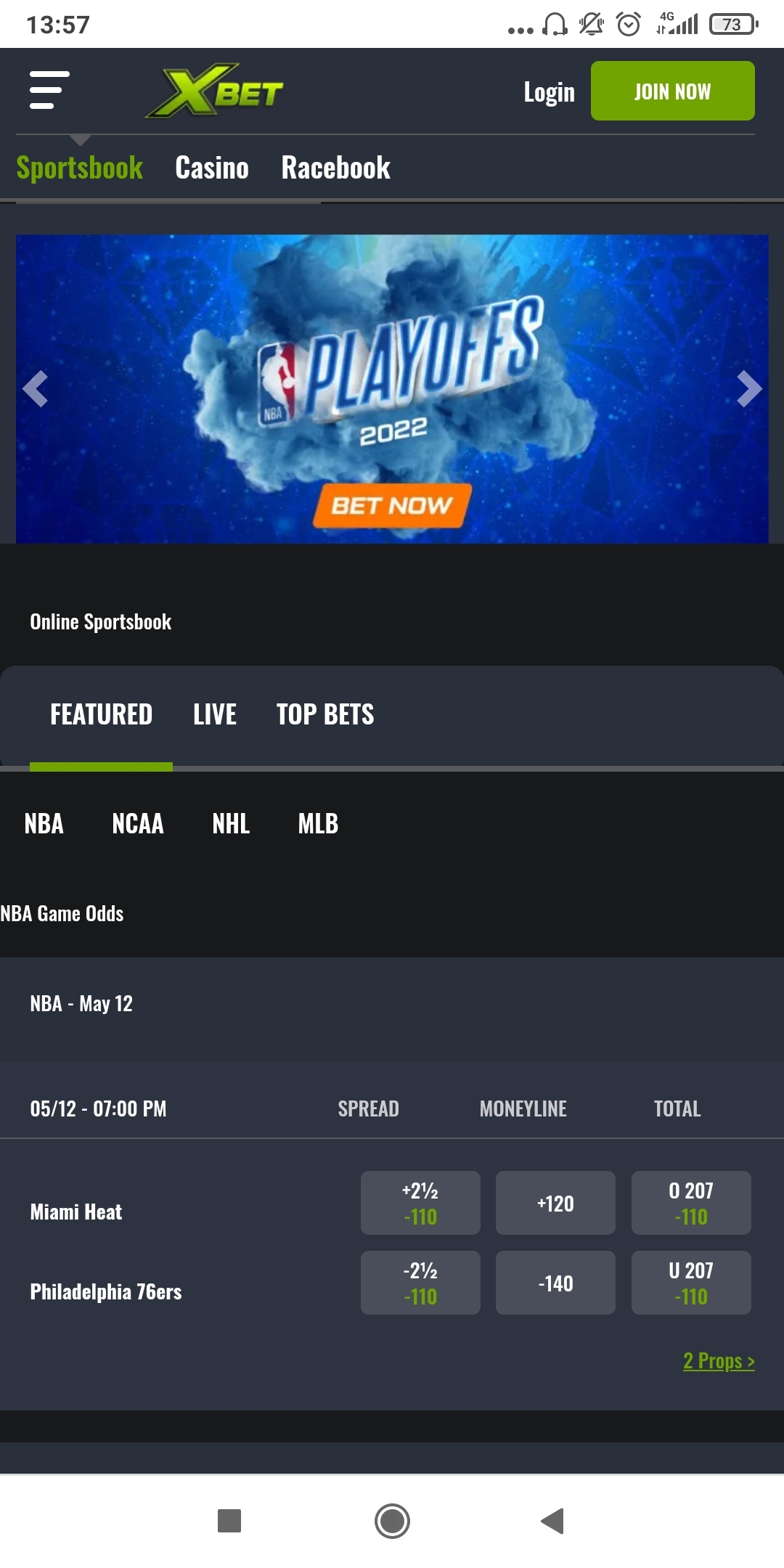 Baseball
Guided by the order of the most popular leagues available for betting, indicated by XBet, we continue with baseball. Due to the very nature of the discipline, it is not possible to have many leagues and tournaments here, but the bookmaker has taken care to compensate with a fairly decent variety of betting markets. Apart from the MLB, online punters may try to predict the results from national leagues of Japan, South Korea, and Taiwan but only if they use the main betting site. The option for on-the-go bettors is to bet on MLB regular season matches and some special awards such as MVP, Cy Young Award, and Rookie of The Year. Another event is the MLB World Series which represents a contest between the champions of the National League (NL) and American League (AL) in the form of a best-of-seven playoff.
In addition to conducting their own research before deciding what bets to make, betting enthusiasts have the opportunity to enter XBet's blog section, much of which is occupied by articles related to baseball. Reading through MLB betting odds and the relevant analyses & predictions will surely enrich your knowledge and help you make more informed decisions when wagering.
MLB Regular Season
MLB World Series
NL Divisional
AL Divisional
NCAA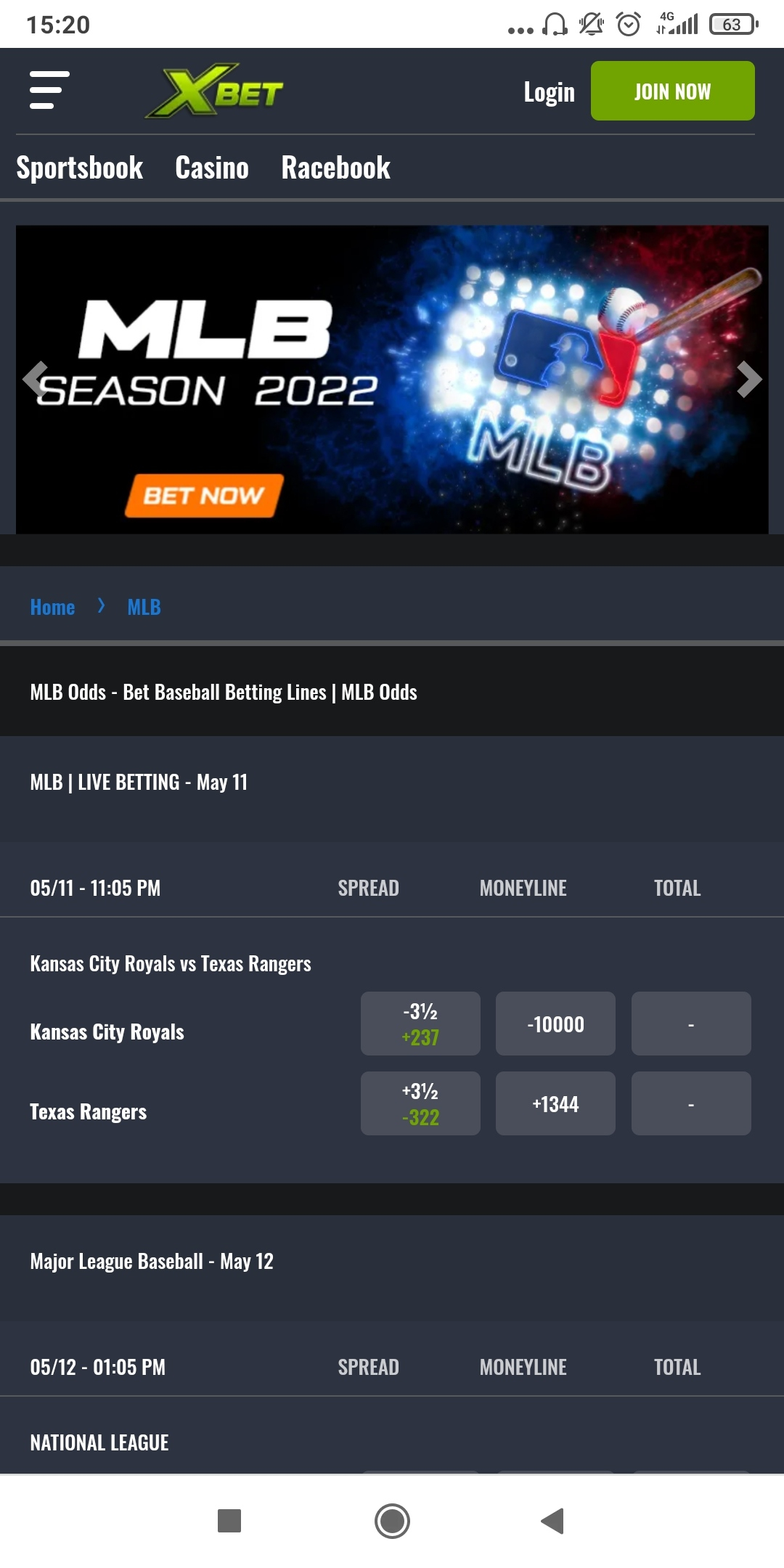 Ice Hockey
Ice hockey and the NHL in particular also fall within the Featured section on the XBet sports betting app. Here, there is no discrepancy between the main site and the mobile application. Wagers can be placed on matches played in Canada, Sweden, and the US. Among the available bet types, probably the most attractive one is Grand Salami which enables punters to predict if the total combined score of all games played on a particular day will be over or under a pre-defined number.
Once you enter the hockey section of the XBet sports betting app, you will see not only the events currently available for betting but also an NHL Betting Overview prepared by the experts of the bookie. It covers some basic betting tips and instructions related to the main hockey bet types. The platform provides NHL betting odds for the games in the regular season, playoffs, and Stanley Cup. Detailed articles about each of them are periodically published in the bookmaker's blog. Adding bets to your betslip couldn't be easier, just click on the chosen odds and they will automatically show up. On-the-go punters are entitled to place straight, parlay, if, and reverse bets.
NHL
OHL
Quebec Major JR HL
WHL
U20 World Championship
IIHF World Championship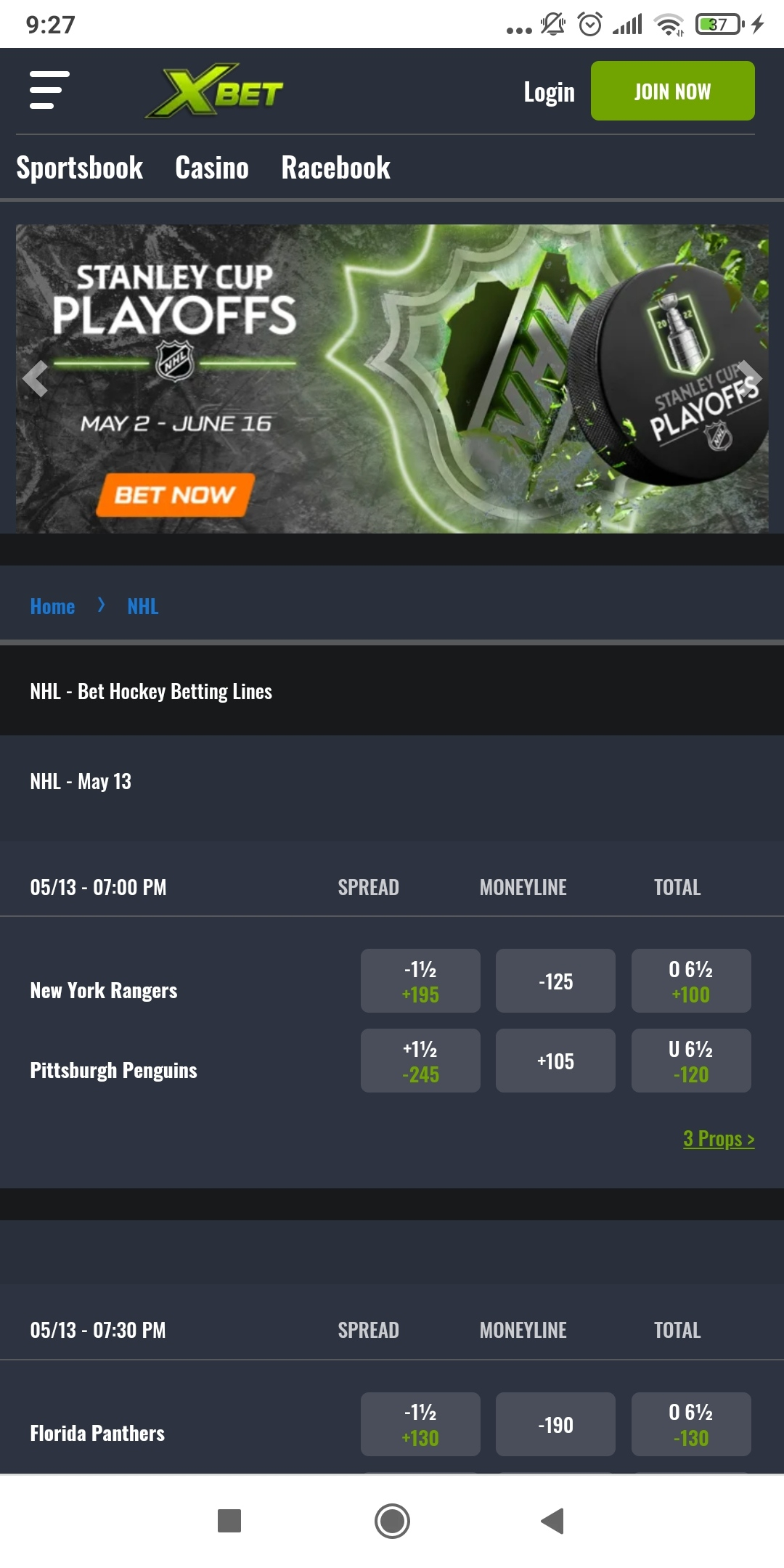 Golf
We continue with golf, a sport that, despite its long traditions, is not always in the sights of online sportsbooks, and even less often is one of their leading disciplines. However, this is exactly the case with the XBet sports betting app which enables fans of the sport to add another layer of excitement by wagering on quite a few events. It is very likely that other betting platforms will also follow this approach since golf is considered among the fastest-rising betting markets in North America.
What impressed us most when we visited the golf section of XBet was the abundance of available bet types. Except for predicting the winner of a particular tournament, you can try any of the following markets: Round 2 Matchup, 18 Hole Match Bet (1-10), 4 Shots or More, PGA Top 5 Finishers, PGA to Make the Cut, etc. Betting market diversity is not the only trump card in the sleeve of XBet, though. The mobile application has implemented live betting in its portfolio thus allowing its registered users to place wagers after an event has started. Favorites do not always live up to expectations, so it may be a good idea first to see how they perform at a particular course and then decide what bets to place.
PGA Tour
European Tour
Ryder Cup
PGA Championship
U.S. Open
British Open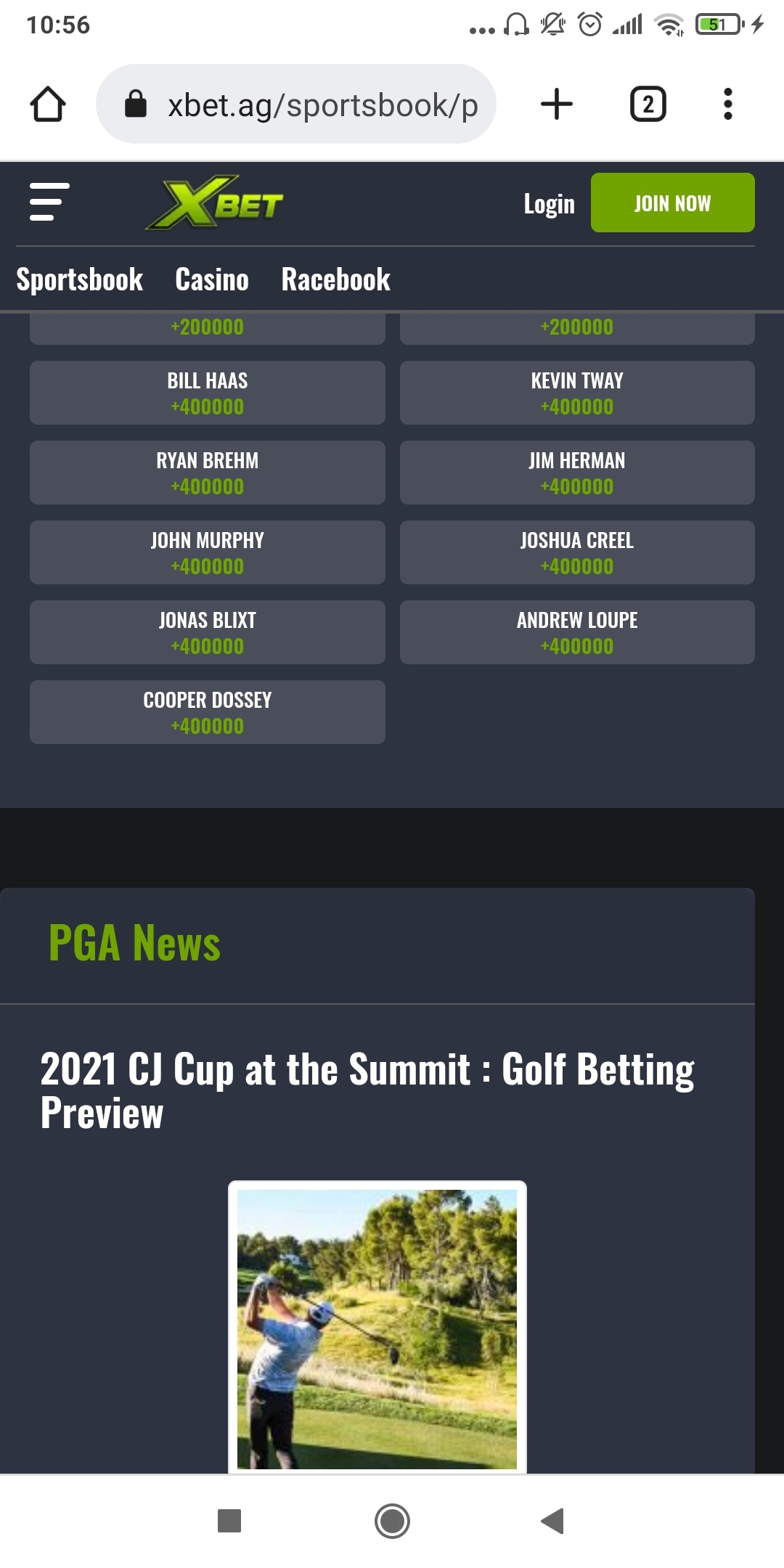 Tennis
As regards the multiformity of bet types, tennis is among XBet's disciplines that have the most to boast about, especially in terms of prop bets. After you choose a match on which to wager (either singles or doubles), you can bet on issues such as Player to Win a Set, Odd/Even Games, Any Set to Nil, Double Result (1st set/match), etc. Adding your selections to the betslip is in no way different than with the other sports. The mobile app developers have taken care to make sure that you do not make mistakes and send immediate notifications when you try placing an unauthorized combination of bets. If you want to add more selections before confirming your bet, just minimize the betslip and the currently available markets will show up.
What makes tennis a preferred choice of both bookmakers and online punters is the longevity of the active season. In fact, except for a few weeks during the winter, tennis matches are played almost all year round, which means plenty of betting opportunities. XBet features the four Grand Slam tournaments and publishes detailed analytical articles in the weeks before they take place. The bookie does not overlook lower-tier events and enables bettors to wager on multiple matches from the Challenger Series and some ITF tournaments too.
Australian Open
French Open
Wimbledon
US Open
ATP/WTA tournaments
ITF tournaments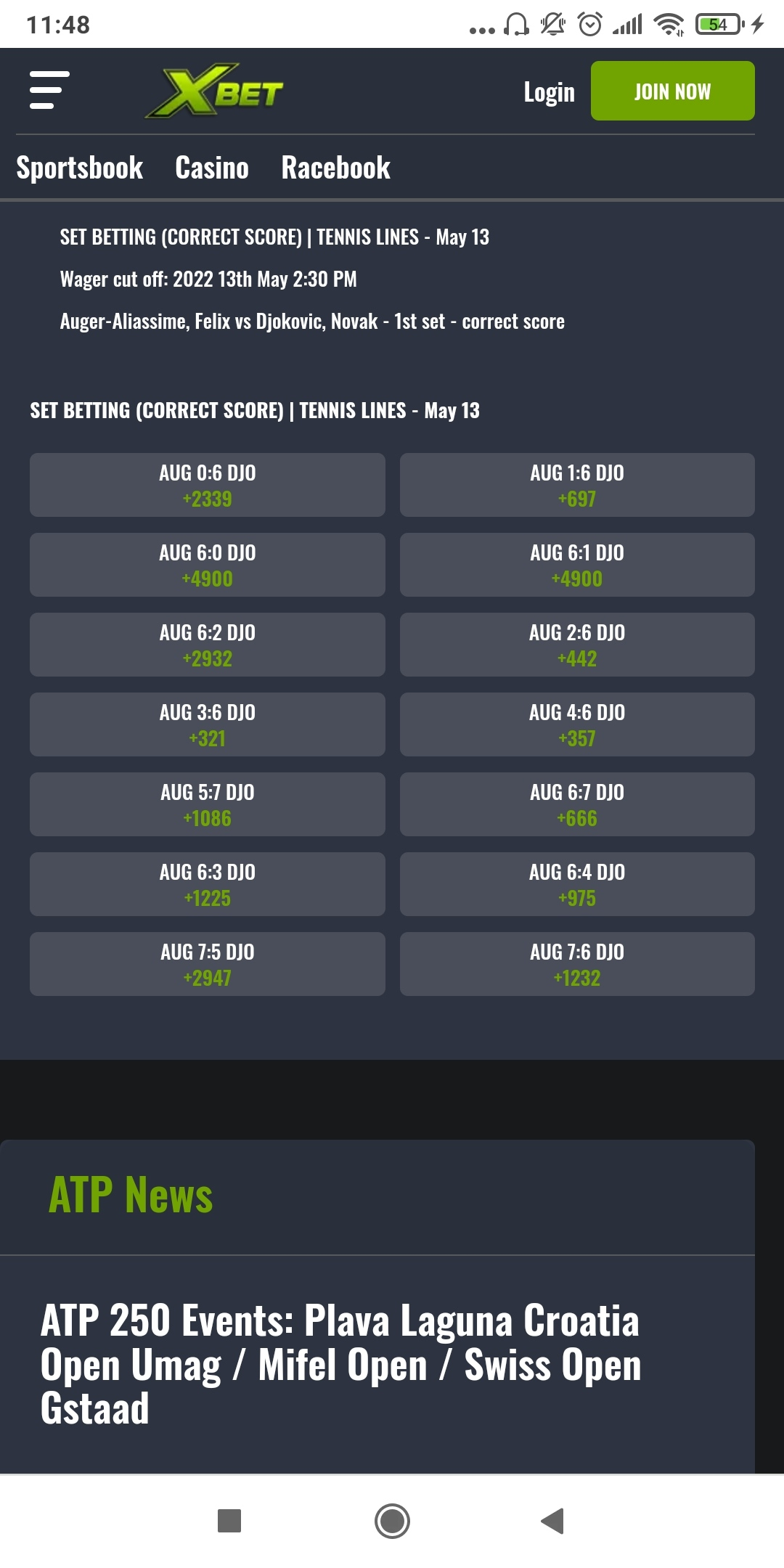 MMA
In recent years, mixed martial arts (MMA) are gaining an increasing number of admirers throughout the online gambling field and a major factor in this regard is the absence of subjectivity and the few external issues that can affect bet settlement. Battles between top UFC fighters attract millions of viewers and this logically results in million-dollar prize pools, purchase of broadcasting rights, and last but not least, plenty of lucrative betting options around the web.
In our humble opinion, XBet is one of the mobile sportsbooks that most competently covers mixed martial arts within its portfolio. Except for the "mandatory" UFC promotion company, bets can be placed on battles from the Bellator MMA and the Legacy Fighting Alliance. Keep in mind that league coverage is not fixed and depends on the respective schedules.
There are subcategories for Lines, Upcoming Events, and Specials as the number of available markets usually depends on the popularity of fighters involved. Some of the most interesting MMA betting markets are Player to Win in Round 1, Fight Goes to Distance, Method of Victory, etc. The MMA News section includes extensive information about the two top fights in the upcoming major events as well as a complete list of the participants in the Main Card, Preliminarily Card, and Early Preliminary Card.
Live UFC Odds
UFC Upcoming Events
MMA Specials
Bellator MMA
Legacy Fighting Alliance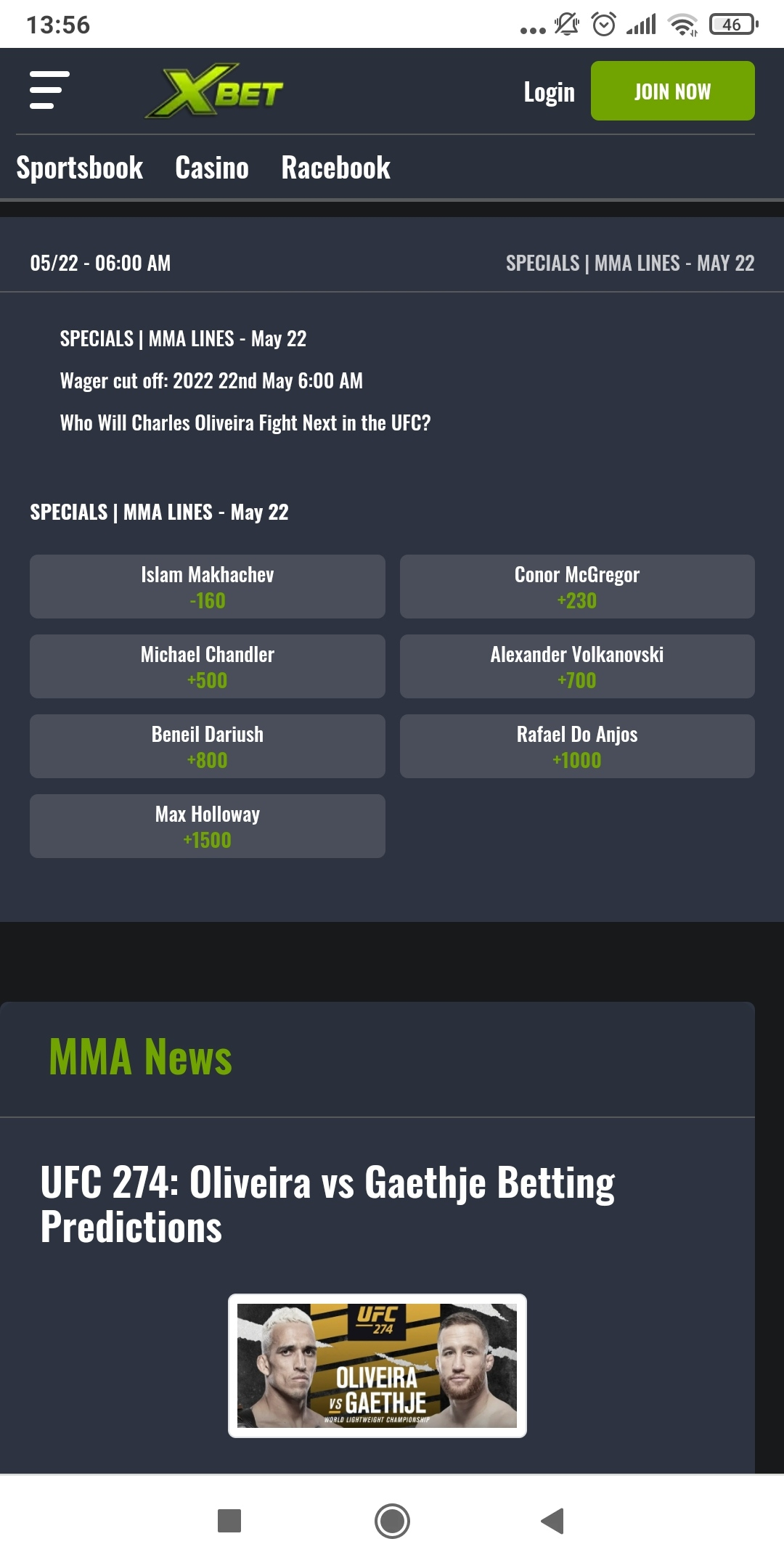 XBet Mobile Live Betting
Nowadays, on-the-go punters have an exceptional variety of options at their disposal and to attract and hold their attention without a live betting feature, borders on the impossible. Why is in-play betting so popular? Because it allows betting enthusiasts to monitor the twists and turns happening on the field (ring, court, etc.) and place wagers that reflect the way a certain event unfolds.
The team behind XBet has taken this trend into account, although not to the extent that some of its competitors in the field of mobile sports betting have. Those punters who have set up accounts with the bookmaker and prefer using their mobile devices to wager, currently have the opportunity to perform in-play betting on multiple events from golf, tennis, basketball, baseball, soccer, and volleyball. Of these, the first two sports enjoy a really extensive live coverage. However, we advise you to check the live section of the mobile app since it is possible for the list with disciplines to change from time to time.
Other Mobile Products by XBet
We do like online gambling operators who do not waste time and effort, but instead, focus and create and maintain a first-class product, such as a sportsbook. However, we must admit that we like even more those who do not leave their registered users get bored and give them the opportunity to diversify their free time with various gambling products without leaving the site or mobile application. Our team was more than pleased to find that XBet has a pretty decent casino section with its categories being Live Casino, Table Games, 3D Slots, Slots, and Video Poker. What is more, the sports betting app allures avid bettors with casino-specific promotions that are in no way different than the ones on the main betting site. For fans of horse racing, a racebook is provided, comprising events held in the US, Canada, Australia, the United Kingdom, Ireland, France, South Africa, New Zealand, Japan, South Korea, Sweden, and Singapore.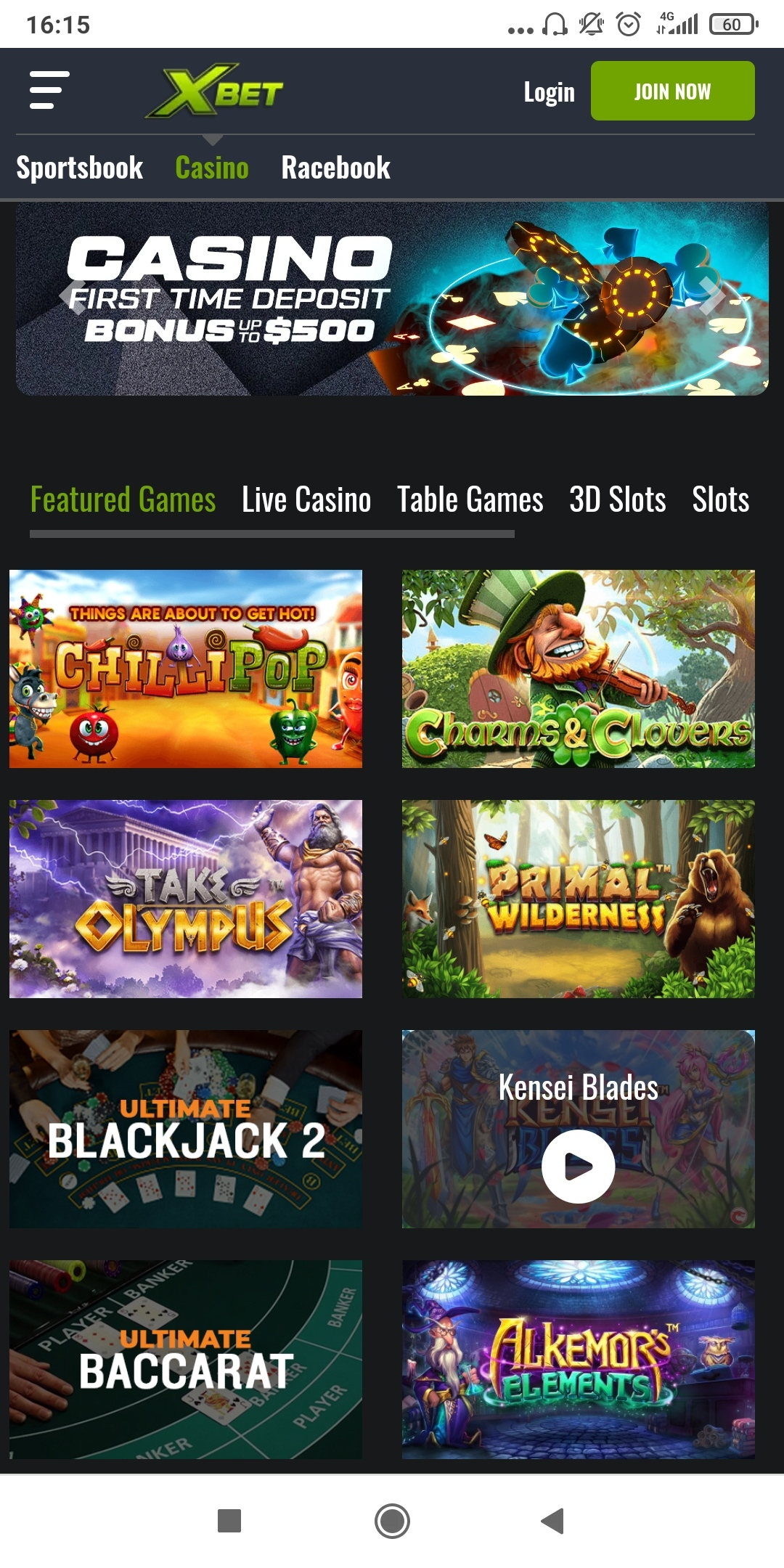 XBet Sports Betting App Device Compatibility
Nowadays, it is almost impossible to meet a person who does not own some kind of mobile device. People already use their smartphones much more than their laptops or desktop computers, whether it is for communication, shopping, paying bills, or entertainment. The rapid development of mobile technologies has spread to the field of online sports betting too and it is no wonder an increasing number of punters are turning to mobile betting apps. The root cause for this is the convenience this new way of gambling comes with, enabling betting devotees to enjoy their favorite pastime no matter if they are at home, on a business trip, or on vacation.
Modern online bookmakers keep up with this trend using two approaches – dedicated mobile applications and/or in-browser apps. XBet has chosen to implement only a mobile version of its main betting site. This should not cause you any concern, though. We tested the app on different devices and it behaved equally well, so as long as you have an Internet connection, you can enjoy a flawless betting experience. Furthermore, no restrictions are mentioned, and we have not found any, on the browser to use, so no matter if you are used to Google Chrome, Mozilla Firefox, Internet Explorer, Safari, or Opera, your mobile betting experience is supposed to be hassle-free.
XBet Sportsbook App Supported Devices Summary
iOS app technical requirements
Not specified; compatible with all mobile web browsers
Android app technical requirements
Not specified; compatible with all mobile web browsers
XBet Sports Betting App Features
The application has an eye-catching intuitive interface, realized in a gray-green color range with white accents. Fortunately, banner ads are unobtrusive, and useful information is structured to be as easy to find and use as possible. The XBet mobile app has three main tabs reflecting the three sections of the gambling hub – a sportsbook, a casino, and a racebook. Apart from the disciplines already mentioned, the in-browser application allows its registered users to place real-money bets on some esports, entertainment events, and US Politics.
Don't be surprised if you use the app for two consecutive days and the list of sports is different. Тhe bookmaker displays the names only of the sports and the respective leagues for which betting lines are currently available. Each of the disciplines features a drop-down menu listing all the leagues and tournaments you can bet on together with some special betting categories. Just one tap leads you to the in-play section of the bookie where you can see all the events currently played or that are just about to begin.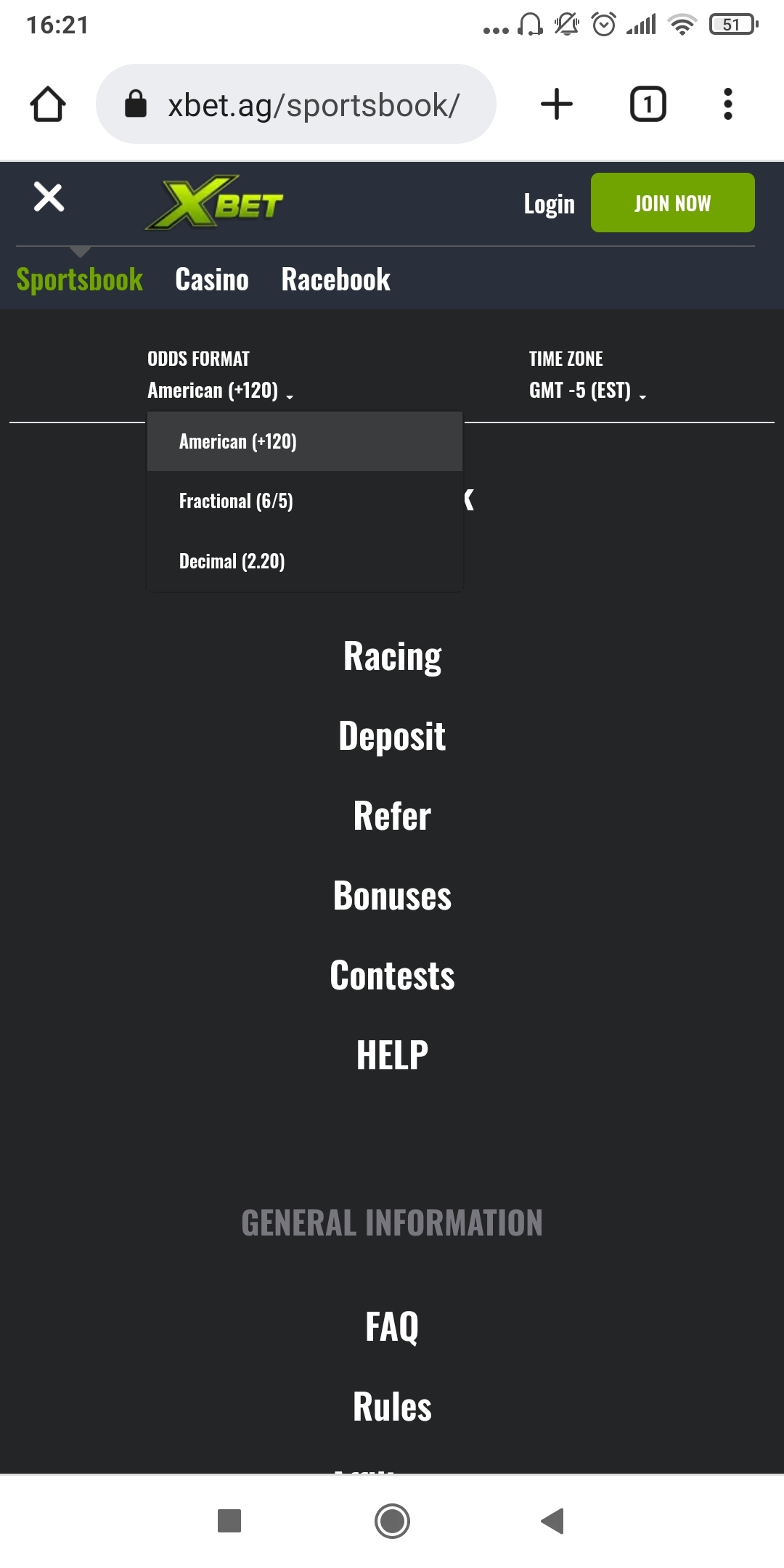 XBet Sportsbook Mobile Promotions
Probably the fact that no downloadable apps are available has to do with the lack of special promotional offers for mobile users of XBet. However, the bookmaker in no way limits its on-the-go customers so they can use all the bonuses accessible through the main betting site. If you decide to set up an account with the XBet sportsbook, you can benefit from a First deposit sports bonus, Sports reload bonus, and a Horse rebate promotion. To further increase its customer base, the bookie has also introduced the Refer-a-Friend offer which awards existing users an up to 100% bonus for each of their friends who makes a registration and funds his betting account. The only thing we would recommend to the bookmaker is to consider a Loyalty Program, which will further stimulate the regular activity of punters with registered accounts.
First Deposit Sports Bonus
The team behind XBet seems to know that very often the first impression matters most as they provide first deposit bonuses both for the users of their sportsbook and casino sections. Given that subject to review is XBet's sports betting app, let's take a look at the terms and conditions of the relevant welcome promotion. Newly registered bettors are entitled to receive a 50% bonus of up to $500 in the form of free play. In order to take advantage of the offer, they need to make an initial deposit of at least $45 and fulfill a 7x rollover requirement that covers all featured sports except for horse racing. No maximum deposit amount is specified but keep in mind you may receive $500 at most.
Unlike most other online gambling platforms, XBet does not imply any expiration terms on the bonuses it provides (unless explicitly specified). This was confirmed by customer support after a member of our team initiated a live chat session to get additional information about the First deposit sports bonus.
XBet Sportsbook Mobile First Deposit Bonus at a Glance
Bonus amount and percentage
50% up to $500 in Free Play
Promo code
XBET50
Minimum deposit
$45.00
Validity
No expiration period
Playthrough
7x bonus funds and initial deposit amount
Maximum Wager
Not specified
Disqualified sports
Horse racing
Payment method restrictions
No
Sports Reload Bonus
XBet caters to its existing customers through a few promotional offers one of which is the permanently available Sports reload bonus. Every time registered punters fund their betting accounts with the amount of $100 or above, they can redeem a 25% bonus with the maximum they are entitled to receive being $250 in the form of free play. If you wish to use the bonus, do not forget to enter the XB25 promo code in the respective field of your cashier section. As all deposit related bonuses, this one also comes with a playthrough requirement which in this case is just 5x. If you, like us, have visited plenty of online betting platforms, will admit that this is a pretty easy-to-meet condition. Do not worry if you fail to track how much is left until you can claim the bonus. Send an email to support@Xbet.ag and the bookie will provide you with the relevant information.
Horse Rebate
In addition to the very good online welcome and reload promotions that we have already discussed, there is another sport-related offer that is definitely worth paying attention to. Currently, all registered users of XBet's mobile application are eligible for a 7% automatic horse rebate provided that they place their wager on selected events through the racebook section of the platform.
This promotional offer of XBet comes with some specific terms and conditions that must be borne in mind if you want to avoid some unpleasant surprises. Win, Place, and Show tickets with payouts of between $2.20 and $2 or less are not subject to rebate as is the case with canceled wagers and bets voided due to a scratch. As opposed to the Sports first deposit bonus and the Sports reload bonus, the 7% horse rebate is no further complicated by a rollover requirement. Amounts to be received vary in accordance with the track:
Straight bets on Tracks A-B-C – 3%;
Exotic bets on A Tracks – 8%;
Exotic bets on B Tracks – 5%;
Exotic bets on C Tracks – 3%.
We advise you to check bonus T&Cs from time to time since they are subject to change without prior notice.
Refer-a-Friend Bonus
If the above bonuses and promotions do not seem enough and you need extra means for funding your betting account, you should think of referring your friends to use the XBet betting platform. For every person who joins the sportsbook, no matter if he uses the main website or the in-browser application, you will receive an up to $100 bonus depending on the amount of your friend's first deposit.
The Refer-a-Friend bonus can be used with both the Sportsbook and Casino sections of XBet. The only difference is in the rollover requirement which in the case of the online sportsbook is 10x. The good thing is there is no limitation on the number of people you refer. Bonuses are credited to your account as soon as the bookie confirms the eligibility of your friend's deposit.
Mobile Payments at XBet Sports Betting App
Now that you are familiar with the sports portfolio of XBet, its promotional offers, and mobile compatibility, it is time to introduce you to the payment methods this mobile bookie supports. A significant shortage is that users are not able to use an e-wallet, which is a bit of a puzzling decision on part of the operator. On the other hand, the most modern type of transaction is accepted, the one with cryptocurrencies, as well as conventional bank cards, so you will probably find an acceptable payment option to fund your betting experience.
Topping Up Mobile Balance at XBet Sportsbook
After registering your account, the next step is to fund it with some cash so that you can place bets and take advantage of the current promotional offers. To do that, you need first to tap on the burger menu located at the top right corner of your screen and then select Deposit. All applicable payment solutions will show up together with their respective limits. The minimum punters are allowed to deposit is $20 through any of the accepted cryptocurrencies – Bitcoin, Litecoin, BitcoinCash, Ethereum, and Ripple. The maximum currently allowed deposit amount is $2,500 for the users of Mastercard and Visa.
As regards transaction fees, you should know that the bookie charges between 4.9% and 6.0% for credit and/or debit card deposits. XBet reimburses the fees for P2P transactions if amounts are $300 or higher and charges no fee for cryptocurrency deposits. If there are any unclear payment issues, you can enter the Cashier section of the help page and look for the relevant information.
Depositing at XBet Sportsbook App
Deposit method
Minimum deposit
Maximum deposit
Deposit fees
Average time frames
Mastercard
$45.00
$2,500.00
4.90%
2 business days
Visa
$45.00
$2,500.00
6.00%
2 business days
Person2Person
$100.00
$500.00
Free for amounts of $300 or more
45 minutes
Cryptocurrencies
$20.00
Not specified
Free
30 minutes
Cashing Out Winnings at XBet Sports Betting App
The set of payment solutions you will have access to when it comes to making withdrawals from the XBet sports betting application is different from that for deposits. As you can see from our table below, the only three options are Bitcoin, E-checks, and wire transfers. Of these, the most flexible method is Bitcoin of course, as it allows withdrawing amounts as low as $25 (up to $5,000) with no transaction fee and within only two business days. The other two cashout methods are far slower and come with transaction fees of between $5 and $160 depending on the amount you wish to withdraw.
Despite the high level of payments security XBet boasts about, this is surely an area where we would like to see some expansion in the future. Convenience is a major factor when choosing a mobile betting platform and adding a few e-wallets will contribute to that.
Withdrawals at XBet Sportsbook App
Withdrawal method
Minimum withdrawal
Maximum withdrawal
Withdrawal fees
Average withdrawal time
Bitcoin
$25.00
$5,000.00
Free
2 business days
E-check
$50.00
$1,000.00
$50-$200 -> $5 Fee $201-$750 -> $15 Fee
7-10 business days
BankWire
$500.00
$5,000.00
$500-$1999 -> $75 Fee $2000-$4000 -> $125 Fee $4001-$5000 -> $160 Fee
5-7 business days
XBet Sportsbook App Security and Licensing
We deliberately always recommend that you check if a bookmaker is licensed by a trusted institution before you set up an account and start wagering. In order to obtain the appropriate license, a sportsbook and its mobile app must meet and maintain certain criteria, which means that you will enjoy increased levels of security, as the platform is guided by a set of rules and standards aimed at ensuring a safe betting environment. The relevant information about XBet's license is readily available at the very bottom of the site's homepage, just tap on the Gaming Curacao icon.
Fortunately, you have nothing to worry about since XBet has incorporated a 256-bit encryption technology to protect both the funds of its users and the sensitive information they need to share. What is more, although there is no downloadable betting application, at the end of 2021 the operator made the two-factor authentication part of its policy. As a result, all registered punters were prompted to generate a Security Pin that must be presented each time they log in to their accounts or contact customer support by phone or live chat.
XBet has published quite a long list of restricted countries in its Terms & Conditions. However, if you are a legitimate user with a fully verified account who uses the mobile sports betting app in any of these territories, you should have no issues to deal with.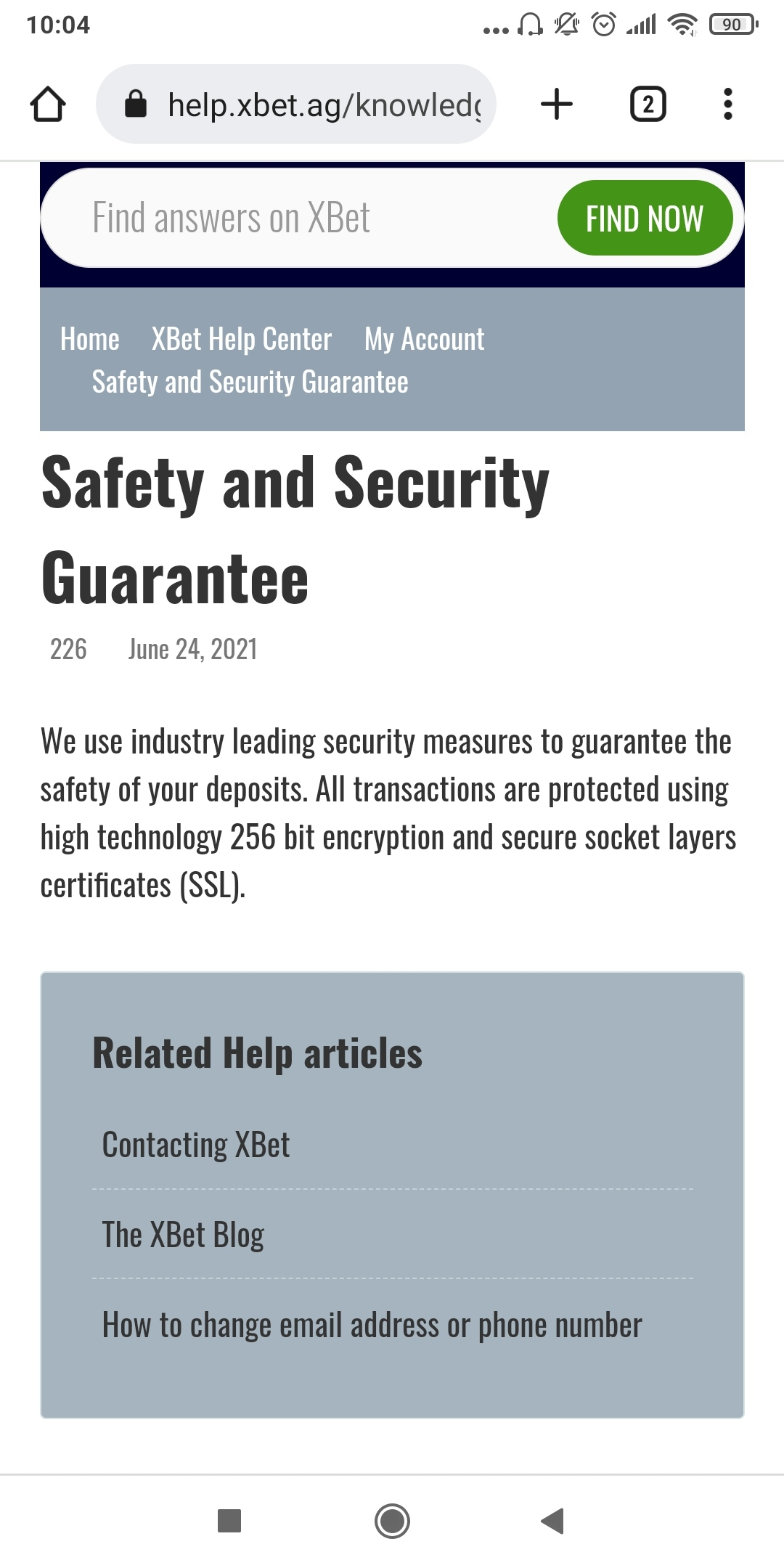 >Region Restrictions and Safety at XBet Sportsbook
Encryption
256-bit SSL
Two-factor authentication
Yes
Minimum age requirement
18
Licenses
365/JAZ
Restricted countries
Afghanistan, Albania, Algeria, Anguilla, Antigua And Barbuda, Armenia, Aruba, Australia, Austria, Azerbaijan, Bahrain, Bangladesh, Belarus, Belgium, Bhutan, Bonaire, Sint Eustatius And Saba, Bouvet Island, Brunei Darussalam, Bulgaria, Burkina Faso, Burundi, Cambodia, Cayman Islands, Central African Republic, China, Comoros, Congo, Costa Rica, Cuba, Curaçao, Cyprus, Denmark, Djibouti, Dominican Republic, Eritrea, Estonia, Ethiopia, Fiji, Finland, France, French Guiana, French Polynesia, French Southern Territories, Gambia, Gibraltar, Guadeloupe, Guernsey, Greece, Guinea-Bissau, Holy See (Vatican City State), Hungary, India, Indonesia, Iran, Iraq, Ireland, Isle Of Man, Israel, Jersey, Kazakhstan, Kyrgyzstan, Latvia, Lebanon, Liberia, Libya, Maldives, Mali, Malta, Martinique, Mauritania, Mauritius, Mayotte, Montenegro, Montserrat, Morocco, Nauru, Nepal, Netherlands, New Caledonia, Niger, North Korea, Oman, Pakistan, Palestine, Papua New Guinea, Pitcairn, Poland, Réunion, Romania, Russian Federation, Rwanda, Saint Helena, Ascension And Tristan Da Cunha, St. Martin (French Part), Saint Pierre And Miquelon, Sao Tome and Principe, Saudi Arabia, Serbia, Seychelles, Sierra Leone, Somalia, South Korea, South Sudan, Spain, Sudan, Svalbard And Jan Mayen, Syrian Arab Republic, Tajikistan, Turkey, Turkmenistan, Tuvalu, United Kingdom, Uganda, Ukraine, United Arab Emirates, Uzbekistan, Vanuatu, Vietnam, Wallis And Futuna, Yemen.
Responsible gaming tools
Not specified
Mobile Customer Support at XBet Sports Betting App
Regardless of how often you use a sportsbook, it is always possible for some technical or financial problems to arise. Here comes the role of the customer care team whose job is to investigate the issue and calmly help you pass through the situation. The more diverse the contact channels are, the better.
We are that type of fans of mobile sports betting, for whom 24/7 fast-reacting customer support can make us keep our eyes shut for some minor flaws. We were delighted to find that this is a sphere where XBet performs better than many of its famous competitors. The most preferred communication method, live chat, is available around the clock with responses coming either immediately or in no more than a couple of minutes. Other options to contact the team are through email or phone.
Customer Service Channels at XBet Sportsbook
Phone
1-855-219-5809
Email
help@XBet.cr
Live chat
Yes
Average response times
Within minutes
Support languages
English
XBet Sportsbook App Q&A
Both new and existing customers of XBet are required to create a four-digit security pin code. To do that, just log in, fill in the code, and tap SAVE. As soon as you receive a confirmation message, the PIN is registered. Keep in mind that PIN changes are only possible through the assistance of the customer care team.

As long as you have a smartphone with an Internet connection, you can use the mobile application and take advantage of all the incentives of the main betting website. No problems have been reported by Apple, Windows, or Android users, and the interface performs well on devices with different screen sizes.

Tap on the chosen betting market and thus add it to your betslip. Then enter the bet amount and select the "Use Free Play" option. The last two steps are to tap the "Place Bet" button and confirm the wager you have made.

This depends on the payment method you have selected and the time you file your withdrawal request. The bookmaker processes cashout requests only on workdays between 8 a.m. and 2 p.m. ET. Once a Bitcoin withdrawal is approved, money will enter your wallet in no more than 24 hours. In case of an unusual delay, send an email to payouts@xbet.cr.

If you do not see the E-sports category on the XBet's in-browser app this is probably due to the fact that currently there are not any active events to bet on. The bookie promises to display these options as soon as they show up, so check the app from time to time.
Verdict
Without a shadow of a doubt, the XBet sports betting app is a must-stop for on-the-go punters from different parts of the world. Thanks to the abundance of betting markets, decent promotional offers, and excellent customer support, it is very likely that many of you will become fans of this online bookmaker. Nothing is perfect, of course, but with XBet, the pros definitely outweigh the cons.
What We Liked about XBet Sportsbook App
24/7 customer support
Convenient useful information links
Relatively low rollover requirements
High level of security measures
A top selection of American sports
What We Disliked about XBet Sportsbook App
High transaction fees except for Bitcoin deposits/withdrawals
No e-wallets
Lack of VIP Program
No responsible gaming tools
A long list of restricted countries
(Visited 599 times, 1 visits today)