Being established in 2014, MyBookie already has enough experience on the online gambling market to know its specifics and respond to the requirements of the modern betting enthusiast. Apart from the sportsbook, the platform also hosts a casino and a racebook. Although the operator has not developed a downloadable mobile application, it provides a fully functional in-browser app that has the potential to be a satisfactory off-track betting parlor in the palm of your hand. The implemented user-friendly interface allows seamless browsing throughout the categories and easy adding wagers to the betslip.
If you are in the process of searching for a mobile sports betting app and you have come across MyBookie, but are not sure if you should give it a try, then this review will help you. Keep on reading and you will learn everything you need to know – betting markets coverage, technical features, promotional offers, supported payment methods, and level of customer support.
MyBookie Sportsbook App in Brief
Domain name
https://www.mybookie.ag/
Operator
Duranbah Limited N.V.
Launch date
2014
Licensing authorities
The Government of Curacao
Native apps
No
Supported languages
English
Supported currencies
USD, BTC, BCH, LTC, ETH, XRP
Supported browsers
Google Chrome, Mozilla Firefox, Opera, Safari, Microsoft Edge, etc.
Number of sports
15
Other products
Racebook, Casino
Crypto-friendly
Yes
Punters Feedback and Experience with MyBookie Sportsbook App
To be honest, this is one of the rare occasions when our team is reviewing a mobile application that is managed by an online betting operator that has 80% negative customer reviews published on Trustpilot. Given that MyBookie is a name that is often found in the online gambling field, such a result surprised us and we decided to check what it is all about.
The first thing that drew our attention was that the predominant number of negative ratings are given by users of the casino section, while those by sports bettors are almost non-existent. The main reason for the complaints is difficulties when performing winnings withdrawals and impossibility to meet rollover requirements. MyBookie's "defenders" confirm that as long as you preliminarily read bonus terms and conditions, there can be no claims about fraud or scam. According to these users, withdrawals, although not particularly fast, usually get processed within the stated periods.
MyBookie Sportsbook Mobile Catalog
The way the sports section of MyBookie's mobile application is organized is quite similar to that of XBet, but this is expected given the fact that both platforms are owned and operated by Duranbah Limited N.V. Fans of US-popular sports will surely be satisfied since the bookie features multiple events to bet in disciplines like basketball, American football, hockey, golf, as the coverage being also quite good in combat and motorsports, tennis, and soccer.
MyBookie Sports Summary
Basketball
Spread, Moneyline, Total, Championship Winner, First Half Result, Correct Series Score, First Pick of the Draft
American football
Spread, Moneyline, Total, Super Bowl Winner, Winning Division, Winning Conference, Most Passing Yards, MVP
Golf
1st Round Leader, Moneyline, Winning Margin, Top 10 Finishers, Top Player by Region, Will There Be Playoff
Tennis
Moneyline, Handicap, Game Totals, Player Totals, Odd/Even Games, Any Set to Nil
Motorsports
Winner, Winning Margin, Winning Constructor, Fastest Lap, First Driver Retirement, Grid Position of Winner
Soccer
Spread, Moneyline, Total, 1st Half Odd/Even, Draw, Draw No Bet, Clean Sheet, Home Win to Nil
Basketball
High-scoring sports are all-time favorites of online punters due to the abundance of possible bet types including some sport-specific options. An excellent example in this regard is basketball where points often go above 100, especially when it comes to NBA matches. Another reason for the discipline being so popular is that it is considered more easily predictable than many other sports, i.e. the better team usually wins with little room for luck.
Users of MyBookie's sports betting app have the opportunity to wager on the most sought-after basketball league, the NBA, as well as multiple domestic championships and some international tournaments such as the Euroleague. The NBA leads the Featured category but if you want to place a bet on any other basketball event you first need to access the complete sports list of the mobile app and then make your selection from the relevant dropdown menu. As regards bet type variety, lesser-known leagues are not inferior to the NBA in any way. Almost always, the number of betting markets exceeds 20 and punters can wager on the whole match as well as on one of its halves or quarters.
NBA
WNBA
Euroleague
ABA League
Liga A (LNB)
ACB League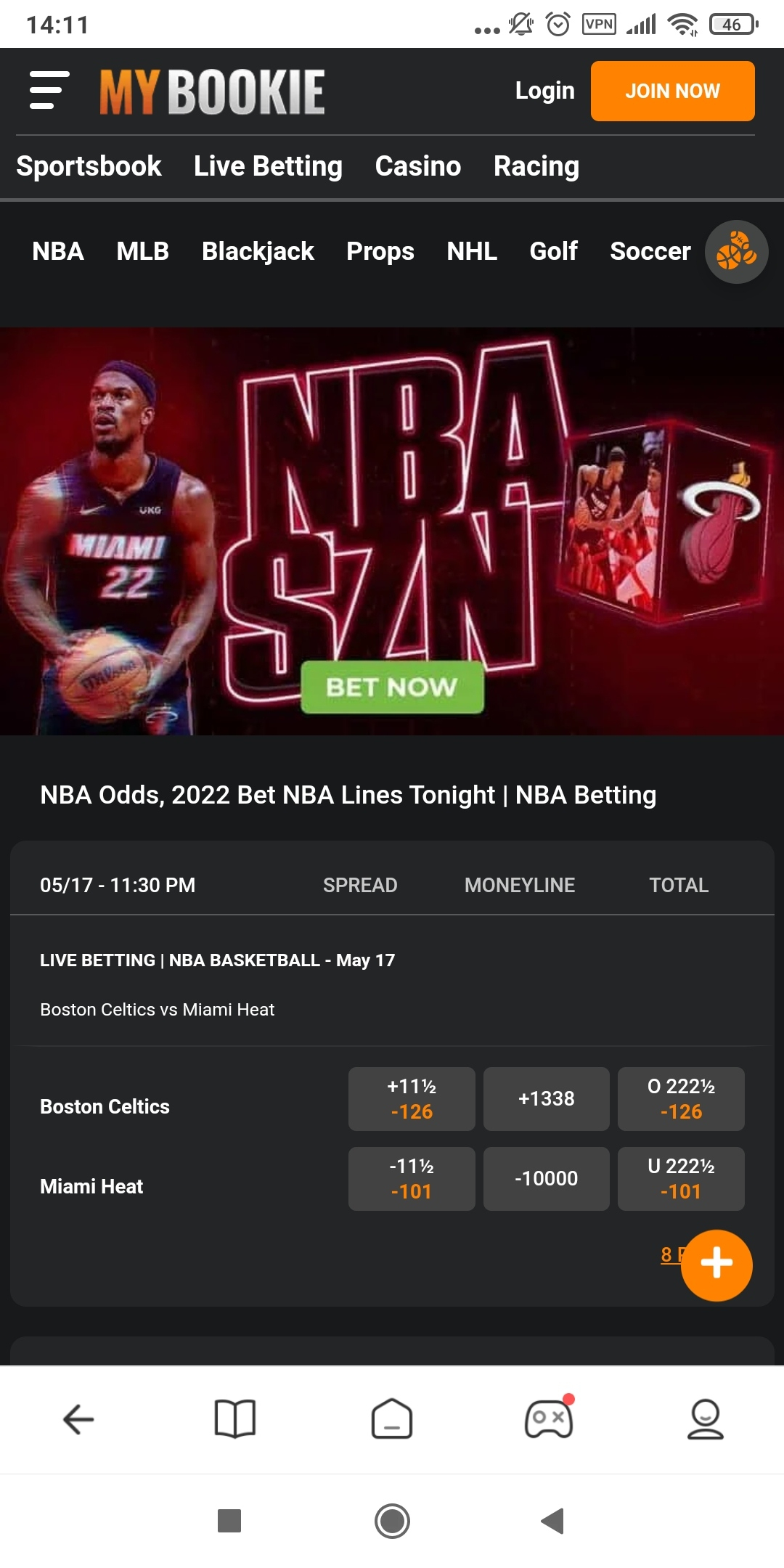 American Football
American football is an illustration of the statement that it is possible for a sport to enjoy huge admiration among fans and bettors although practiced in one country only. Of particular note is the fact that the National Football League (NFL) is the professional sports league that has the highest average attendance in the world. The regular NFL season comprises 272 games within about four months, which are quite a few options for placing bets. MyBookie, through its main betting site and the mobile application, covers not only these games but also the Hall of Fame Game that is part of the preseason events, NFL playoffs, the newly established USFL, and plenty of college football events.
One of MyBookie's most interesting betting markets is Most Valuable Player. At the time of writing, the sports betting mobile application accepts bets on 113 individual players with odds currently ranging between +650 and +50,000. To have a better chance of successful predictions, in addition to monitoring the performance of teams and checking statistics, you can enter the news section of MyBookie and get acquainted with the latest events that could affect the final outcome. There you will also find articles related to betting tips, season picks, and others.
NFL
Super Bowl
AFC
NFC
USFL
NCAA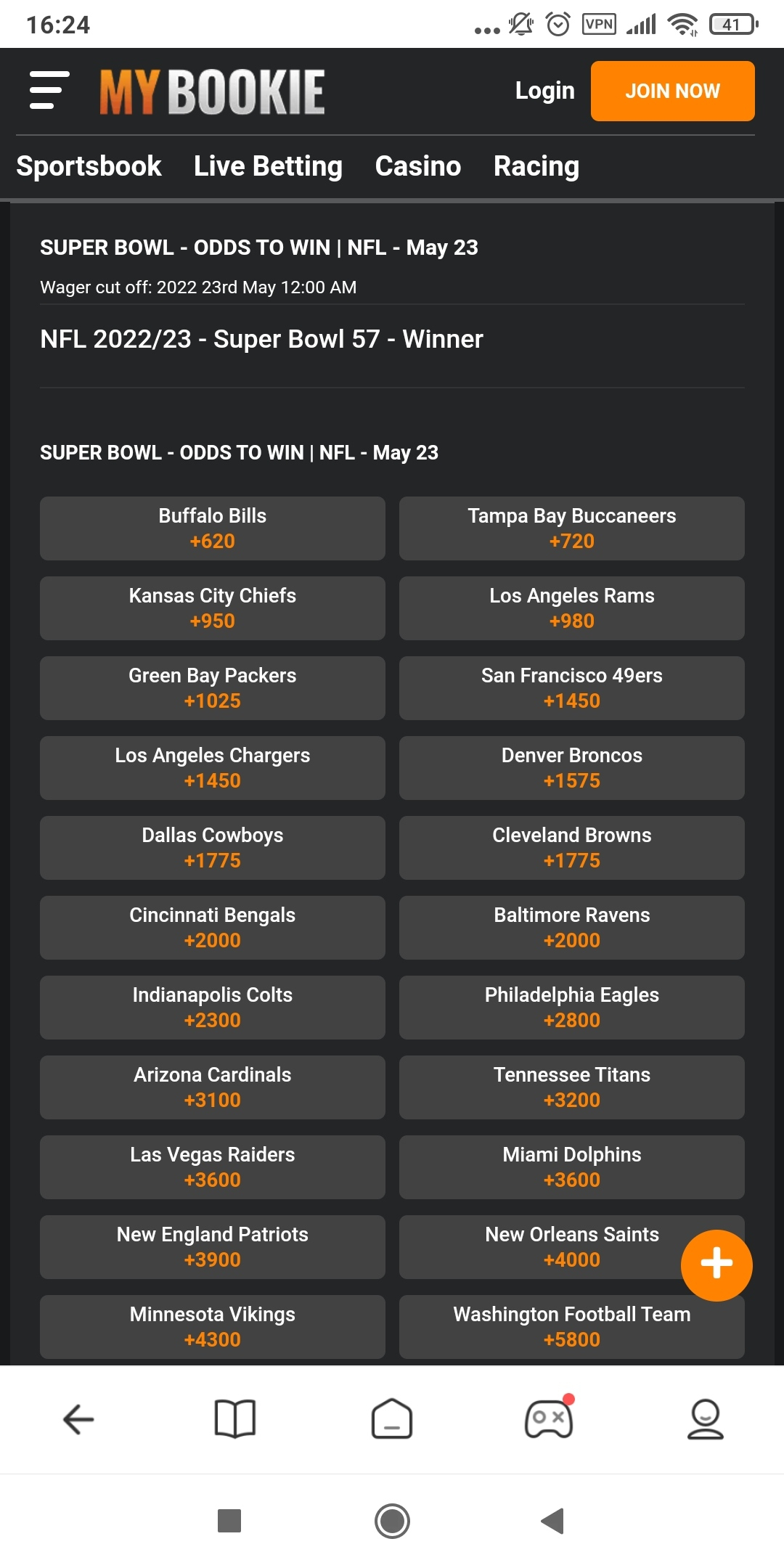 Golf
The next discipline in the portfolio of MyBookie's sports betting app is golf. We like the thorough and competent way in which the bookmaker treats this discipline. The featured betting markets are not limited to Tournament Winner but include many other interesting options which can be a real challenge to punters' knowledge and predicting skills. Of these, one of the often preferred bet types is Tournament or Round Matchups where you need to place your bet on which one of two particular players will score more points. This betting market can appear either in moneyline or spread bet form. The sports betting application of MyBookie also has a subsection that features golf proposition bets comprising Will there be a Hole in one, Will there be a Playoff, Winning Margin, and Region of Winner, among others. If weather conditions interfere with the conduct of a tournament and it has to be terminated prematurely, the official result is used when settling bets regardless of the number of rounds completed.
We read several golf articles in the news section of MyBookie and were pleased to find that they are not just boring facts, but rather in-depth analyses of a situation or an upcoming tournament, showing the good knowledge and personal attitude of the authors.
PGA Championship
Open Championship
Ryder Cup
Golf U.S. Open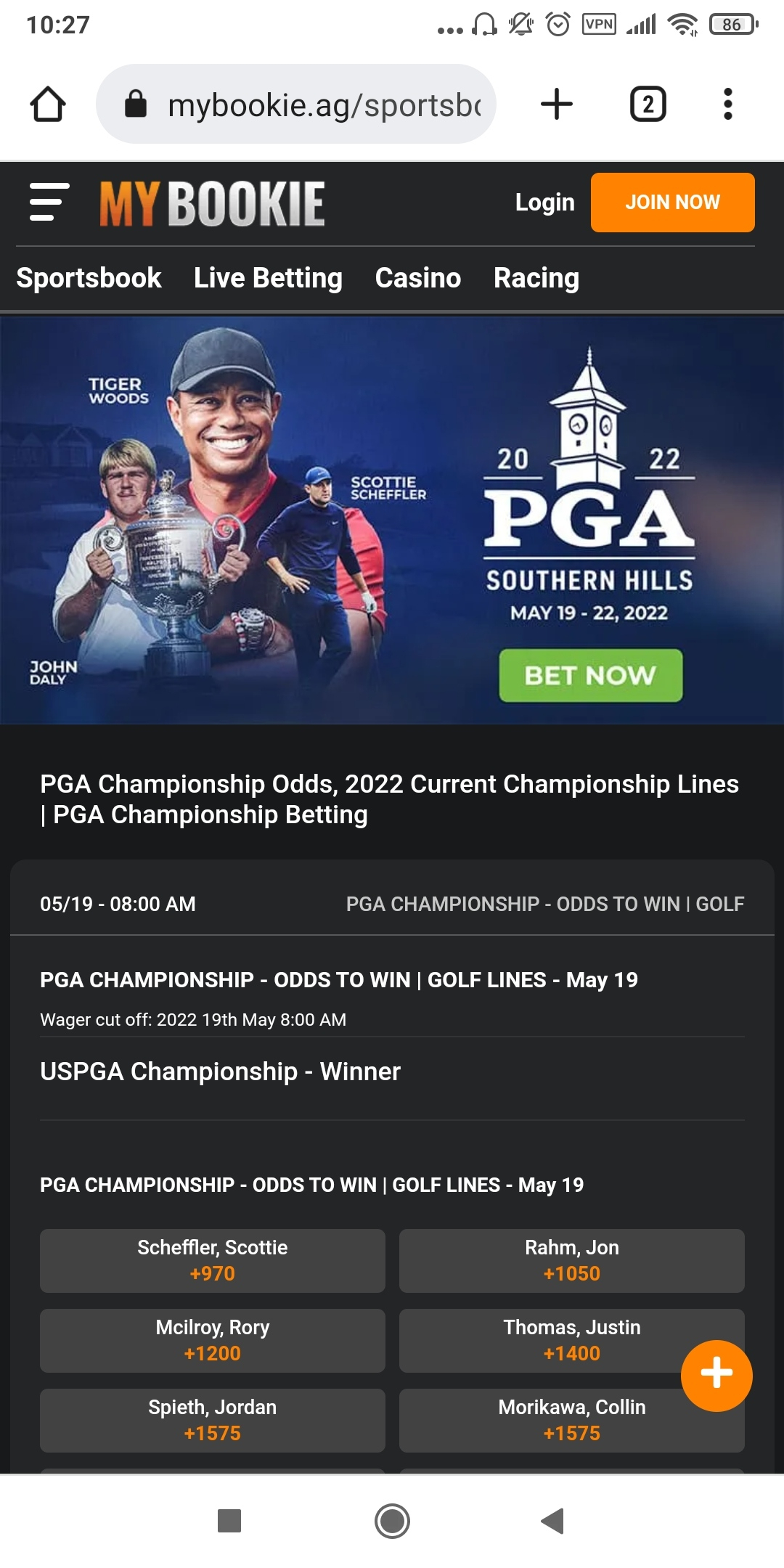 Tennis
Tennis fans will surely like MyBookie's mobile app since it copies the extensive coverage of the discipline provided by the main betting site. One tap on the tennis tab opens quite a long list of events punters can bet on including ATP, WTA, and ITF singles and doubles, as well as separate categories for each of the four Grand Slam tournaments – Australian Open, French Open, Wimbledon, and US Open. If you plan to deal with mobile tennis betting, in the long run, we advise you not to underestimate second-tier events since they are the place where future stars gain experience and show their skills. Fortunately, there are events almost all year round and MyBookie features a great part of them so you can use your phone and place wagers from January until late November.
After you select the relevant category, all the currently available matches show up with the respective moneyline odds displayed. If you want to see what other bet types you have at your disposal, just tap on the Props link. Options vary between matches but usually include Handicap and Game Totals, Player to Win a Set, 1st/2nd Set Winner, Odd/Even Games, Double Result, etc.
Australian Open
French Open
Wimbledon
US Open
Internationaux de Strasbourg
Cincinnati Masters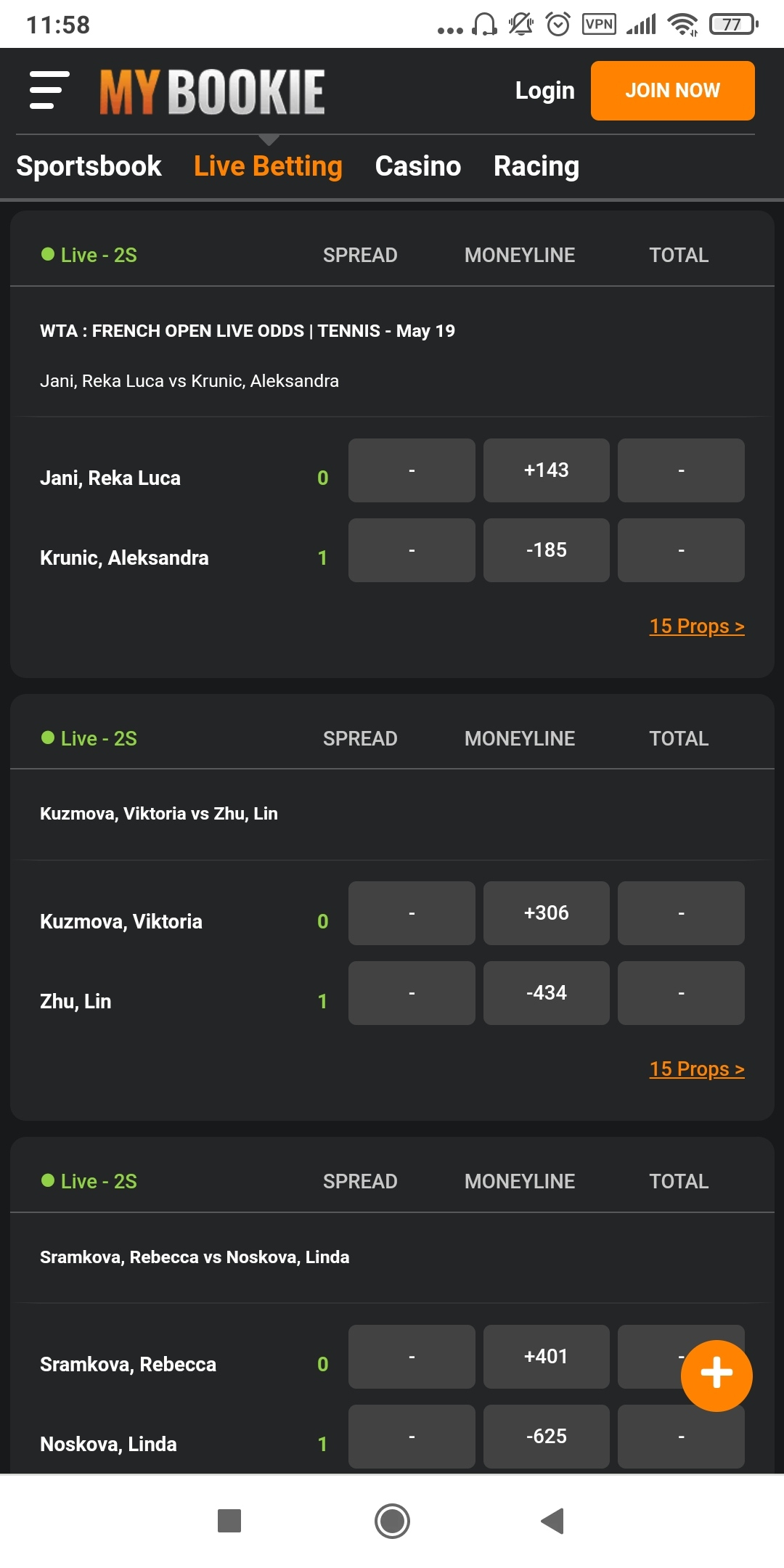 Motor Sports
We come to disciplines that are usually considered niche in terms of sports betting, namely motorsports. MyBookie seems to find in them enough potential to attract the interest of online betting enthusiasts and therefore puts them in the first half of the sports list in its mobile application. Not only that, but the bookmaker has tried to satisfy the demanding on-the-go punters by providing them with a wide variety of bet types related to various aspects of the NASCAR, Formula 1, and MotoGP races. You can even bet on such minor details as how many seconds will be the lead of the driver who wins the qualification for the next Grand Prix race. There are also proposition bets related to drivers and teams as both in-play and future betting is possible.
If you're not keen on this sport, betting on a race is probably not your thing. However, if you love the smell of gasoline on the track, you are curious about what is happening in the cockpit, and eagerly wait to see who will cross the finish line first, it is definitely worth considering adding another layer of excitement to your experience. Whether you are a fan of car or motor races, MyBookie has a lot to offer.
NASCAR Cup Series
Xfinity Series
Truck Series
Formula 1
MotoGP World Championship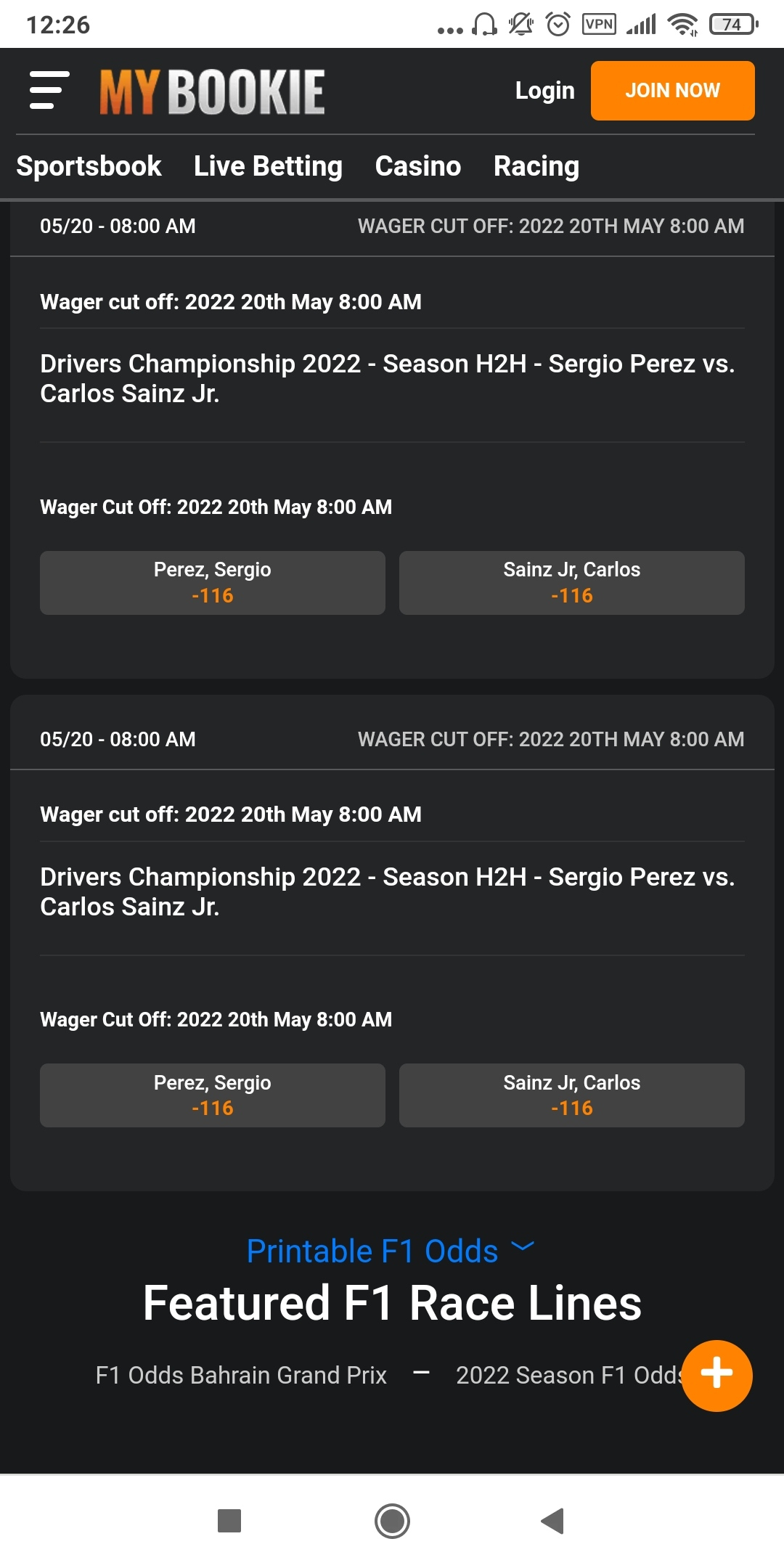 Soccer
Although being a US-focused mobile sportsbook, MyBookie pays due attention to internationally recognized sports, among which soccer is undoubtedly the most popular. Unsurprisingly, the category is led by the Major League Soccer (MLS) that is the highest level of soccer competition in North America. In addition to the MLS, the sports betting app gives its registered users a chance to place their wagers on matches from all top soccer leagues and tournaments in the world, including but not limited to the Premier League, La Liga, Serie A, and Bundesliga, as well as different levels of the domestic championships of more than 60 countries. International tournaments have not been missed either. Bets are accepted for the Champions League, the Europa Conference League, the World Cup, Copa Sudamericana, etc.
The diversity of betting markets is so great that it is difficult to list it in this paragraph. We will mention just a small part of the soccer bet types provided by MyBookie – Moneyline, Draw no Bet, Team Total, Clean Sheet, Both Teams to Score, Player to Score, Corner Handicap, Highest Scoring Half, etc. Furthermore, soccer is among the sports most suitable for using the Props Builder feature. The latter will be explained in detail later in this article.
Champions League
Premier League
La Liga
Serie A
Europa Conference League
World Cup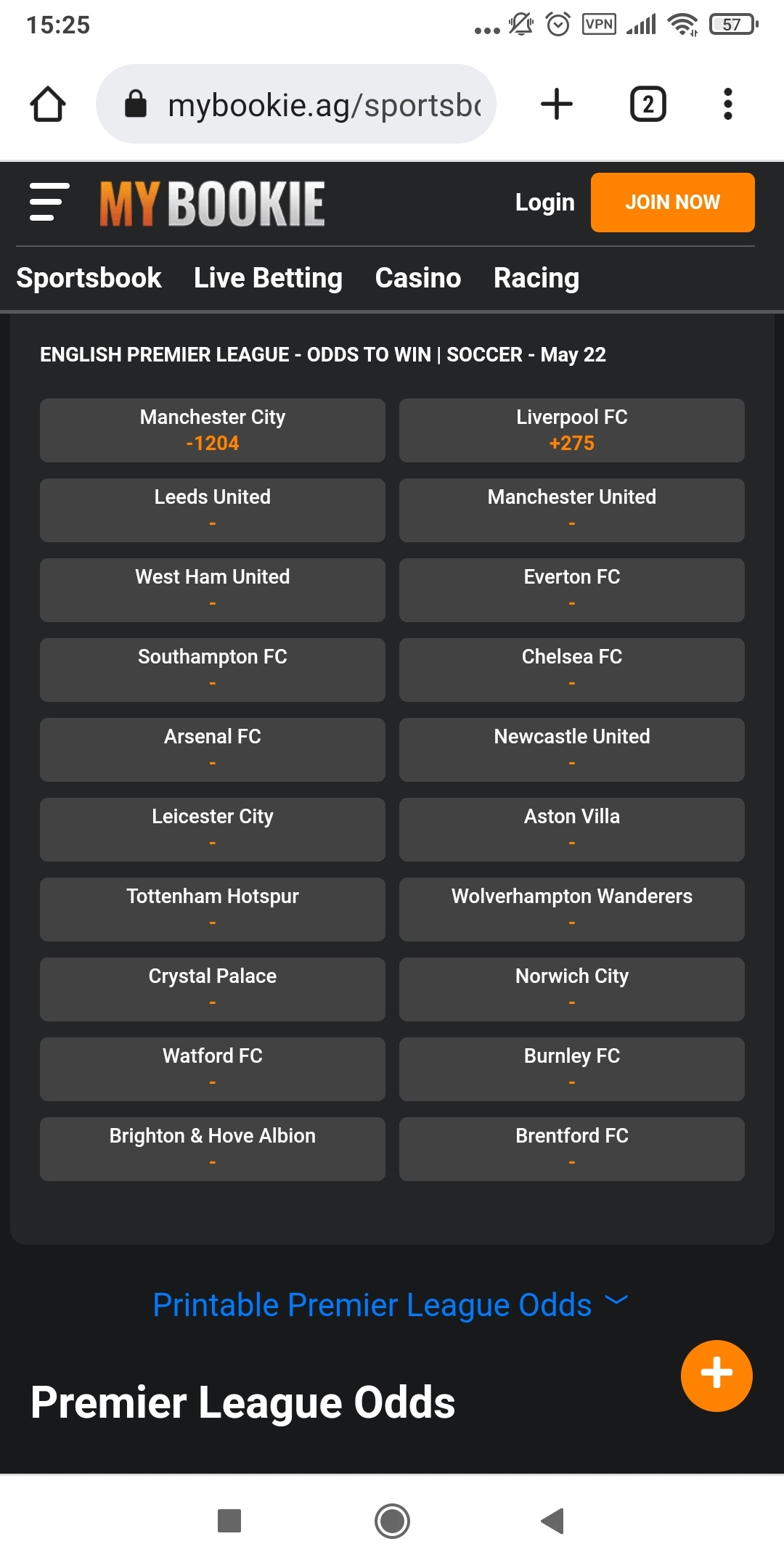 MyBookie Mobile Live Betting
Another part of MyBookie's portfolio is its live betting section. This type of wagering allows punters to adjust their bets while watching the progress of the relevant race or match. Odds and lines remain open until late in the event and thus allow on-the-go betting enthusiasts to adapt their wagers in order to minimize the damage from some erroneous pre-game predictions or simply to add some cash to their bankrolls if a player or a team is performing better than expected.
We are not gonna provide you with a list of the sports within the live betting section simply because options are not fixed. MyBookie shows only events that are currently being conducted so it is possible to see just a few tennis matches in one moment and half an hour later to be able to bet on ice hockey, soccer, and volleyball for example. Betting odds sometimes change or disappear in a matter of seconds, so must be very quick when you spot a value live bet.
Other Mobile Products by MyBookie
The leading part of the mobile platform of MyBookie is definitely the sportsbook, but the operator has also developed a good online racebook and casino. The racing category is mainly focused on horse racing but also features a few greyhounds races. Mobile punters are allowed to make the full range of bet types comprising Straight, Trifecta, Daily Double, Quinella, Superfecta, Exacta, Pick 4, etc. The amounts to be staked through straight bets run in a fairly wide range, so check the requirements for the specific race before placing your bet. As for the casino section, it is quite rich having separate subcategories for Blackjack, Table Games, Live Casino, Slots, Jackpot Slots, and Video Poker. Users can benefit from several promotional offers including a first deposit bonus currently awarding the eligible casino players up to $750. However, we strongly advise you to check the respective T&Cs before deciding whether a certain promotion can actually be beneficial.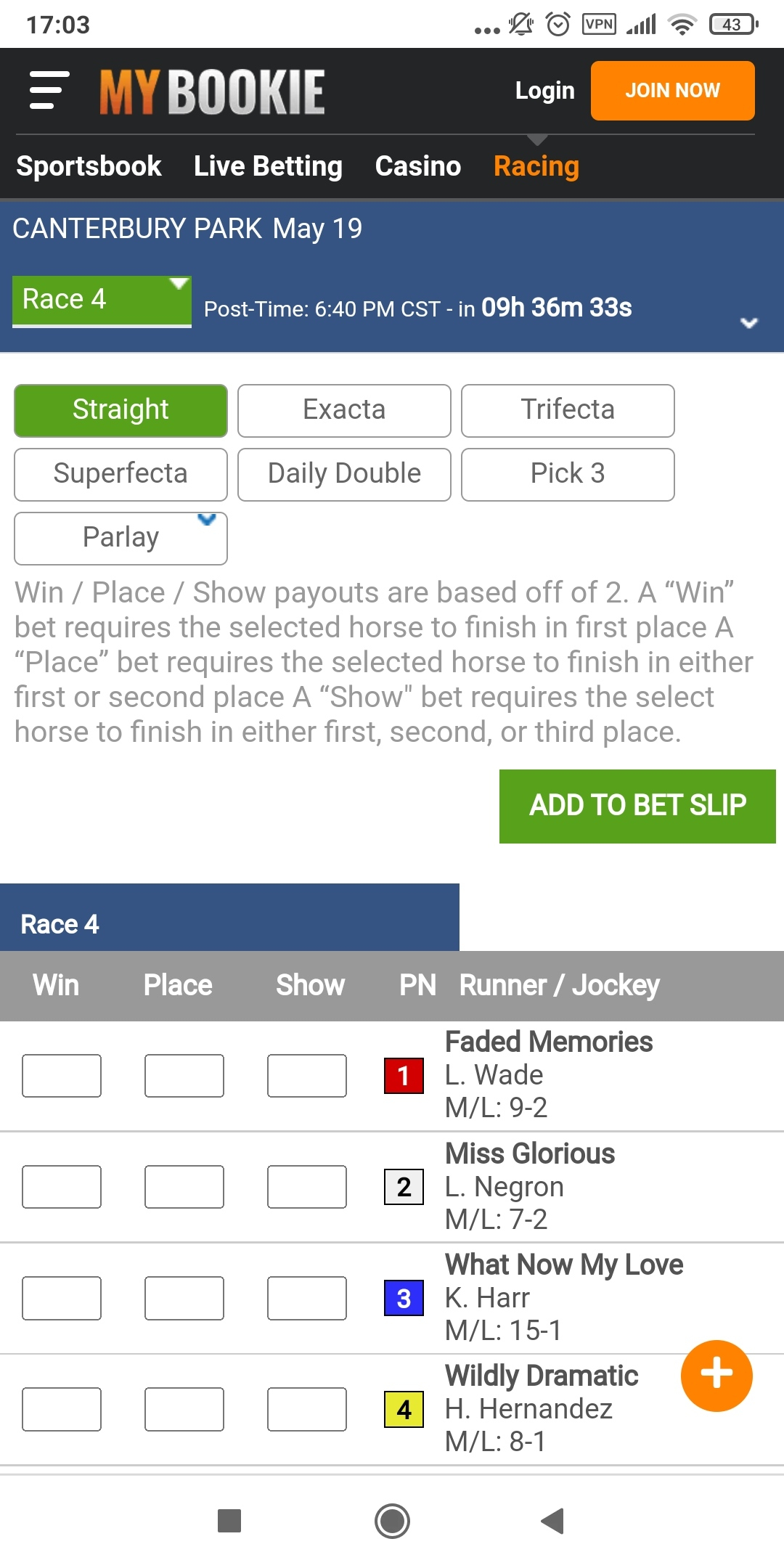 MyBookie Sports Betting App Device Compatibility
MyBookie is one of the many modern online sports betting operators that has decided not to develop a dedicated mobile app. Instead, it offers a mobile version of its main website. Such a decision has plenty of benefits, the first of which is that it contributes to a better user experience with different types of mobile devices without the need for any additional operations. What is more, in-browser apps do not occupy any portion of your device's memory and unlike dedicated apps, they usually update automatically without you having to make anything.
To access MyBookie's sports betting app just go to the website through your favorite device and log in to your account. No reasons to worry about compatibility since this mobile sportsbook runs smoothly on any internet-enabled smartphone, tablet, or laptop regardless of the browser used. The app features a user-friendly interface that gives access to all betting markets, promotional offers, and payment methods available on the main platform. The burger menu located in the top left corner of your screen has gathered several links to the bookie's user sections. A dropdown menu enables punters to easily change the odds format – American, fractional, or decimal.
MyBookie Sportsbook App Supported Devices Summary
iOS app technical requirements
Not specified; compatible with all mobile web browsers
Android app technical requirements
Not specified; compatible with all mobile web browsers
MyBookie Sports Betting App Features
The developers of MyBookie's browser-based app have taken care of it closely to approximate the desktop site. Therefore, registered users who are already used to wagering via the main betting platform are unlikely to experience any hassles navigating through the sections of the app. It features an easy-to-use design, which has been created with convenience in mind. The home page advertises all available promotional offers and features four main tabs – Sportsbook, Live Betting, Casino, and Racing. One tap only takes you to the sports betting section where the most popular betting events are readily displayed. There are also links to the most sought-after leagues and a complete list of the featured sports.
A unique proposal by MyBookie is their Props Builder application which represents a tool allowing avid betting enthusiasts to make their own prop selections and combinations. No need to search proposition bets throughout the app menus since every possible bet is just a tap away. Without wasting time, you can start betting on an event from one of the available sports.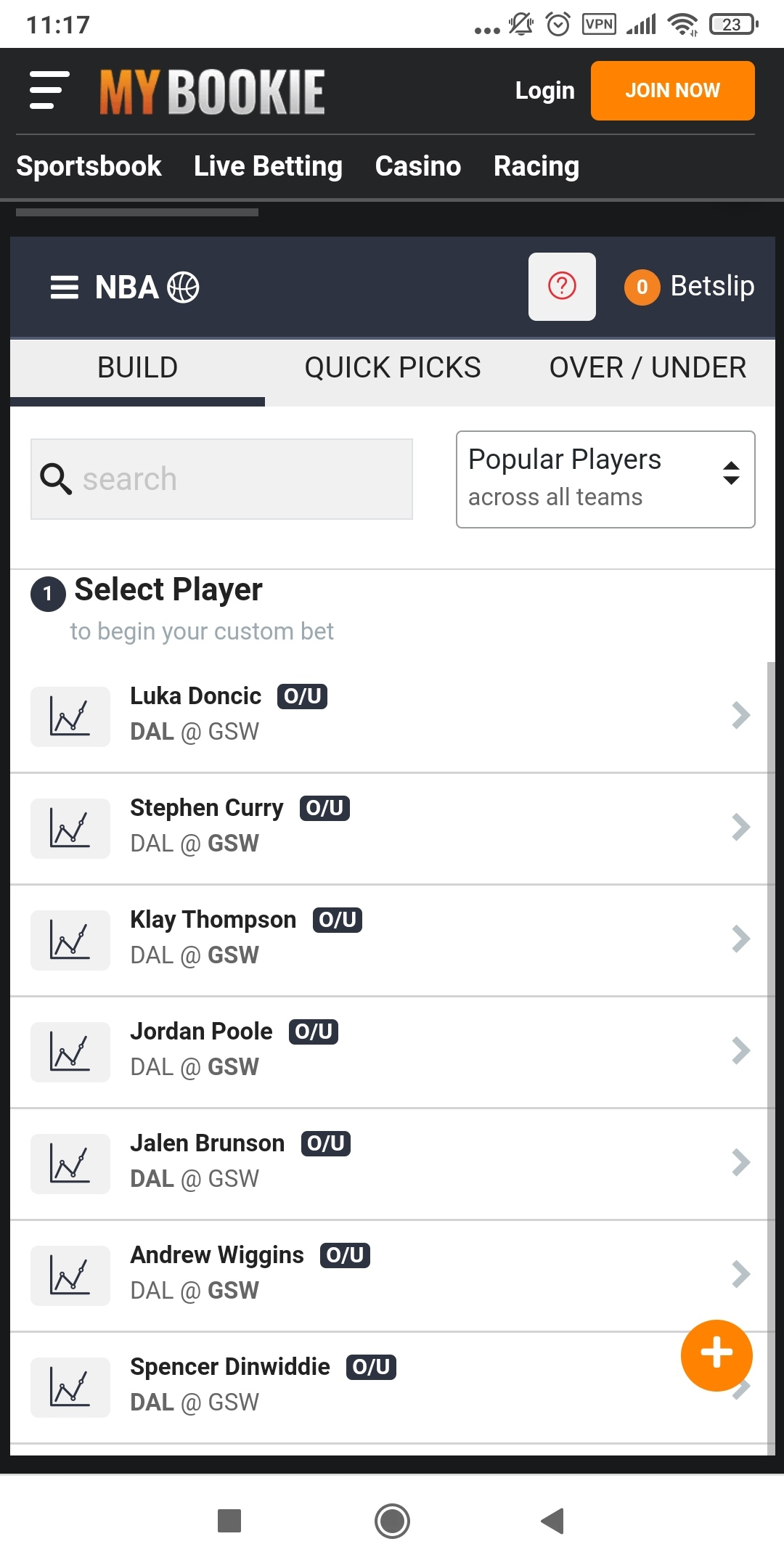 MyBookie Sportsbook Mobile Promotions
When listing the hallmarks of noteworthy sports betting apps, in addition to the variety of markets, the supported payment solutions, and the reliable license, we always include the availability of good promotional offers. After all, they are the ones that differentiate between platforms with otherwise similar parameters. As we already mentioned there is literally no differentiation between the desktop sportsbook and its mobile version when it comes to the bonuses punters can take advantage of.
The arsenal of promotions that MyBookie currently offers includes two types of initial deposit bonuses as well as reload, rebate, and referral offers. A birthday bonus of $20 in free play (5x rollover) was introduced by the end of April 2022.
50% Sports Welcome Bonus
А welcome deposit of up to $1,000, what a start! MyBookie's betting app greets its newly registered users with a generous promotion that matches 50% of their initial deposit thus giving them a chance to have a sparkling start. The bonus is coming in the form of free play and can be used with any sport featured on the mobile application except for horse racing. The app's Help page comprises detailed instructions on how to use free play when placing bets and also a video tutorial published to guarantee that everything is clear.
Those punters who decide to opt-in for the sports welcome bonus should keep in mind that it has a 10x playthrough requirement attached and can be redeemed only after entering the MYB50 promo code in the respective area of the cashier section. The minimum amount you can stake in order to be eligible to participate in the promotion is $50.
MyBookie Sportsbook Mobile First Deposit Bonus at a Glance
Bonus amount and percentage
50% up to $1,000
Promo code
MYB50
Minimum deposit
$50
Validity
No expiration period
Playthrough
10x
Maximum Wager
Not specified
Disqualified sports
Horse racing
Payment method restrictions
No
Sign-Up Cash Bonus
MyBookie has another welcome offer for its customers in case they find the 10x playthrough requirement too difficult to fulfill. It comes in the form of a 10% bonus on initial deposits of $45 or more. Here the requirement is to wager the deposit and bonus amounts just once which is much easier and that is why it is worth thinking of using this option. On the other hand, the maximum possible payout with this second type of welcome bonus is just $200, more than twice less than the 50% Sports Welcome Bonus. In order to get this cash bonus credited, you need to have a successful deposit and enter the 200CASH promo code in the cashier section of your account.
If you are not sure what are the conditions to use "free play" and what exactly the term means, you can head to the Help section of the mobile app where a detailed explanation is given. In brief, this is some kind of additional "money" added to a separate balance not connected to your real money balance. Subject to withdrawal are only the eventual winnings.
Up to $500 Sports Reload Bonus
Some online sports betting operators have the misleading practice of offering extremely enticing promotions to attract new players and then ignoring their registered, loyal customers. We were pleased to find that MyBookie does not fall into this category of bookmakers. The company matches every deposit of $100 or more with a 25% reload bonus. This promotion comes with the reasonable 5x playthrough requirement and can award punters with up to $500 to be used for wagering. The reload bonus is not automatically activated so do not forget to use the specific promotional code, MYB25, each time you fund your account balance with sums equal to or exceeding $100.
To help you understand how the concept of MyBookie's reload playthrough requirements work, let's take a look at one simple example. Imagine you decide to top up your account with $150. Calculations will look like this:
150 + 37.5 = 187.5
187.5 x 5 = 937.5
This means that to fulfill the Sports Reload Bonus requirements, you need to wager a total amount of $937.5 before having the right to request a cashout.
Refer-a-Friend Bonus
No matter how numerous a bookmaker's customer base is, it always strives to attract new punters using a variety of methods. Undoubtedly, one of the most working approaches in this regard is the one with friend referral promotions. In the case of MyBookie, existing users having at least one successful deposit to their account are awarded up to $200 every time a friend of theirs joins MyBookie's sportsbook. For you to take advantage of this 200% bonus, the referee has to sign up and deposit in his account. Additional T&Cs related to the promotion:
$45 minimum deposit
20x rollover requirement before withdrawal
Keep in mind, that as with all other deposit-related bonuses, free play expires 30 days after being credited.
Loyalty Program
Although it does not bring it to the fore, but rather "hides" it in its Help Page, MyBookie's sports betting app does have a loyalty program that stimulates regular and active betting on behalf of the platform's registered users. It comes in the form of My Free Bets Rewards and is relatively easy to take advantage of. In brief, for every $5 wagered, mobile punters receive one Star. If you manage to collect 10 stars, you will enjoy free play worth 10% the total amount staked to collect the stars.
Unlike other promotional offers involving free play, here the bonus rollover requirement is just 1x. The generosity of this promotion is that there is no limit on the number of Free Bets or their value. As soon as you receive 10 confirmed stars, the free play is awarded to you without needing to contact customer support, make calculations, or specifically activate the bonus. Everything is easy and clear. Bets placed via the Props Builder feature are not eligible for the My Free Bets Rewards program.
Mobile Payments at MyBookie Sports Betting App
The variety of payment methods does not seem to have been a top priority in the development of MyBookie's platform, because almost 10 years after its creation, transactions can be executed in a scarce set of methods. The good thing is that cryptocurrencies are warmly welcomed but adding a couple of digital wallets will certainly contribute to a greater level of punters' convenience.
Topping Up Mobile Balance at MyBookie Sportsbook
Let's take a look at what are the limits and time frames of deposit methods supported by MyBookie's sports betting application. We start with the conventional Mastercard and Visa credit cards that come with almost identical requirements. Both brands have enabled deposits within the range of between $45 and $2,500 that are processed by the bookmaker in no less than 2 business days. The only difference lies in the transaction fees (4.9% for Mastercard and 6% for Visa) both being too high for our taste, especially considering there is a 0% alternative in the face of cryptocurrencies.
Bitcoin as well as Litecoin, BitcoinCash, Ethereum, and Ripple have other advantages, namely a lower minimum deposit of $20 and unprecedented speed. In the worst case, a crypto deposit will enter your account balance 30 minutes after being initiated. The other deposit method supported by MyBookie is P2P transactions of between $100 and $500. They are completed in less than an hour and fees are reimbursed if the deposit amount is at least $300.
Depositing at MyBookie Sportsbook App
Deposit method
Minimum deposit
Maximum deposit
Deposit fees
Average time frames
Mastercard
$45
$2,500
4.9%
48 hours
Visa
$45
$2,500
6.0%
48 hours
Person to Person
$100
$500
Reimbursed for amounts exceeding $300
45 minutes
Cryptocurrencies
$20
$10,000
Free
30 minutes
Cashing Out Winnings at MyBookie Sports Betting App
If time is of utmost importance to you when it comes to accessing your winnings, the only option you have is Bitcoin. After the standard withdrawal processing period of 2 business days passes, MyBookie undertakes to send your money within 24 hours. If you don't think this is fast enough, what about bank wire transfers, which can take up to 9 business days to reach your account? However, e-checks are the leader in terms of slowness. A delivery timeframe of 15 days does not sound adequate in the fast-paced and high-tech 21st century.
In terms of withdrawal fees, Bitcoin is the most efficient payment solution as transactions are absolutely free of charge. Moreover, the cryptocurrency comes with the lowest minimum amount – $25. Between $5 and $35 are the fees for e-check and bank wire withdrawals depending on the sum to be transferred. These relatively high numbers and, in general, a limited number of payment options are among the few drawbacks of MyBookie's mobile sportsbook.
Withdrawals at MyBookie Sportsbook App
Withdrawal method
Minimum withdrawal
Maximum withdrawal
Withdrawal fees
Average withdrawal time
Bitcoin
$25
$5,000
Free
36 hours
E-check
$50
$100
$5
Up to 15 business days
BankWire
$100
$5,000
$100-$500 -> $15 Fee $501-$5,000 -> $35 Fee
Up to 9 business days
MyBookie Sportsbook App Security and Licensing
The first step when choosing a mobile sportsbook to enjoy your favorite pastime while on the go is checking if the platform is safe and deserves your trust. MyBookie is operated by Duranbah Limited N.V. and holds a valid license issued by the Government of Curacao. Although this is not the most reputable regulation authority you can think of, we have no doubts that MyBookie meets the criteria for a fair and trustworthy gambling platform.
The bookmaker states that its primary concern is its users' safety. This does not seem to be far from the truth, because in March 2022 MyBookie introduced an additional mandatory security measure in the form of Security Pin (2FA). Almost all existing users have already generated their personal 4-digit codes while those yet to set up their accounts will be prompted to do it as a part of the registration process. All transactions executed through the mobile application are protected by 256-bit encryption and every successful deposit is confirmed by an email.
Despite the detailed examination of all T&Cs, policies, and rules published on MyBookie's website, we failed to find any customizable responsible gaming tools such as self-exclusion or cool-off periods. On the other hand, there are links to the National Council on Problem Gambling and Gamblers Anonymous.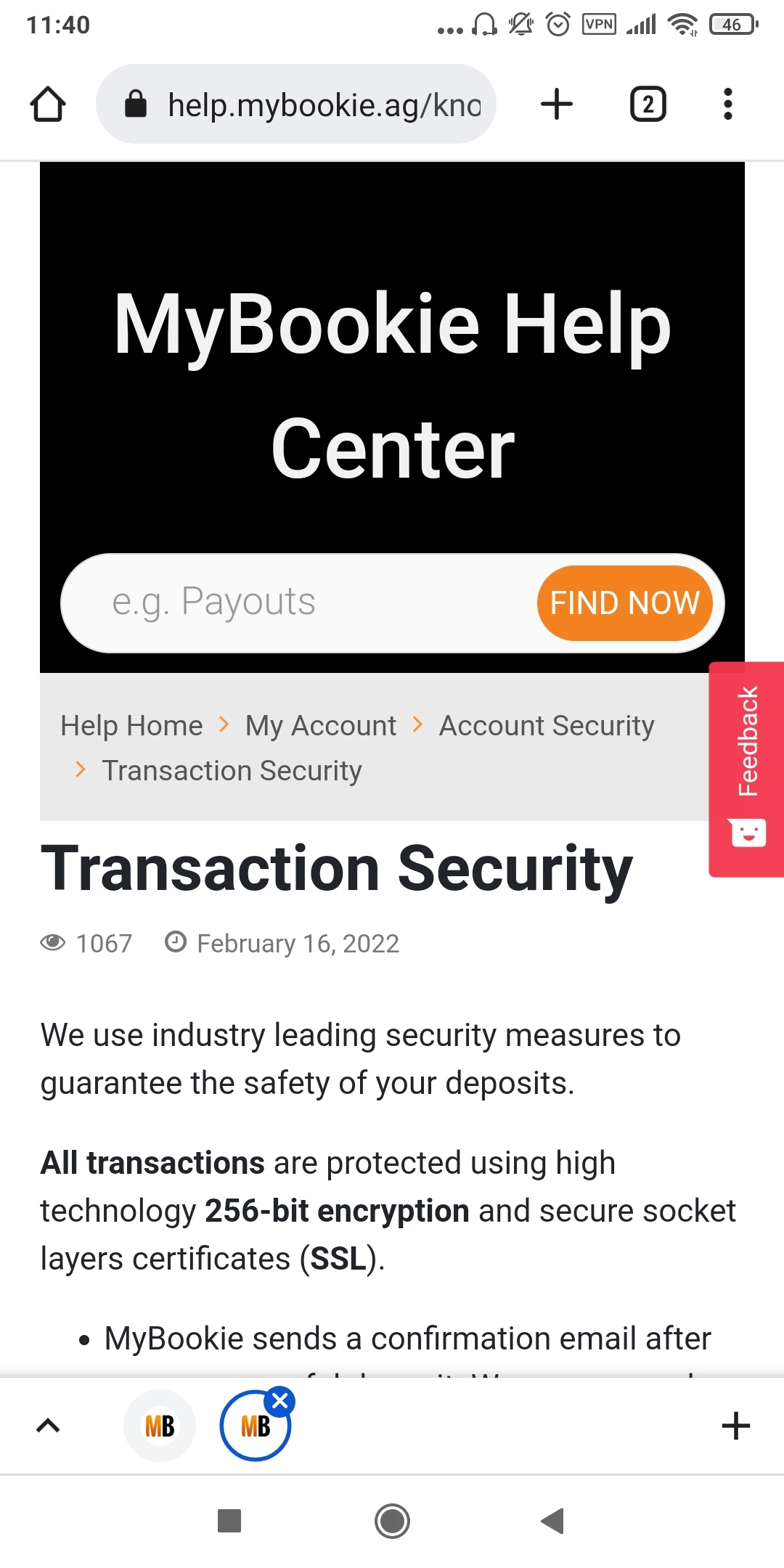 Region Restrictions and Safety at MyBookie Sportsbook
Encryption
256-bit SSL
Two-factor authentication
Yes
Minimum age requirement
18 years
Licenses
365/JAZ
Restricted countries
Afghanistan, Albania, Algeria, Anguilla, Antigua and Barbuda, Aruba, Armenia, Ascension and Tristan Da Cunha, Austria, Azerbaijan, Bahrain, Bangladesh, Belarus, Belgium, Bhutan, Bonaire, Bouvet Island, Brunei Darussalam, Bulgaria, Burkina Faso, Burundi, Cambodia, Cayman Islands, Central African Republic, China, Comoros, Costa Rica, Cuba, Curacao, Cyprus, Czech Republic, Democratic People's Republic Of Korea, Denmark, Djibouti, Dominican Republic, England, Eritrea, Estonia, Ethiopia, Fiji, Finland, France, Gambia, Gibraltar, Greece, Guadeloupe, Guernsey, Guinea-Bissau, Holy See (Vatican City State), Hungary, India, Indonesia, Iran, Iraq, Ireland, Isle Of Man, Israel, Jersey, Kazakhstan, Kyrgyzstan, Latvia, Lebanon, Liberia, Libya, Maldives, Mali, Malta, Martinique, Mauritania, Mauritius, Mayotte, Montenegro, Montserrat, Morocco, Nauru, Nepal, Netherlands, New Caledonia, New Guinea, Niger, Northern Ireland, Oman, Pakistan, Palestine, Papua New Guinea, Pitcairn, Poland, Republic Of Kyrgyzstan, Réunion, Romania, Russia, Rwanda, Saint Helena, Saint Pierre and Miquelon, Sao Tomé and Príncipe, Saudi Arabia, Scotland, Serbia, Seychelles, Sierra Leone, Somalia, South Sudan, Spain, Sudan, Svalbard and Jan Mayen, Syrian Arab Republic, Tajikistan, The Democratic Republic Of The Congo, Turkey, Turkmenistan, Tuvalu, Uganda, Ukraine, United Arab Emirates, United Kingdom Of Great Britain, Uzbekistan, Vanuatu, Vietnam, Wales, Wallis and Futuna, Yemen.
Responsible gaming tools
No
Mobile Customer Support at MyBookie Sports Betting App
MyBookie's sports betting app boasts about having no significant complaints, which our team says is due to the quality of the customer support. The good thing is that the platform supports several communication channels that are available at any time of the day in the English language. If you need immediate help, the easiest and fastest way to contact the customer service team is by initiating a live chat session. Keep in mind you need to be logged in to have access to the feature. This requirement does not apply to the other two channels of communication, namely phone and email.
Customer Service Channels at MyBookie Sportsbook
Phone
844-866-2387
Email
help@mybookie.cr payouts@mybookie.ag
Live chat
Yes, 24/7
Average response times
Within minutes
Support languages
English
MyBookie Sportsbook App Q&A
The bookmaker has enough time on the market for problems related to safe and fair betting to come to light, if any. Furthermore, MyBookie holds a valid license issued by the Government of Curacao and a TRUSTe's Privacy Certification.

As regards promotional offers provided by MyBookie, there is absolutely no difference between the mobile application and the website. This means on-the-go punters can benefit from any of the two sports welcome bonuses, the permanent reload bonus, the automatic horse rebate, and the generous referral bonus.

First of all, do not worry, password reset is fast and easy. Tap on the "Login" link in the top right corner of your screen and then on the "Forgot Password?" link. The bookie will ask you to enter the email address you have registered with and you will receive a link to create a new password. Just follow the instructions and you are all set.

According to MyBookie's policy, live chat sessions can be initiated only by registered users of the platform who have logged in to their accounts. If you are still one of them, you have the option to use the contact form and submit a ticket.

In this case, pending stars are converted into canceled stars. Only confirmed stars accumulate so you need to place another $5 or higher bet.
Verdict
The current state of MyBookie's sports betting app shows that the operator's desire to improve its services gives good results. In recent years, the mobile sportsbook has become one of the most popular betting platforms, especially among punters in the United States. The only issue that prevents us from giving it an excellent grade is the quite limited selection of payment methods MyBookie supports and the transaction fees some of them come with.
What We Liked about MyBookie Sportsbook App
Easy-to-navigate betting interface
Live chat available around the clock
Diverse bet types
Plenty of in-play betting events
Extensive news section
What We Disliked about MyBookie Sportsbook App
High rollover requirements
Limited number of payment solutions
Focused mainly on the US betting market
Slow e-check and bank wire withdrawals
Available only in the English language
(Visited 531 times, 1 visits today)